Alajuela — As Uber drivers in the United States and around the world went on strike Wednesday to object against the platform's wages and working conditions, a familiar outcry sounded at Juan Santamaría International Airport.
Small but intrusive protests held by taxistas — angered by Uber's deregulated existence and its encroachment on their wages — disrupted traffic in parts of the Greater Metropolitan Area. 
At 9 a.m. and 2 p.m. by Costa Rica's busiest airport, a group of taxistas, holding signs and yelling slogans, blocked traffic leading to the terminal from the highway. While the group was small, their discontent wasn't. Most of those who flanked the doorway leading to the "arrivals" level had something, or more, to say about it.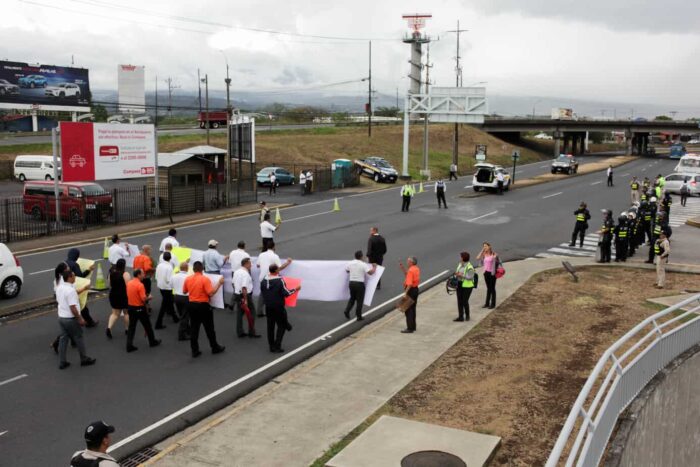 Roberto Quiroz, an owner of an airport-only taxi, said he hoped the protests would take place every day until the government acted on Uber. He voiced frustration about how long the disruptive platform has existed with little progress.
Uber started operating in Costa Rica in 2015 — albeit in a legal grey area — and their prices often undercut that of official taxis. From the airport to downtown San José, the price of a taxi can range from $30-$60, while a similar ride on Uber often sets a rider out less than $20.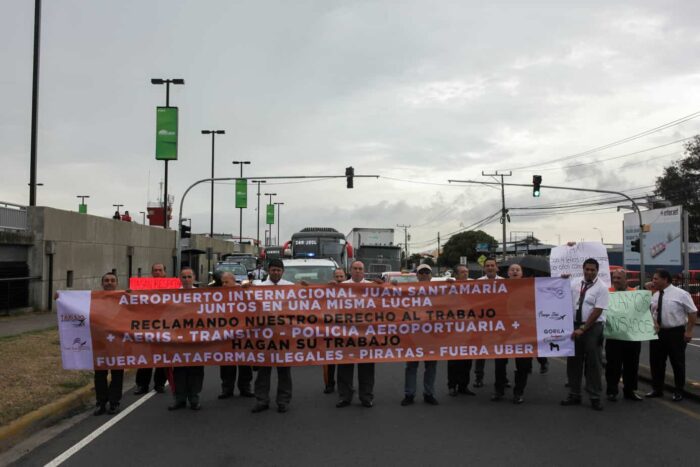 Though there has been dialogue on the federal level about legalizing and regulating the platform, so far nothing concrete has been accomplished.
According to Quiroz, a lot of the taxistas's anger stems from the current legal framework that does not impose taxes on Uber drivers's earnings. 
One of the two organizers of Wednesday's protests, Miguel Lizano, said his wages had fallen 70% since Uber ride-sharing began in Costa Rica. He says the reduction in riders and the amount of taxes, insurance and fees a licensed taxi driver has to pay mean he can hardly make ends meet.
Prior to another planned march Wednesday night, Lizano said he hopes the taxi drivers's message gets across soon. If it doesn't, he says, he will continue to protest until their issues with Uber are addressed.