Jacques Hervot found art by chance, as a hobby; afterwards, it became his profession. The French artist, who now lives in Costa Rica, had always found art to be a source of distraction, enjoyment and a way to express beauty, ever since he was a child and doodled on his notebooks instead of paying attention in class. It wasn't until adulthood that he chose to dedicate himself to art.
After five years with the French Merchant Marines for five years, which allowed Hervot to travel around the world, Hervot met the love of his life in Greece: a Costa Rican woman, Magda Urcuyo. Their travels together were just beginning.
"I bought a sailboat with Magda, and we decided to go around the world. We never finished the trip, but we spent two years coming from France to here [Costa Rica], with islands and ports in between to rest… We decided to stop the trip because we wanted a family, and on a sailboat it was complicated," Hervot told The Tico Times.
Once they settled down in Costa Rica, Hervot found work at a maritime agency without knowing a word of Spanish. Just one year later, Hervot decided to create his own business and build two hotels, one in Tamarindo, Guanacaste, and the other one in Barrio Amón, San José. Eventually, however, Hervot chose to sell his businesses and pursue a career as an artist.
His hallmark: clean composition and bright colors, drawing heavily on pop art. Within Hervot's pieces, the love he has for Costa Rica and its pura vida lifestyle are expressed by vibrant colors. He uses mixed media including clay, beeswax, pigment and charcoal with lots of texture. His commercial art can be seen in various hotels Costa Rica, and his private collections have been exhibited in many countries in Latin American and the Caribbean, as well as the United States and Europe.
On a warm morning at Hervot's home in Santa Ana, west of San José, The Tico Times sat down with the artist and his dog Milú to speak about his life and work. Excerpts follow. 
How did you decide to join the French Merchant Marines?
It was a child's dream. When I first started reading, it was always adventure and travel books. I'd imagine myself in my bed as if it were a boat. I never felt as if I were from a specific place. I was born in France, but my personality was about seeing more places, traveling and meeting people.
Besides that, I'm from a Celtic part of France: Britannia. The Celts are sailors, so I think I inherited that aspect of traveling. It was also the generation of the hippies: it was very easy to take any bus to go Afghanistan or India or even hitchhike.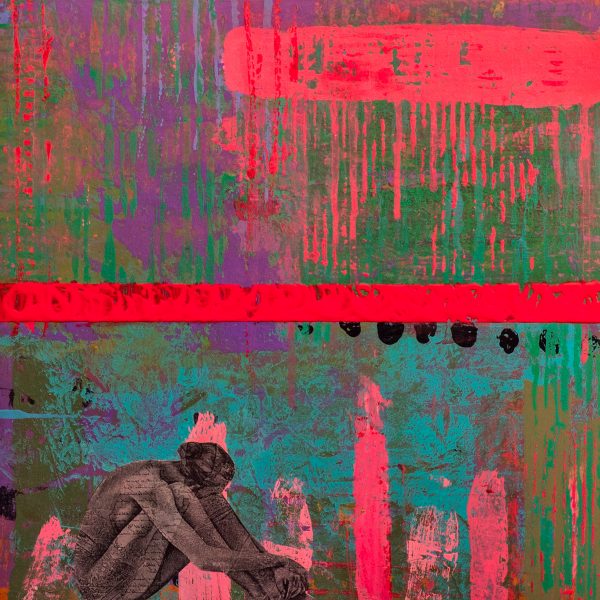 What was your first impression of Costa Rica?
Lots of doubts, because I didn't speak Spanish [laughs]. When I got a job at a maritime agency I was given the job of management assistant. The phone rang, someone spoke in Spanish and I didn't understand anything, so I hung up [laughs]. That person then called the manager and complained; I had many challenges. Sometimes I felt like, what am I doing here? Because there were many job possibilities at the time in France. Now it has changed.
At the beginning it was hard because one was used to many things that couldn't be found here. There wasn't any Amazon to purchase books, so we had to go to France once a year and return with the bag full of books. It was a fight with Magda because she wanted diapers for the children [laughs]. People did help me a lot because they were always kind. I was never rejected as a foreigner… and the weather and nature. Those three things helped me.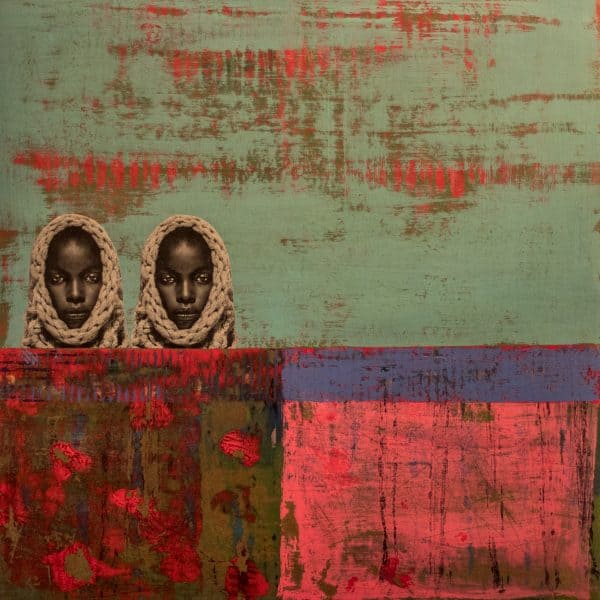 How would you describe your artistic style?
Alma Fernández was the person who agreed to do my first exhibition. That gave me confidence. I'm thankful to Alma for being the first one to trust me; then I did exhibitions in other galleries and sold a lot to hotels.
As for the paintings [walks through his house to show off his work], I painted this with some of the remains of a palm leaf that I grabbed in Puerto Viejo and Punta Uva… I also worked for a long time with clay. I made this one when the war in Iraq was going on; I decided to use color pencils as if it were ammunition tape, with pencils rather than bullets. This one was carved with a knife [on wood]; those are album covers I downloaded from the internet and painted them red because it represented the red English phone booth.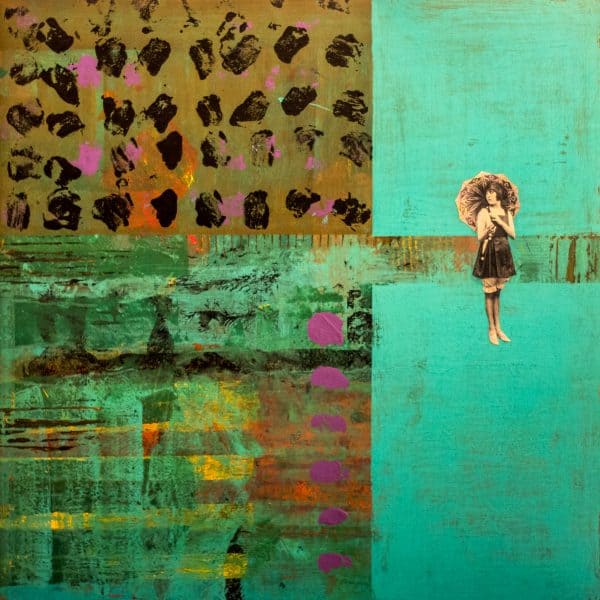 What inspires your art, and how does pop art influence you?
The colors and the materials. I like aesthetics and harmony a lot. I'm very square, so that's why it's symmetric.
As for pop art, I like it a lot… every time I had a chance in France to see a piece by Jackson Pollock or Andy Warhol, I'd go, or buy books. I like the colors, and the possibility of people creating their own art.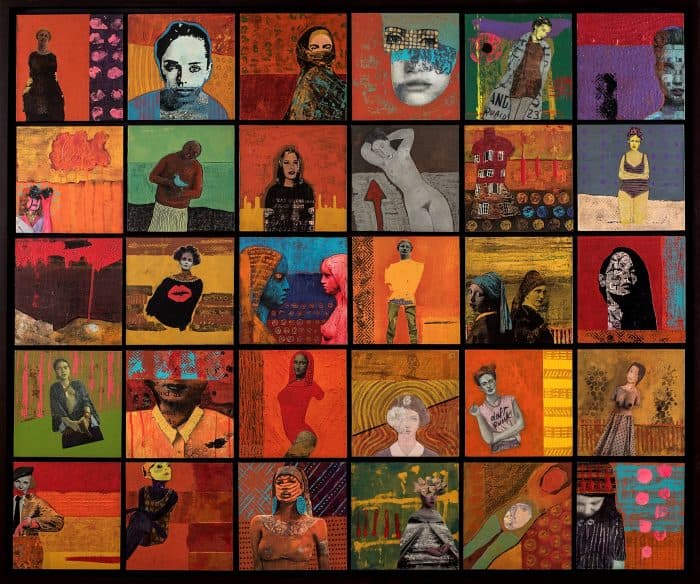 Has Costa Rican popular culture influenced your work?
I believe it's more universal. Obviously the country's strong and vibrant colors do influence it. I see that people's work in Europe is more grey and obscure, and that's the time they have over there. Here the people are always pura vida. It's true. That makes life beautiful. You wake up and see all the light.
The pura vida culture has taught me to not complicate my life. If something has to happen, it'll happen, but if it doesn't, then it won't happen. I got rid of stress. In Europe stress is very high, and you have terrible self-critical standards that don't allow you to be free. Here, people allow you to be free, even in how you dress, and I love that about this country. There are no codes.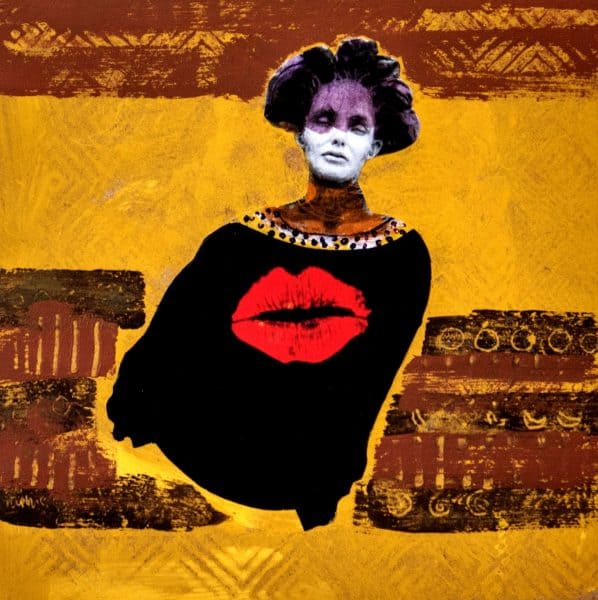 Our "Weekend Arts Spotlight" presents Sunday interviews with artists who are from, working in, or inspired by Costa Rica, ranging from writers and actors to dancers and musicians. Do you know of an artist we should consider, whether a long-time favorite or an up-and-comer? Email us at kstanley@ticotimes.net.