For Malu Moreira, art has always been a part of life, although she has explored it in various ways. When the Brazilian artist lived in Sao Paolo, she worked as a fashion designer, working side-by-side with designers and exploring theater design as well. The work helped her acquire an ability to whip up color combinations, one that would influence her life later on.
Five year ago, she moved with her family to Costa Rica, settling in Tamarindo, Guanacaste. In the Pacific beach town, she began exploring art by creating two collections: mixed media abstract paintings done with a spatula, and acrylic portraits of women.
She has used art as a tool to explore her emotions in nature-inspired abstracts, and to present women's beauty in all aspects. The artist says she hopes viewers will travel to another world through her work.
"I think art takes you to a world of dreams, a world that you're not used to," Moreira told The Tico Times. "I like it when people look at the painting and say that they want it because it makes them feel good."
Moreira went on to establish La Galería in Tamarindo, where she organizes exhibitions to promote not only her work, but also the work of other area artists.
On a warm afternoon in Tamarindo The Tico Times sat down and spoke with Moreira, 50, about her life and work at La Galería. Excerpts follow.
Which is your process to create a work of art?
I work with acrylics as well as 3D textures. With the textures, I use various materials and work with certain shapes. For example, all the women have some component in their heads that's 3D. I seek to do something very playful [with the women]. It's not a sexual woman. It's a fun woman.
This other painting has little bit more of texture… semiprecious stones. I have turquoise and I work a lot with gold sheets to give it a bit of texture as well as resin.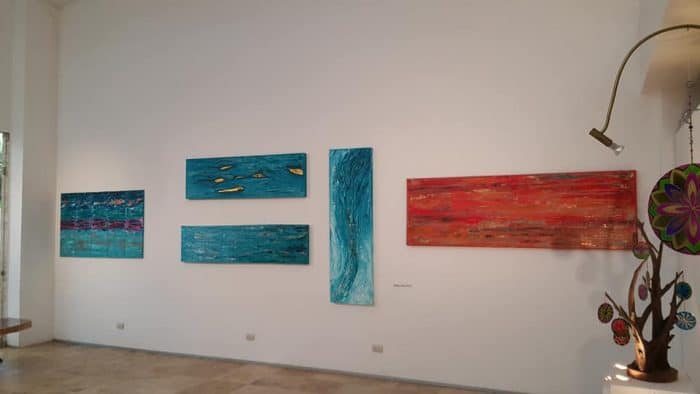 How do you choose the color palette?
It's always different, but my color is blue. It's a color that I love as well as turquoise, red and green. Blue is a color that gives such energy and peace. One time I took a painting to Brazil that was three meters full of blue and textures. The person who bought the painting told me that it was like diving in… I think that all that Costa Rica, the influence of the water, the ocean, and being with Luciano [my husband] as a surfer and has developed my work.
As you go out [of the gallery] you'll see a store called Terrazas where I have a big painting that's red and blue, which are colors that sometimes are hard to connect. I like that connection, and I think I have an ease in combining colors and balance, because when you paint an abstract painting there's a chance of making thousands of combinations and not knowing what'll happen. That's my world.
What inspires you to paint?
The truth is that I need to paint. I say it inspires and moves me, so I need to paint every day to live and to think. When I wake up, I go down to my atelier and I'm happy. If I have a commercial painting to do and they ask me when it'll be ready, I tell them that probably in a month if everything goes right.
If you think you'll paint it today, it sometimes doesn't happen. Sometimes I paint over and over, but then it doesn't come out and I'll paint white over it. I then go to the beach, come back and then the painting comes out in five minutes. My four best paintings came out in five minutes.
I've never had a process in which I say: ok, I'll paint a landscape and use these colors. No. My atelier is there. The colors are there. I have the canvas there. I always look and then don't know what'll happen. Sometimes I try to [do the process], but I have a path and it usually is much more about intuition.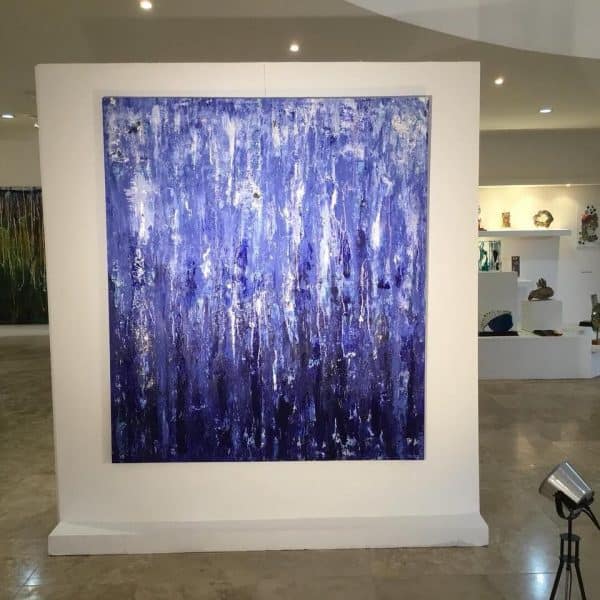 With your collection of women, how does the process differ from the other works, since it's more conceptual?
It's completely conceptual. It's where I can express myself much more freely. [She moves towards a mannequin in her workspace.] This mannequin is a woman whose mind is about to explode, so it's like my mind.
There's a connection from women with the women paintings when they see them. Men… sometimes tell me to paint a sexy woman, but I can't do it because it's not what I want to depict. I'm not against having that beautiful, sexual side… but I don't like the paintings to turn into something it's not. These paintings about women are a pure expression about women, about the feelings. Each of them has a story and with them I can get into the craziness of it.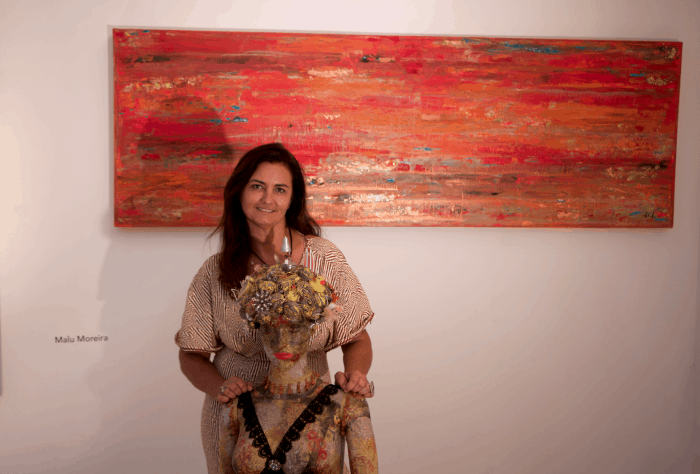 Since the Tamarindo Art Wave festival is coming up and you'll be participating in it with your women collection, what do you expect from it?
I hope that people will connect. I always like seeing strong women and empowerment.
My work is a manifesto about: do I need this? It'll be fun because I'll have a broom with a Barbie-doll head. It's a topic that has to be strong, but fun at the same time… My work isn't about making a feminist statement. It's about fun, and art in which you can observe things.
Malu Moreira's artwork can be found at La Galería Centro de Artes Tamarindo. For more information visit their Facebook page. She will also be participating at the Tamarindo Art Wave Festival from Jan. 25-27.
Our "Weekend Arts Spotlight" presents Sunday interviews with artists who are from, working in, or inspired by Costa Rica, ranging from writers and actors to dancers and musicians. Do you know of an artist we should consider, whether a long-time favorite or an up-and-comer? Email us at kstanley@ticotimes.net.