UPDATE. May 2. 3:44 p.m.
Lawmakers from various parties on Tuesday agreed to nominate Libertarian Movement Party's Natalia Díaz Quintana for the pending Vice President post. A total of 47 lawmakers voted in favor of Díaz. Six blank and null votes were added for a total of 53 votes.
President Luis Guillermo Solís will present his State of the Nation speech at 3 p.m. on Wednesday. Original story follows:
---
After nine hours of negotiations, including several recesses, evangelical lawmaker Gonzalo Ramírez Zamora became President of the Legislative Assembly Directorate for the last year of the current legislative term.
Ramírez, 45, a pastor and lawyer from the Costa Rican Renovation Party, got 26 votes, with 24 going to the ruling Citizen Action Party's candidate, Ottón Solís Fallas. According to legislative rules, the blank and null votes – a total of seven – were added to the winner's tally, so the final result presented at approximately 6 p.m. was 33-24.
Election mistake
The voting process, however, was far from over. Shortly after 10 p.m., right after the last vote, outgoing Directorate President Antonio Álvarez Desanti announced that legislators would be forced to annul the election of Silvia Sánchez Vega as Vice President and hold a new vote.
Sánchez, 28, does not qualify for the post, because the Constitution establishes that directorate's President and Vice President should be at least 30 years old, Álvarez said.
After a new recess Álvarez confirmed that lawmakers had broken quorum and that they would resume the session at 3 p.m. on Tuesday, holding the election just prior to President Luis Guillermo Solís's State of the Nation speech.
Dip @alvarez_desanti anuncia que se rompió quorúm y que la sesión de mañana incia a las 3:00pm

— Asamblea Legislativa (@asambleacr) May 2, 2017
A group of legislators from various parties then left the Assembly's main floor arguing Álvarez was wrong. They claimed that Álvarez was wrong and that according to legislative procedures, the votes of a candidate who was not eligible for the post should be added to the votes cast for the second-place candidate. Therefore, the Vice Presidency should go to Libertarian Movement Party's Natalia Díaz Quintana, they claimed.
At the end of Monday's session, the new Legislative directorate for 2017-2018 is:
President:  Gonzalo Ramírez Zamora, Costa Rican Renovation Party.
Vice President:  —Pending—
First Secretary:  Carmen Quesada Santamaría, Libertarian Movement Party.
Second Secretary:  Michael Arce Sancho, National Liberation Party.
First Pro Secretary:  Lorelly Trejos Salas, National Liberation Party.
Second Pro Secretary:  Abelino Esquivel Quesada, Costa Rican Renovation Party.
New Legislative President
Gonzalo Ramírez won the election as a result of an alliance of parties lead by the National Liberation Party, the largest legislative group.
President Luis Guillermo Solís will now be forced to negotiate during his final year in office with a directorate formed entirely of opposition lawmakers.
Ramírez is one of the most conservative lawmakers and during his term he has adamantly opposed bills to reinstate in vitro fertilization, to approve same-sex marriage and to legalizate therapeutic abortion.
Following his election, he told reporters that he maintains his principles and values but "he will not use the directorate's Presidency to obstruct the democratic vote of any issue." He said he is open to dialogue.
"I know there are many voices in this country and I've never been closed off from listening to them. We have never offended anyone and we've never closed the door to anyone," he said, in response to lawmakers who claimed Ramírez' religious beliefs would interfere with the approval of bills.
As Legislative President, Ramírez will be responsible for setting the order in which bills are discussed and voted on. He also manages debates and voting on laws, decrees and appointments.
He will be in charge of assigning all 57 lawmakers to legislative committees, which discuss, modify, amend and approve draft bills before they're passed on — or not — to the full Assembly.
The Legislative President is also responsible for receiving bills and proposals submitted by lawmakers, social groups and citizens, and selecting the legislative committee responsible for each bill's evaluation and approval.
Recommended: Why May 1 is much more than Labor Day for Costa Rica's government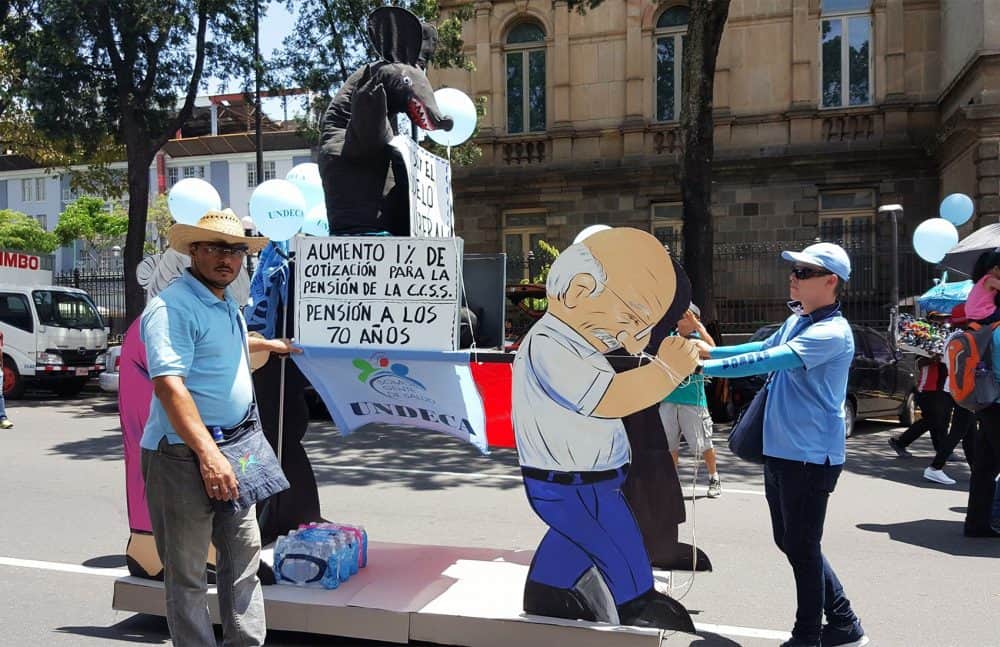 May Day demonstrations
Government plans to increase by 1 percent workers' mandatory monthly fee for the Social Security System, as well as raising the retirement age to 70 years, were two of the main issues during the traditional May Day demonstration in downtown San José.
Hundreds of workers gathered in front of La Merced Park and started marching at 9:30 a.m. along the Avenida Segunda. The first group arrived in front of the Legislative Assembly shortly before noon.
In addition to workers' unions members, demonstrators also included college students, members of various political parties and other citizen groups.
Upon their arrival the group started chanting slogans and gave speeches against the proposals with which the government intends to curb the fiscal deficit.
Unlike previous years, the march ended without major incidents at around 2 p.m.