Streets and sidewalks along several blocks in downtown San José are displaying a series of messages asking people to stop littering in public spaces and throwing garbage down the capital's sewers.
Citizen group Fundación Verde Agua launched the awareness initiative on Sunday; the organization gathered 40 people, including staff members and volunteers, to spray paint the messages around town.
Messages and stickers warn motorists and pedestrians that garbage thrown down the city's sewers reach the country's beaches and hurt marine life.
Estimates from the Health Ministry state that people throw nearly 300 tons of garbage in the country's streets, sewers, vacant properties and rivers every day.
Fundación Verde Agua President Marisol Amador Caballero told The Tico Times that the idea originated precisely from the group's concerns about that increasing amount of garbage they see on the streets and other public spaces.
"We see a lot of people dumping garbage through the sewers every day and we know many of them don't even think they're doing something wrong," she said.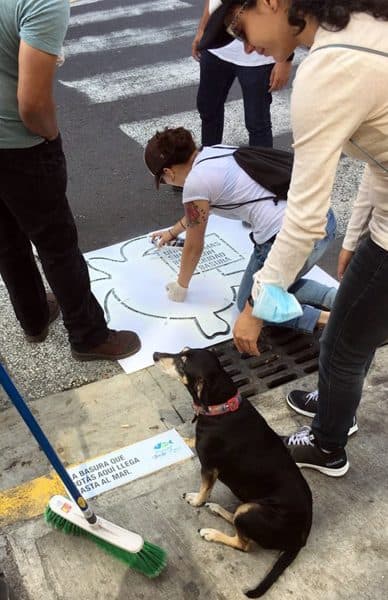 Messages
The graffiti display images of marine animals such as dolphins, rays and turtles along with messages stating that "A victimless beach begins with a clean city," and "Garbage that you throw here ends up in the sea."
The group requested permission from the Municipality of San José to paint the messages.
Various private companies helped the group by providing materials, coordination and logistics to launch the first stage of the campaign in the downtown area.
The messages can be found near 35 sewer drains along the main streets of the city.
The group hopes the campaign can raise awareness that garbage can reach public spaces such as beaches that people are visiting during the ongoing summer season.
"Our goal is to create environmental awareness and ask people to use trash cans. People should be aware that littering the city's sewers hurt marine life as well as tourist destinations," she added.
Amador said they hope they can take the messages to public spaces in other parts of the city and the country.
She said this week her organization received calls and messages from people from several communities interested in replicating the campaign, and that her team is evaluating the options for moving forward.
A video on Fundación Verde Agua's Facebook profile shows one of the consequences of littering on marine species:
https://www.facebook.com/713068958740512/videos/vb.713068958740512/1172966559417414/