At the young age of 21, Froyland Vargas, better known as Froy, is already well known in the tattoo world because of his dot work, in which hundreds or thousands of dots are used to create an image. While he can tattoo in any style, including black and gray, geometry, watercolor, realism, traditional, or personal illustrations, his dot work skill has played a key role making the first two years of his career so successful.
Vargas says he has been drawing since kindergarten and that it's natural for him; he has never taken art classes, although among his plans for this New Year, he is looking forward to studying different types of art, including oils, realism and portraiture. He started his career at Mecanik Tattoo with two friends, but two months ago he become part of the family of Samsara Tattoo Studio, which he said is like a dream come true because that's where he used to go to get tattoos. He is now able to work with tattoo artists he admires.
With the noise of the tattoo machine in the background, The Tico Times visited Samsara Tattoo Studio to talk with Vargas about his career, the style that characterizes his work, and the challenges behind a tattoo. Excerpts follow.
How did you start doing dot work tattoos, and what are the advantages of that style?
Before I even started doing tattoos, my godfather gave me a box of pens to draw, and I started practicing dot work and really liked it. Maybe because of the concentration level it takes, it calms me. When I started doing tattoos, my intention was to use dot work in them.
[The advantage is that] because of the way it's worked,  the ink stays longer, its tone. And I have noticed that in places where, in general, the ink gets erased more easily – like elbows, knuckles and knees – dot work stays longer. It heals faster.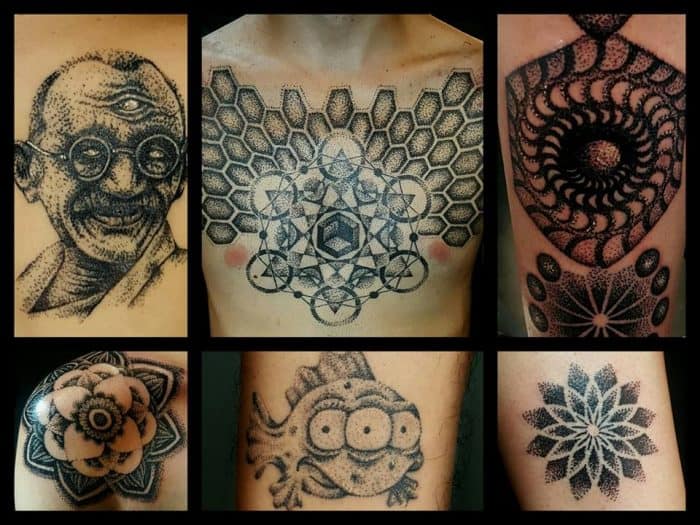 When it comes to tattoos, what are you most passionate about?
Everything. Creating. There are always people with different ideas, because everyone thinks completely differently. Every work is a new challenge, and it's really nice to meet new people every day. To me, it's an honor that someone wants to have my work on his or her body. Some tattoo artists say that it's an honor for a person to be tattooed by him or her, but to me it's in the other way around.  It's incredible.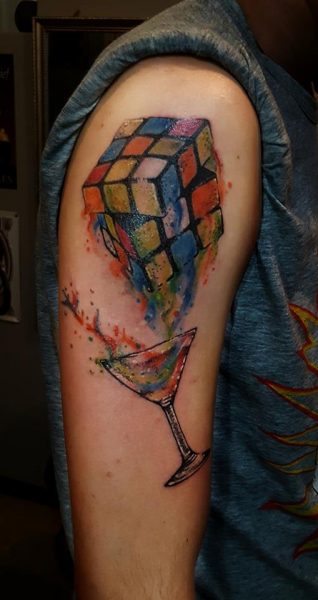 Why is tattooing an art, and what's your personal style?
The technique has to be perfect: making a good tattoo means taking care not to have any failures, because one cannot return or erase. You have to be quite sure of what you are doing, and be aware of bigger artists and learn from them. The more you learn from art, even if it is not directly about tattooing, the more you expand your mind.
[And my personal style…] it's hard to say. I really like the way I work with white, black and gray. I just do the design as I would tattoo it on myself
Would you compare a tattooed body with an art gallery?
Yes, totally. The art of tattooing has grown a lot and there are more and more talented artists who can make incredible tattoos. Sometimes you see quite surprising tattoos [that could be hanging] in a museum. The fact that someone can do it on skin is incredible because of the difficulty involved. Now the tattoo is like a painting. That, for one as an artist, is like a golden recommendation letter.
What's the biggest challenge of tattooing in comparison to drawing on paper?
Besides that on paper one can erase or restart, in tattooing the skin has a big influence. All people have a different skin tone and all skins have a different texture. Depending on the area, it is also more difficult for certain skins to heal, or to apply colors. The tattoo also has to take healing into account. It needs to look good not only in the moment, but also for life. You have to know how much you can pass the needle, which can not be done, the depth of the needle, et cetera.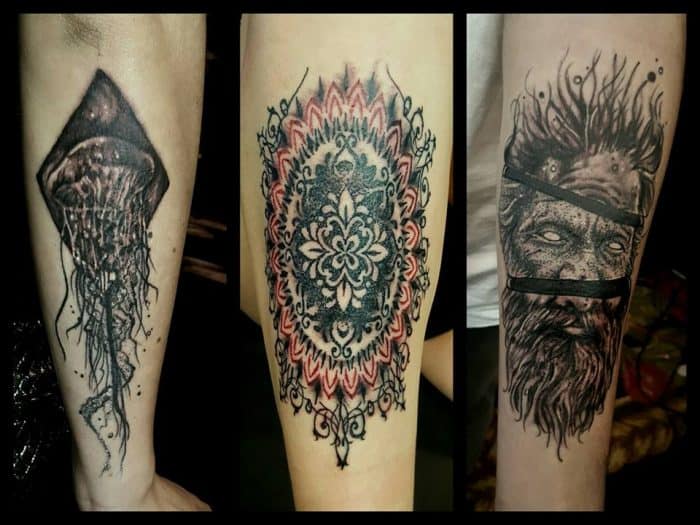 Our "Weekend Arts Spotlight" presents Sunday interviews with artists who are from, working in, or inspired by Costa Rica, ranging from writers and actors to dancers and musicians. Do you know of an artist we should consider, whether a long-time favorite or an up-and-comer? Email us at kstanley@ticotimes.net.