It's International Cat Day: a day to show your cat you care with tuna feasts, catnip toys and extra hugs and petting.
Cats have made themselves at home throughout history, beginning in ancient Egypt,  where they were revered for protecting grain. Cats can adapt to many environments:  as excellent hunters they survive in the wild, and feral cats congregate in many cities, including here in Costa Rica. Cats make good pets, as they sleep about sixteen hours a day but come and cuddle when so inclined.
They not only make good house pets but can also provide enjoyment for customers as residents of a store. Felix, an enormous feline, lives and works at El Establo in Alajuela, which sells pet food and supplies and has a veterinary service. He is usually found sprawled across the counter where he gets patted by customers all day long.
"Felix likes it," manager José Lizano tells a customer, holding up a new cat food.
"Well, in that case, I will buy it," says the customer, seeing that it has passed the Felix test.
When Felix wants to eat, he taps one of the employees on the arm and gets rewarded with his favorite cat chow. Felix also tests out new equipment, such as the dog beds, to show customers just how comfy they are.
"He was brought to the store by a customer about fifteen years ago. With the veterinary and health products onsite, Felix is one healthy cat," says Lizano. In spite of his enormous size, he only weighs five kilograms, and easily pulls that weight in his role as salesman.
On the other hand, Blanquita and Daisy are just for decoration, says Jorge Morales, owner of the JM Video shop in Barrio San José. They sit on the counter and wash themselves or curl up and sleep in a box, but customers linger longer to play with the cat and sometimes pick out an extra video as a result. Both cats were left in the neighborhood "about three years ago" and are now spayed and content to live in the store.
They do sometimes knock down all the videos, Morales admits.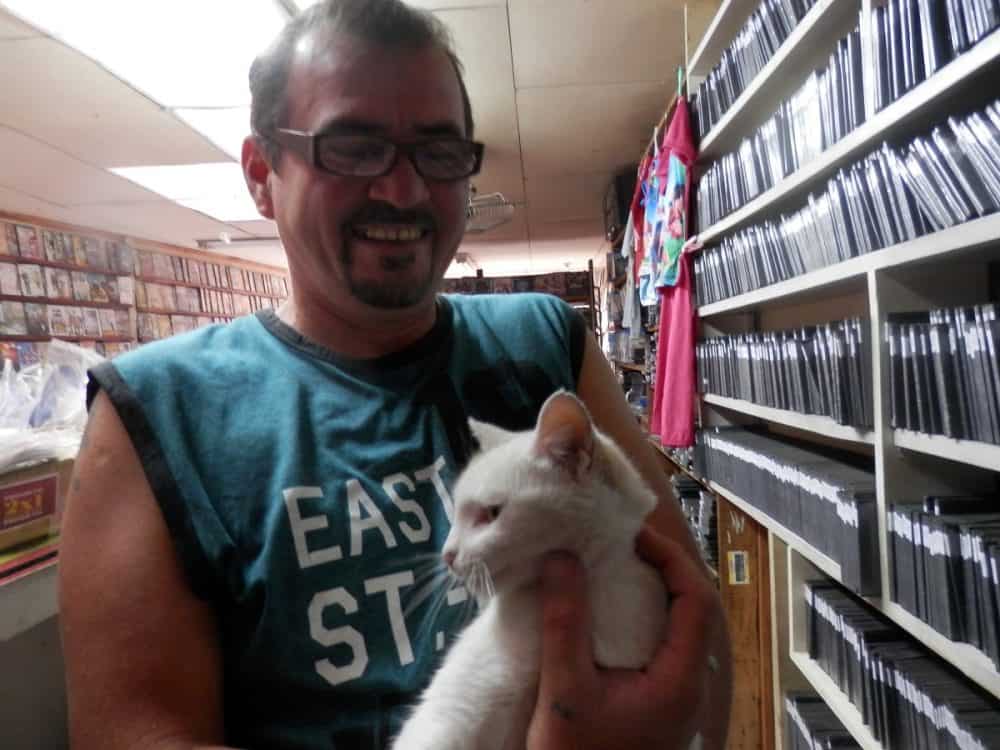 For Erika Aguilar and Rocio Prendas, friends and neighbors in Río Segundo de Alajuela, cats are for both business and decoration. They have about 100 of them, and help many more. Their association, Taxi Gato or Taxi Cat, transports cats to vets or to new homes. They also trap feral cats and have them spayed or neutered before releasing them once more in their old neighborhoods. Feral cats do not make good pets, Aguilar explains. Some are more sociable because they lived in homes and were later abandoned.
If a feral cat has kittens, the mothers and kittens are kept together. When the kittens reach three months of age, the mother is spayed and the kittens are put up for adoption.
Aguilar and Prendas may be called to an area that is overrun with cats. They carry traps and food and wait until the cats go into the cages, then transport them to their center until they can take them to a veterinarian. In one case they trapped and spayed and neutered twelve cats in Tres Rios.
"The neighbors fed them and looked after them, so we returned the cats to the neighborhood once they recovered from the operations," Aguilar said.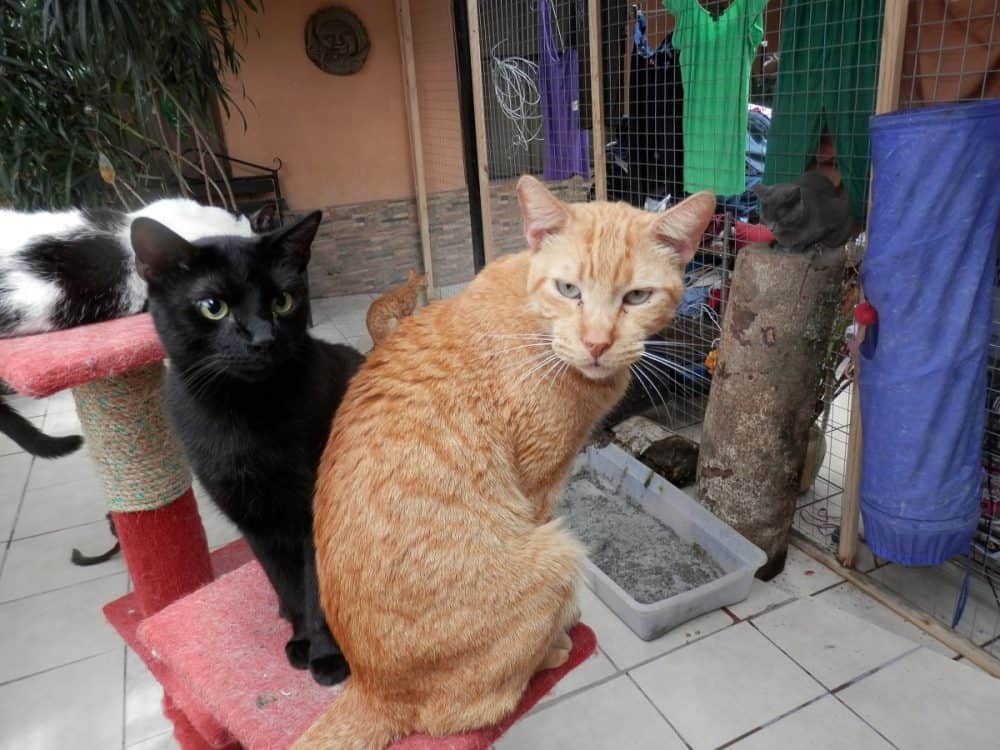 A trap and rescue runs around ¢30,000 per cat (about $60), but sometimes the pair spends hours trying to round up and trap feral cats. They also pick up abandoned kittens and ask for donations to cover their costs.
It's not always easy, no matter how much you like cats. A feral cat escaped from a cage while the Taxi Gato team was driving and left clawed and bitten. Another time, Prendas crawled into a culvert to rescue two kittens and got stuck. Aguilar had to rescue her, but they got the kittens safely out.
Several cats are permanent at their home. These are old or have physical problems. There are a few the duo just couldn't part with.
This is the story of a few cats who will celebrate International Cat Day in Costa Rica. It is a day to be grateful for your furry companion, and if you don't have a cat, adopt one.
To learn more about cat adoption or the work of Taxi Cat and their parent organization Gatitos al Rescate, contact the group at 8551-9317, or visit their Facebook page.