My mother, Norma, loves telling me the story of how my grandmother saved my aunt's life one night in 1942 by simply calling her name.
As a child, I was sure that my mother used this story to teach me the virtues of obedience (which I have never been too good at, admittedly). Today, however, it is a story that continues to resonate with me as I think more and more about the rich cultural life my mother had in Puerto Limón in the 1940s and '50s. One of the beautiful points of research is when narratives intersect, allowing for multiple perspectives on a single historical moment. My mother's experiences as a three-year-old not only demonstrated how wise my grandmother was, but also gave me a lens through which to view the larger social and historical context of World War II and its impact on Costa Rica. It was only after a gentleman from Limón wrote me recently after reading one of my pieces for The Tico Times that I was able to put two and two together, linking my mother's story with the sinking of the San Pablo by torpedo on July 3, 1942.
The story goes like this:
My grandfather, Stephen Robotham, from Jamaica, was a foreman on the docks hired by the Northern/United Fruit Company. He managed schedules and oversaw the workers on the dock. As part of his payment, the Northern gave him a house for his young family –
3- and 5-year- old daughters and a 9-months-pregnant wife – built directly on the dock in Limón. (I am always stunned to think that right below their house was just water!)
My grandmother, Leonora, aka Ms. Lee to folks in Puerto Limón, had decided that after having two babies in the hospital, she was going to have her third child at home with a midwife. On that day, June 20, 1942, my mother remembers that her dad asked her and her older sister, Sylvia, then 5, to sit on a small bench outside the house because a stork was going to bring a new baby sister or brother for them on that day. My mother said that she screwed up her eyes and kept her focus on the water in front and the looming horizon, waiting in vain for the stork to come flying in with her precious sibling. She did notice when the local black midwife, Ms. Sarah Swaten from Jamaica Town, came to the house, but her appearance did not break my mother's concentration of seeking out the famed stork.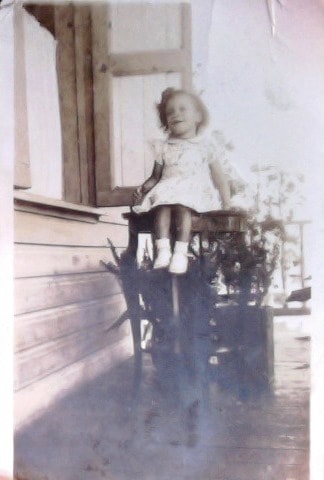 Shortly thereafter, both she and her sister were called inside the house to greet their new baby sister. My mother said for years she struggled to connect the baby's appearance with the missing stork.
Fourteen days later, my mother's world froze around her. In the night, as she remembers, there was a horrifying blast, turning Limón into sheer darkness. As my grandmother grabbed her 14- day-old newborn along with the hands of her tiny daughters to leave the house in the dark, the hand of the 5-year-old hand, my Aunt Sylvia, slipped out of her reach.
My mother remembers my grandmother calling out into the darkness, "Sylvia? Don't move." And my aunt replied, "Yes, mama."
My grandmother called out again, "Sylvia?  Don't move." My aunt replied, "Yes, mama."
Then help came: the neighbors, holding flashlights. They found Sylvia standing on the edge of the dock, facing an abyss of ocean water, as the rest of the dock had been blasted away from the impact of the torpedoes which had hit the San Pablo ship that was docked in Limón.  Had Tía Sylvia moved one inch more, I might not be telling this story today.
The singular vision of my mother's 3-year-old memory documenting that time always had a lasting effect on how I envisioned that evening – full of fear and the unknown. However, it is only now as an adult that I can link it to a larger global event; the moment Costa Rica was touched by a world war. My mother's personal narrative, I am sure, could be added to probably hundreds more who experienced that night in Puerto Limón when the world and its fighting came to its ports.
What I know about the sinking of the San Pablo comes from military information and maritime narratives. The San Pablo was built in Ireland in 1915 and owned by the United Fruit Company. Its main function was to ship fruit, primarily bananas, between Caribbean ports.  During World War II, the San Pablo became a target for German submarines, as legend has it, whose plans were to disrupt commerce amongst the Allies.
In May 1942, a U-161 German Submarine intercepted and fired on the San Pablo when it was near the Yucatán Peninsula. The San Pablo was unarmed and not damaged by that initial attack. Its crew managed to divert the Germans by saying help was on the way, quickly moving on to find safety in Puerto Limon.
Unfortunately, the San Pablo was not safe for long. While the ship was unloading cargo at the port on July 3, 1942, the German submarine fired two torpedoes which struck the San Pablo mid ship. The ship quickly sank, killing all 23 black men aboard.
I have never heard anything about these 23 black stevedores (local Limón men) who died. It is these men whose names are not called, who could not be saved in the night by a frightened mother. It is their stories I am most interested in, because their lives need to be honored as part of Afro-Costa Rican history.
I invite readers to share their personal stories of this specific night, and in particular these men who died, with me at indisunflower@gmail.com. If I can compile enough stories, I am happy to devote another column to these brave men who died for their country while working the docks of Limón in 1942.
Natasha Gordon-Chipembere, a writer, professor and founder of the Tengo Sed Writers Retreats, moved to Heredia, Costa Rica with her family from New York in June 2014.  She is now accepting applications for Tengo Sed IV Writers and Yoga Retreat in Jan 2017. She may be reached at indisunflower@gmail.com. Her column "Musings from an Afro-Costa Rican" is published monthly.