Even when Milo Gonzales doesn't sign one of his paintings, it's unmistakably his. The 59-year-old artist who hails from the city of Moravia, north of San José, has developed an unusual style that mixes the abstract with realism. He says he has always been an artist, even when he didn't know it. After many years walking down "the wrong path," exploring various careers he thought were what he wanted, Milo finally found what he was meant to do in this life: painting.
The Tico Times visited the artist at his workshop to talk about the path he's traveled and the exhibit that begins next week at the Hidden Garden Art Gallery in Liberia, Guanacaste. Excerps follow.
When did you start to paint?
Starting in childhood I was always drawing and painting, and I loved to do it – but when I got to university I kind of forgot it because I wanted to study engineering. I never lasted more than six months in a major. One day I went to see an exhibit a friend told me about, and it was something beautiful. It turned my world upside down. It was a traveling exhibit from Taiwan, of paintings from the year 1300 all the way through to contemporary oil paintings: the best exhibit I have ever seen, and that's when it began.
The friend who had recommended the exhibit to me told me to study advertising art. By that time I was about 27, and I studied that for about six months, but I didn't like it. I quit school, and the art professor told me, "You are really good, so continue on your own. Don't let anyone influence what you do. Do what you want." So I don't have [much] professional training. I'm self-taught.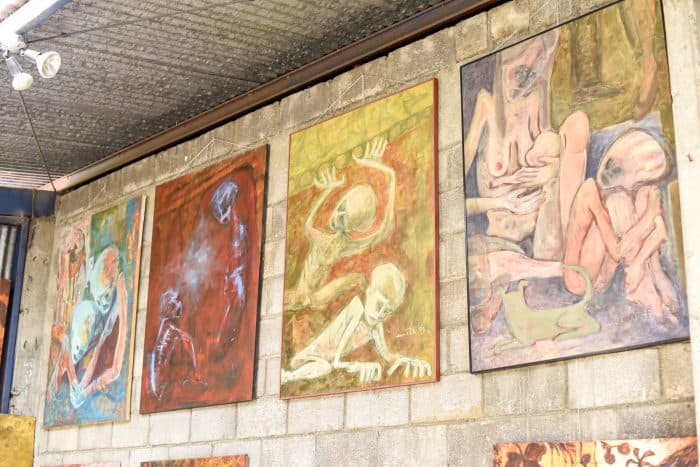 Is there a painting you feel a special affection for?
There are a lot. That one over there, for example: "The Silence," two men in the sea who hardly move. It's a monumental painting. It overwhelms you. I really don't like paintings with many colors; I've painted with more color sometmes because that's what people like, but I prefer somber paintings.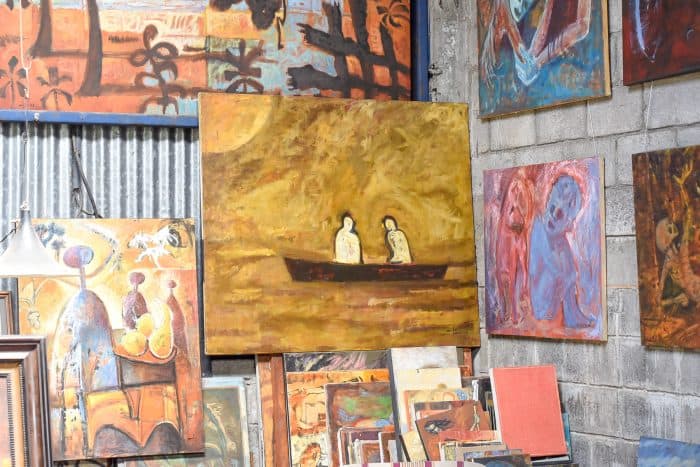 What do you like the most about painting? 
Wow, that's a tough one. No one has ever asked me that before. I mean, it's a passion, but what motivates it? It's something I really don't understand, because sometimes I don't want to paint. I'm like, "This is so tedious, I wanna go now," and suddenly I take the brush and start to scribble. It's something mechanical, natural. Sometimes I'm painting there, I'm scribbling, and when I finally see it I think, "Wow, it's so pretty!" That happens in the moment, and then a few days later I see it, and I think "How did I do that?" I just don't remember. I feel like I'm a tool: A good mechanic uses any tool to fix a car, so I feel someone else is the mechanic and I'm just a tool.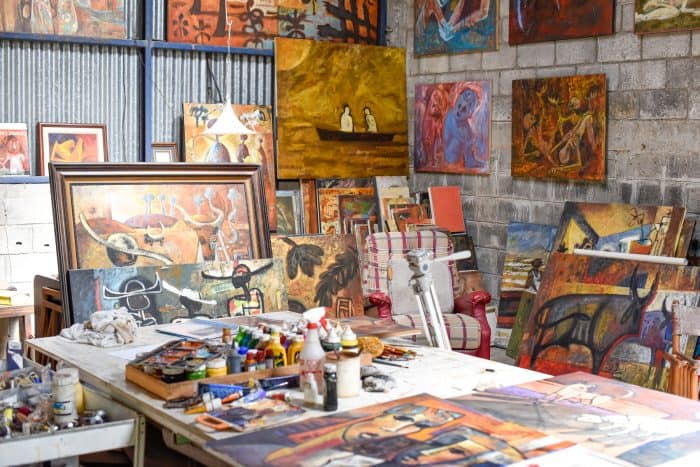 Can you tell us more about your style and medium? 
In rough terms, there are two types of art. One is figurative art, where you can recognize figures even though it's not drawn photographically. The other is the abstract, where you can't recognize anything. In figurative art, you can do things the way you want to. You can take anything and distort it, change it.
I prefer oil paintings, although the disadvantage is that they take more time to dry. For example, for the [upcoming Hidden Garden] exhibit I want to work fast because I want to do many paintings. With oil I can't work that fast, but it's a higher quality. Another important thing for me is that I don't want to repeat my paintings. There may be repeated elements, like bulls or boats, but they are not the same. Sometimes I also like to paint Costa Rican landscapes. I'm always doing different things, and I want it always to be that way.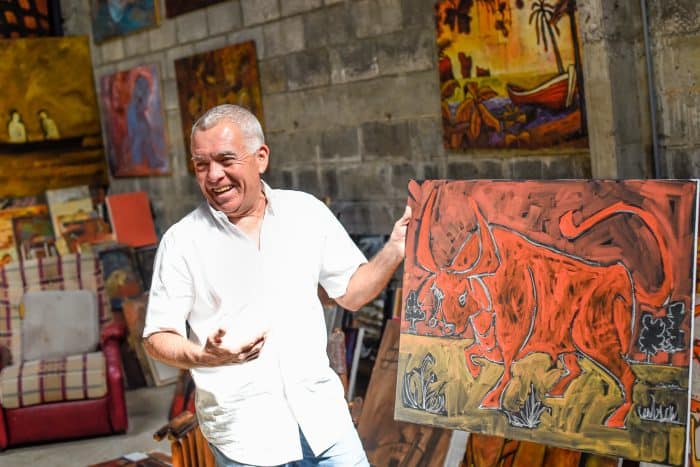 Is there an artist that inspires you, someone you really like?
Well, all [those books] you see there are about artists I like. I don't use them to copy. You may come in and see an open book and you may think, "He's copying it," but no. For example, I really like [Amedeo] Modigliani, an Italian painter known for women with long necks and oval faces; I can see a painting and analyze it and suddenly I'm dying to grab a brush and paint something, not copy, but there are details people may recognize. Because there's nothing else to invent in paintings.
The Hidden Garden Art Gallery will present a new Milo Gonzales exhibit starting February 13. The exhibit will include some of the artist's favorite paintings from earlier in his career, and new work he has done prepared especially for this exhibit. Hidden Garden Art Gallery is located 5 km west of the Daniel Oduber International Airport, Liberia, Guanacaste. 10 a.m.–4 p.m. Free. More info: 2667-0592/8386-6872 or at the Hidden Garden website.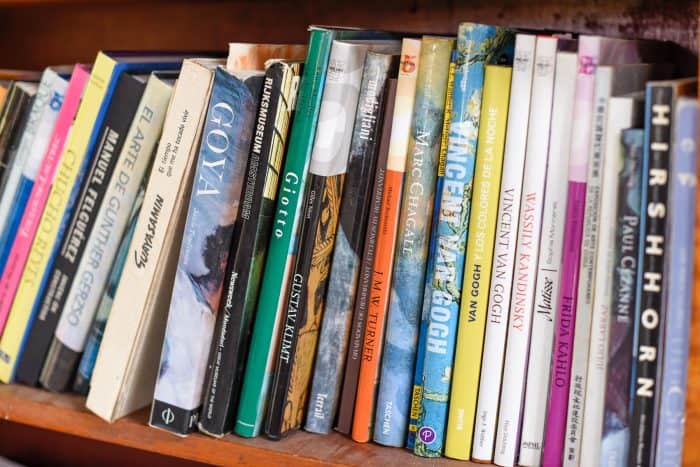 Read more "Weekend Arts Spotlight" interviews here.
Our "Weekend Arts Spotlight" presents Sunday interviews with artists who are from, working in, or inspired by Costa Rica, ranging from writers and actors to dancers and musicians. Do you know of an artist we should consider, whether a long-time favorite or an up-and-comer? Email us at kstanley@ticotimes.net.