Hundreds of mountain bikers will retrace the steps of 16th century Spanish explorers in Costa Rica in a race that begins Thursday. The Ruta de los Conquistadores traverses Costa Rica from the Pacific to the Caribbean through some of the country's most grueling terrain.
Each of the three stages is named after one of the three conquistadors who arrived in Costa Rica five centuries ago, beginning with the Juan de Cavalón stage Thursday. The race begins at 6 a.m. in Playa Herradura, Puntarenas and ends in Atenas in the Central Valley, covering more than 100 kilometers with a cumulative elevation gain of approximately 3,400 meters (12,000 feet). Throughout the three days, riders will travel more than 255 kilometers (160 miles) and climb more than 7,725 meters (25,344 feet).
As far as international cycling events go, the Ruta de los Conquistadores is consistently named among the most difficult in the world, especially for mountain biking events.
Outside Magazine calls it one of the 13 toughest races — of any sport — in the world. The magazine notes that riders have three days to finish the route while the Spanish conquistadors took 20 years.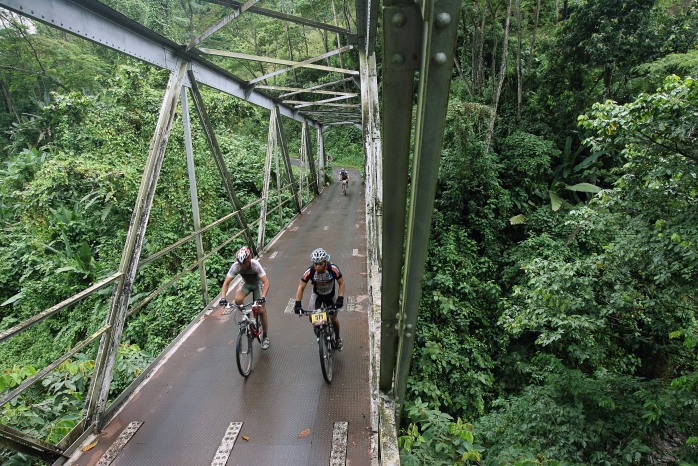 Nearly 400 riders will participate in the 23rd edition of the race, including international riders from countries like the United States, Spain, and Colombia.
Chris Case, the managing editor of U.S.-based cycling website Velo News, is a longtime cyclist who competed in the race in 2013. On the last day of the race, just an hour before he finished, Case fell through a hole in a train bridge over a river. He struggled to keep himself from falling 50 feet into rapids while holding his bike over his head. A military policeman rushed over to lift him up and Case continued on to the finish line.
But he said the harrowing experience, which he later chronicled on his website, didn't muddy his memories of Costa Rica and the arduous race.
"I would do it again," he said in a telephone call from Colorado. "I remember just loving it."
The route, which changes slightly every year, takes riders through jungle paths, around volcanoes, and over raging rivers, like the one Case almost fell into. This year's edition of the race also offers an optional rafting detour on the Pacuare River.
"It's just such a crazy adventure, it's far more than a bike race," Case said.
The winner of last year's race was Portugal's Luis Leao Pinto. The favorites heading into this year's race are Colombia's Luis Mejía and Costa Rican Olympian Paolo Montoya, who has won the race four times, more than any other rider in race history.