RIGA, Latvia — The first time this tiny Baltic nation held a gay pride march, the miniscule crowd was pelted with rotten eggs and bottles under the copper-green spires of Riga's medieval old city. The participants — all 40 of them — fled to safety in a church.
That was a decade ago. This year's parade drew thousands from across Europe, and the egg-throwers stayed at home.
Eastern Europe, long a stronghold of virulent homophobia, is reexamining attitudes toward gays and lesbians, and the debate has become a new battleground in the conflict between Russia and the West. The Kremlin has seized the opening, warning its former satellite states that if they align with decadent Europe, moral collapse will soon follow.
Russia's arguments have taken hold in Ukraine, Georgia and other countries outside the European Union's high walls, where pro-Western leaders have resisted European demands for tolerance of gays and lesbians. A gay pride march in the Ukrainian capital of Kiev last month ended in fistfights and controversy. Gay rights organizers in Georgia have called off public events altogether, after a 2013 march was beset by Orthodox priests wielding stools and stinging nettles.
https://www.youtube.com/watch?v=8TFXPkPMzek
But in Latvia, which long ago made a firm choice to steer away from its old Kremlin overlords, tolerance of gays and lesbians has increased markedly in the 11 years since it joined the European Union. When the foreign minister, Edgars Rinkevics, came out as gay last fall, he predicted "mega-hysteria" — but the reaction was barely a ripple.
"The EU has helped. Latvians want to fit in," said Linda Freimane, a longtime Latvian gay rights activist who helped organize this year's parade, which drew people spanning the width of the 28-nation European Union. "We want to be the good guys in school."
The tug-of-war over gay rights has taken on special significance after a recent string of U.S. court decisions upholding gay marriage. Caitlyn Jenner's very public transition from her old life as Bruce, meanwhile, has thrown a spotlight on transgender issues and acceptance.
See also: Costa Rica grants first gay common-law marriage in Central America
In Latvia in 2005, hundreds of furious anti-gay counterprotesters poured into Riga's cobblestone streets on a July afternoon so drizzly that when they tried to burn a rainbow flag, they had trouble getting it to ignite. The jeering crowds far outnumbered the gay rights marchers, who were hemmed in by a thick cadre of police officers.
Latvia had joined the European Union just a year earlier, and membership in the club had just started to remake the nation's socially conservative attitudes. Citizens suddenly had the right to travel and work anywhere in Europe they pleased, and they flocked westward in droves, to countries that are far more tolerant of gays and lesbians. A new generation has come of age with little or no memory of the Soviet era, when homosexuality was outlawed.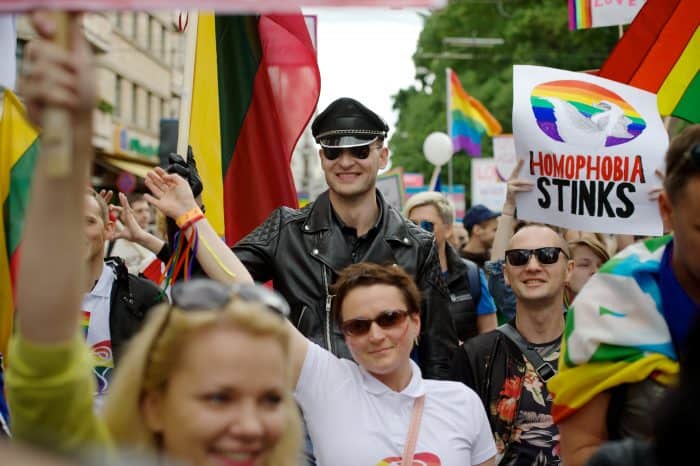 After the calm following the foreign minister's coming out on Twitter, "People realized there wasn't this groundswell of homophobia in society," said Pauls Raudseps, a columnist for Latvia's Ir newsweekly.
At this year's parade, families carried a rainbow of balloons underneath the watchful carved faces on the buildings in Riga's Art Nouveau quarter. Mothers pushing strollers walked alongside men carrying banners promoting tolerance. The week ahead of the parade, the U.S. Embassy in Latvia hoisted the rainbow flag alongside the stars and stripes, and top diplomats marched among the crowds wearing visors designed especially for the occasion.
But challenges remain. Just days before the gay pride parade on a recent Saturday, Latvia's parliament approved a law requiring "virtuous" education that includes promoting traditional marriage and family structures inside the classroom. The measure was sponsored by Latvia's largest ethnic Russian party, but it was approved with support from conservative anti-Russian nationalists.
"Why do we need to be like everyone else? We don't need European culture. We don't need global culture," said Viktorija Petravska, 22, a gardener who drove three hours to join the several dozen counterprotesters at the Riga parade.
Those evil Western values
In Ukraine and Georgia, the divisions have been far starker. Wedged between Russia and the West, neither nation has taken decisive steps to make life more welcoming toward their gay citizens. Even many of the pro-European protesters who overthrew Ukraine's old Russian-friendly president quarantine gay rights as radioactive. Before Ukraine signed a landmark EU pact, leaders won a reprieve from EU anti-discrimination demands, to the disappointment of its gay rights advocates.
Russia has seized the opening, pushing hard to make itself the leader of the traditional values camp and warning both at home and abroad that Western values eat at family structures and society's basic fabric.
"In place of Victory Parades in Kiev there will be gay parades," wrote Alexei Pushkov, the chairman the Foreign Affairs Committee in Russia's lower house of Parliament, as the conflict in Ukraine heated up.
The Russian anti-gay rhetoric has promoted the idea that gay marriage is a weapon aimed straight at the Kremlin.
"This issue is very tightly connected with anti-Western, anti-American ideas," said Yury Gavrikov, a leading gay rights activist in St. Petersburg.
In Ukraine, a gay rights march that took place on the outskirts of Kiev last month was disrupted by far-right opponents who threw smoke bombs and scuffled with participants and their police protection. Most of the violence came from members of the Right Sector group, a ructious Ukrainian nationalist organization born of the pro-European protests that is heavily armed and has taken part in the fighting against the Russia-backed rebels in Ukraine's east. Right Sector is also suspected in a recent series of attacks on Kiev's gay clubs.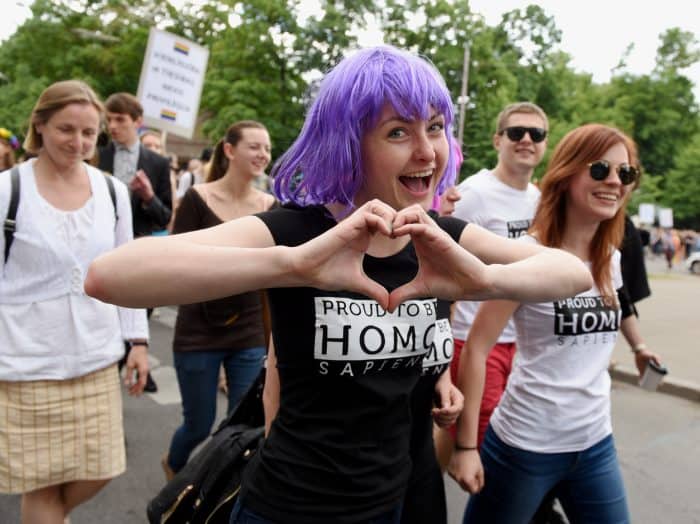 Even mainstream pro-European politicians such as Kiev Mayor Vitali Klitschko, a leader of the 2013 protest movement, encouraged activists to stay home. Ukrainian attitudes are so overwhelmingly skeptical toward gay rights that advocates considered President Petro Poroshenko's decision not to oppose their event a major battlefield win.
"For years, there was a situation where this topic wasn't really talked about in our society," said Denis Panin, a member of the board of Fulcrum, a Ukrainian gay rights organization. "But if you ask people's individual attitudes, they would say they didn't approve of gay people."
And in Georgia, opportunities for gay rights advocates seem even more dismal. The Georgian Orthodox Church — which has powerful historic ties to its Russian Orthodox counterparts — has come out swinging against any efforts to promote tolerance of gays and lesbians. It succeeded in briefly tying up legislation required for EU visa liberalization, a popular pro-European measure, because Europe required that Georgia outlaw anti-gay discrimination. The black-clad priests who took a leading role in the violent anti-gay riot in 2013 in Tbilisi wielded weapons against a handful of pro-tolerance protesters.
Many Latvians credit Europe for the shifting attitudes in their own nation. Some hope the wave might roll into Ukraine and Georgia if those countries succeed in forging closer westward bonds.
"It's an incredible feeling. You can't even express it in words," said Kaspars Zalitis, a gay rights activist who participated in Latvia's 2005 march and was a main organizer this year. "If nobody believed we are becoming an open, democratic society, this is proof of it. We are becoming a normal European country. It's part of being in the EU."
© 2015, The Washington Post