CAÑA BLANCA, Puntarenas — The capuchin monkey's story was a heartbreaker.
Raised a pet, but thinking it was a member of the household, Preciosa lived with the same family for 12 years. But at the age of 10 she started to nip people — a behavior that her caretaker described as infantile, not aggressive, and yet painful.
"So she was put in the back yard all by herself," said Carol Patrick, 67, the founder and vivacious grand dame of Osa Wildlife Sanctuary, home to some 90 distressed animals from all over the Osa Peninsula and the Golfito region, almost all of them victims of the pet trade or some other human intervention.
"Being social like we are, think about solitary confinement," she said. "She hears everything going on in the family, she knows little Suzie had a birthday party, she was there last year, what happened this year? And she started into these self-mutilating moments. She came to us with these bleeding scabs from shoulder to wrist."
Preciosa was left with psychological scars that you can still see in little tics and odd behaviors as she climbs around the cage she shares with her roommate Tito. Before meeting Preciosa, we were told not to laugh at her like some children do.
"She realizes you're making fun of her, and she turns her back and covers her face," Carol said. "So we just ask that you don't show your teeth, don't give her direct eye contact, and just give them the respect that these intelligent animals deserve."
Preciosa accepted some treats and then scampered around her enclosure looking pretty normal.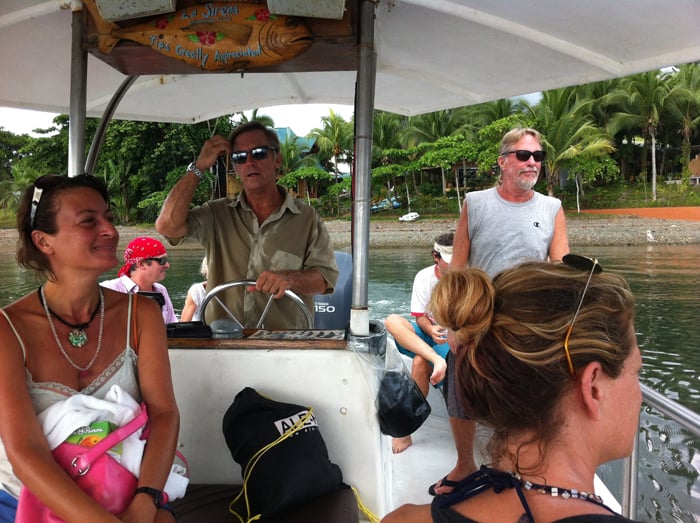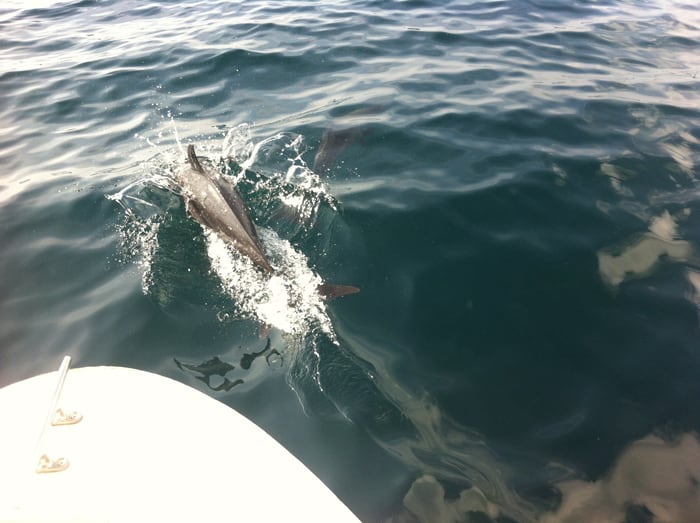 The exuberant Carol, who was formerly in the wholesale lumber business in San Francisco, got her start in Costa Rica 20 years ago taking care of a single bird.
"In 2003, I'll never forget the day, Oct. 29, 2003, the government called and said, 'We confiscated a spider monkey from a house, and if you can't take it, would you euthanize it for us?'" she said. "And of course I went over and met him on the dock over there, and opened this little box about this square, and this charming little baby monkey clinging to a damp mop head, looking up at me, and I went, 'That's it! I know what I'm doing with the rest of my life!'"
Fundacion Santuario Silvestre de Osa, to the north of Golfito, is accessible only by boat and is completely surrounded by Piedras Blancas National Park. Tours are offered every day, accompanied by an otherworldly soundtrack of howler monkeys in the hills.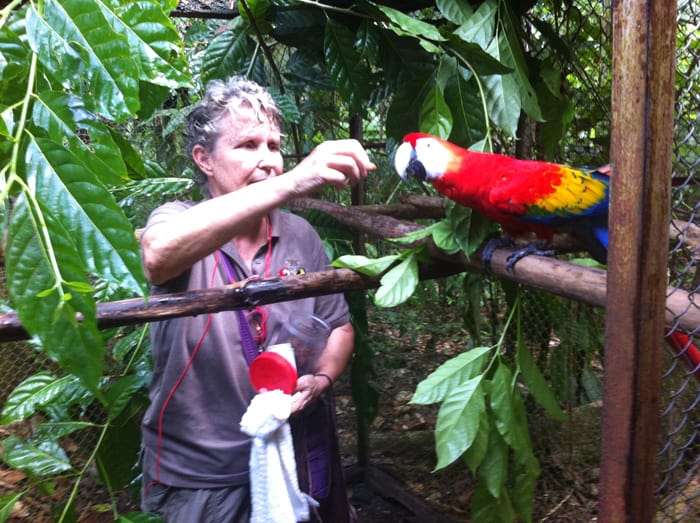 On a two-hour tour Saturday, Carol introduced visitors to a spider monkey named Poppy, a scarlet macaw named Regalo, a porcupine named Mr. Cuddles, a peccary named Chanchito, a kinkajou named Kinkers and a weasel named Boogie.
"I abhor cages," Carol said, inviting people to step into the macaw enclosure. "Hi, Regalo. Regalo is a victim of the pet trade. Let me give her an almond. Regalo's wings are malformed because of the cage she was kept in, so she can't fly."
Macaws need a concave space to nest, but all Regalo was given was a perch.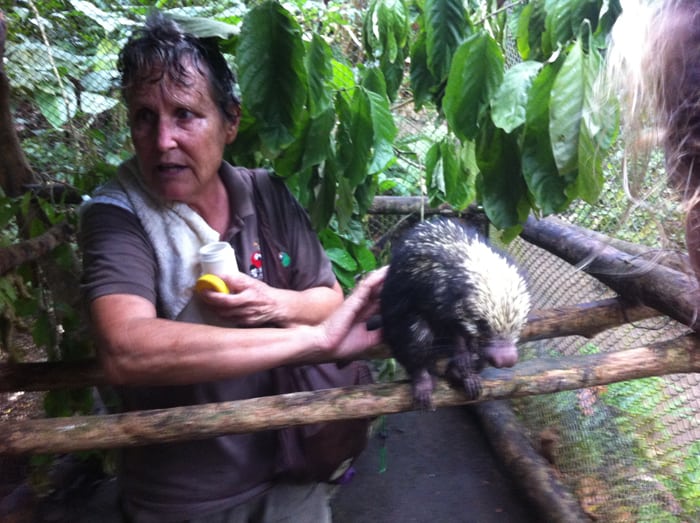 "Her wings malformed because when she wanted to rest, she had to put her wings out to balance," Carol said. Unable to fly, Regalo will spend the rest of her life here, one of many animals that can never be released. But Carol says she's happy.
"I do want you to know that we make every endeavor possible to get wildlife out the door, so much so that a lot of our charges don't know cages," she said.
But the caged capuchins, alas, cannot be released either.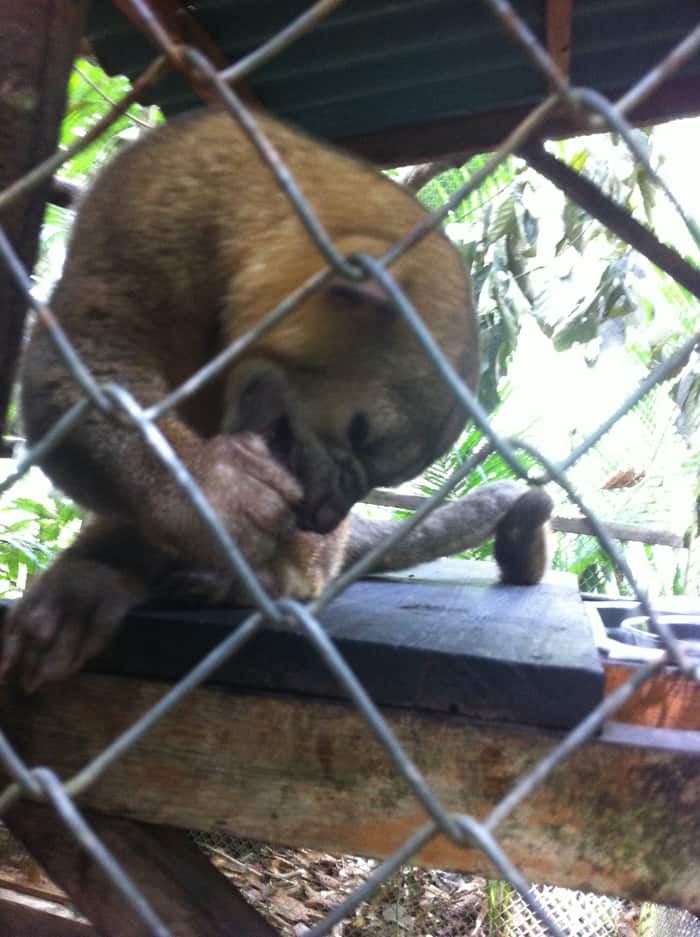 "These are not releasable because out of the six species in the Cebus genus, this is the only one that's territorial," she said. "So if one of these were to escape, the troop that claims this area will come and kill."
Among the most adorable animals here is Boogie the tayra, which is also known as a tolomuco and is an omnivorous member of the weasel family.
"Her legs were collapsing, her hind legs were falling out from behind her when we got her," Carol said. "She had 10 percent of her fur when she came, pus oozing from her eyes, and she was just a bag of bones."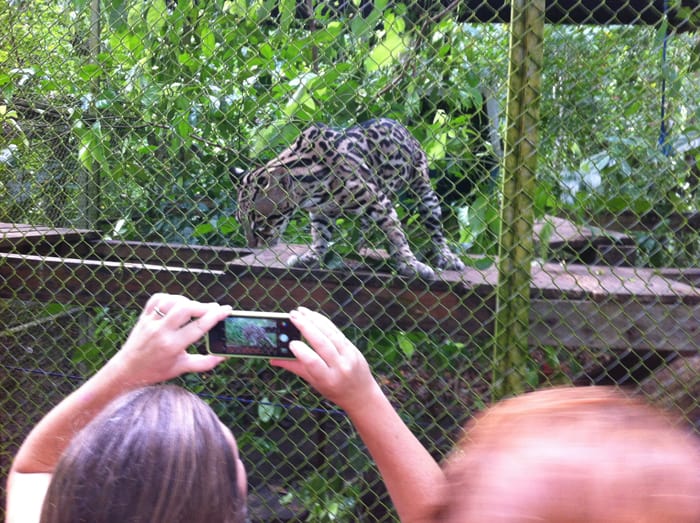 Her veterinarian raised the possibility of euthanasia.
"Everybody thinks I'm the bunny-hugging grandmother that's going to be able to save everything," Patrick said. "And I know when something wants not to live anymore, you know what I mean? I'll put 'em down. But this kid was eating the food, and loving, and she was 3 months, she would have been dead within a few weeks because the others were crowding her out, because she was the runt."
Animal sob stories turn out to make excellent theater. The half-dozen people in our group were captivated and charmed by everything we saw today. The suggested donation of $25 seemed a low price to pay, though it came on top of the $65 each we paid for a motorboat gulf tour, with dolphins and snorkeling. You could pay less to just take a boat to the sanctuary.
This is the third animal rescue center I've visited in this country, and without taking anything away from the others, this was the bomb.
It reminded me a little of "The Island of Dr. Moreau," a completely isolated place where damaged creatures are being raised by a mad scientist, except Carol isn't mad and these creatures were damaged elsewhere.
Now it's all about their recovery, and the hope of releasing as many as possible into the wild.
"We're incredibly successful with releasing," Carol said, pointing out the benefits of the sanctuary's isolation. "I mean, think about it, you don't have to grab an animal, throw it into a dog carrier, throw it in the back of a pickup truck, drive it somewhere and then open up the door" — and then wait and see if the animal survives or it doesn't.
"So here we just open cage doors. And they come and they go, and they come and they go, and they come and they go, and they come and they go, and eventually they go."
IF YOU GO
Osa Wildlife Sanctuary: For daily tours starting at 9 a.m., call (506) 8348-0499 a day in advance to make a reservation. The sanctuary requests a donation of $25 per person. The only access is by boat; you can join a gulf motorboat tour that includes a visit to the sanctuary or find a boat captain at any tour office or at the pier. More info: www.osawildlife.org.
La Sirena Motorboat Gulf Tour: Daily tours offered; call 2735-5090 for a reservation. Cost is $65 each with six people. Departs in the morning from Cabinas Jiménez or the pier, depending on the tide.