SAN SALVADOR, El Salvador — A few miles short of the El Salvador border Monday, three men on two motorcycles started chasing us.
Carjackers? Armed robbers? Kidnappers?
Border fixers.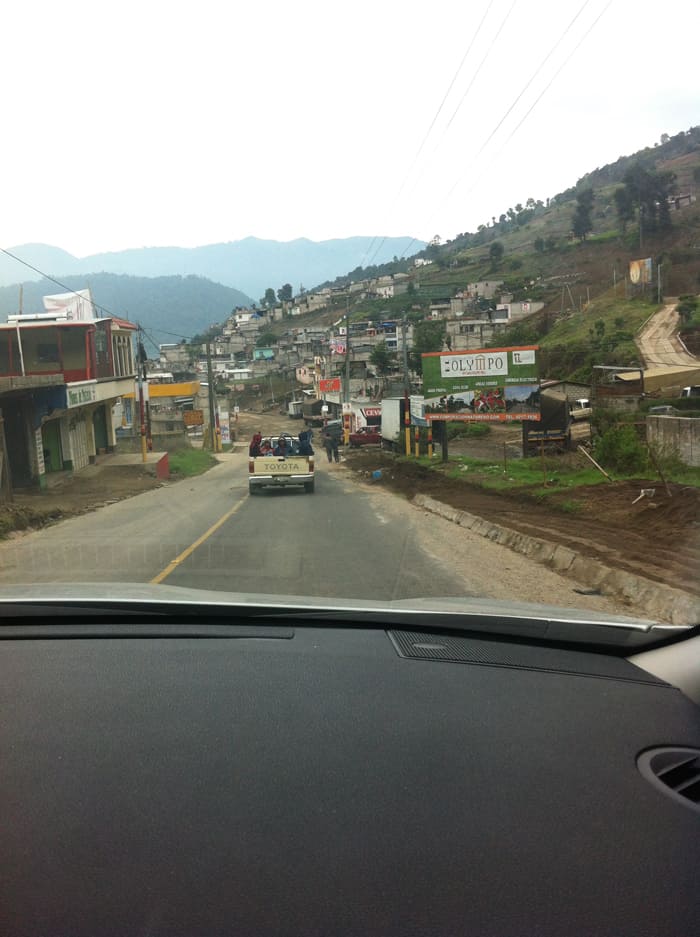 These are the guys who make a living walking tourists through the process of crossing a border — where to go to get copies, what you need copies of, what to do next, how to fill out the papers.
At most borders they'll swarm you as soon as you pull up, but at this Guatemala-El Salvador border crossing they lie in wait for you before the crossing and give chase.
We waved off the most aggressive one, who wouldn't take no for an answer. Brother Paul got angry and shouted at him: "Leave us alone!"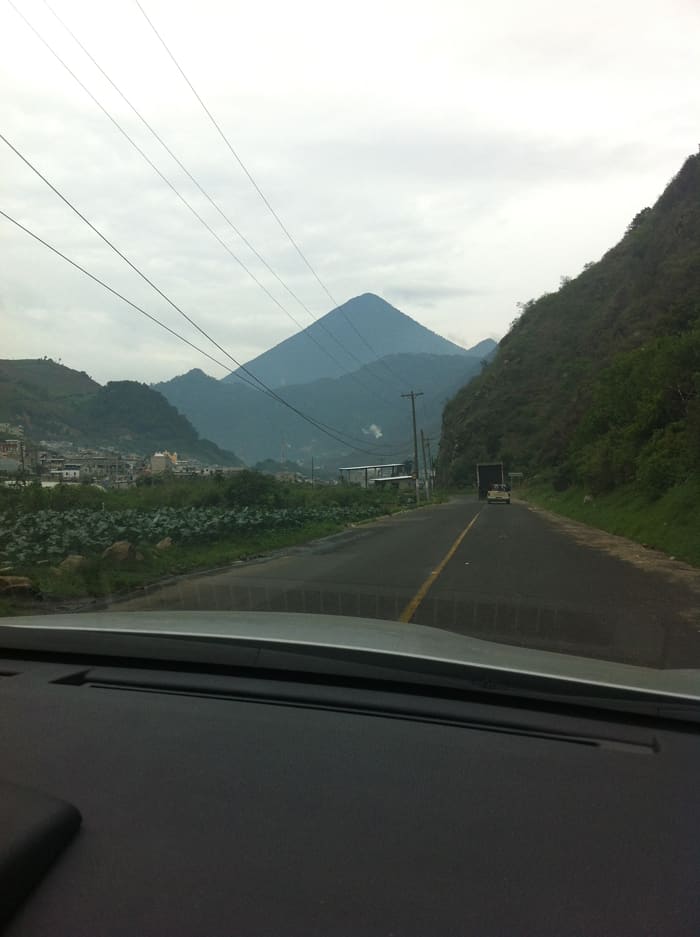 I was driving, and I just ignored them. The less aggressive one rode in front of us, signaling where to slow down for a speed bump, which way to go, where to pull in.
When we got out, Paul asked the one who was more tranquilo how much money we needed to cross the border (in order to change money). He answered a different question, saying he wasn't going to charge us anything, he would just help us out, and anything we wanted to give him was voluntary. Hired!
The crossing took an hour and 15 minutes but was totally painless. The only thing agents inspected were our papers and the VIN number of our car.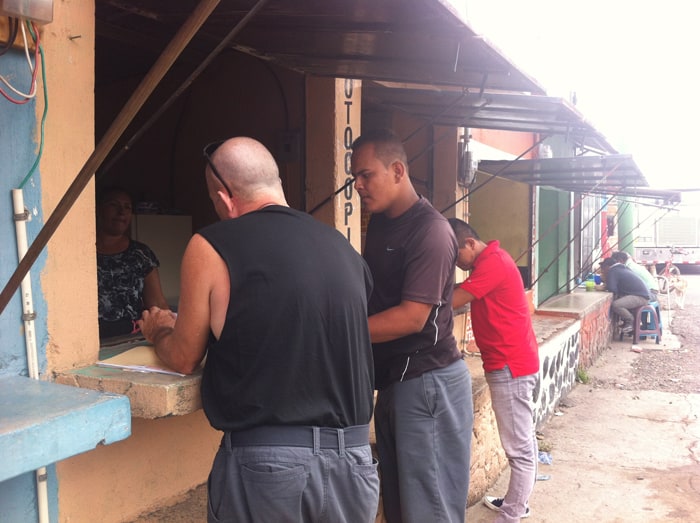 The border agents were highly professional and courteous, and one of the first ones told us that this border crossing is free and we shouldn't let anyone tell us that we have to give them money.
My brother and I, who are driving from Arkansas to Costa Rica after inheriting our late mother's car, had planned to bypass El Salvador, driving from Guatemala straight to Honduras in order to skip two border crossings.
But last night I searched for driving directions from Quetzaltenango to San José, and Google drew a line straight through El Salvador. It looked like we could save a few hours, border crossings or no.
So we decided to go for it. I've been to every country in Central America except El Salvador, so maybe it was time.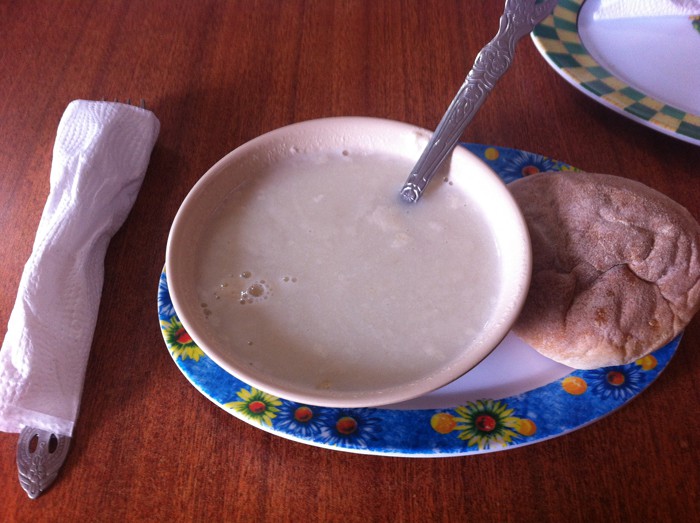 After our roadside breakfast of eggs and beans (served, oddly, with sweet corn soup), we hit the road driving at Paul's usual breakneck speed.
Then Paul started regaling me with tales of El Salvador, saying the roads are full of hairpin curves and the signage is terrible, so it's easy to get lost. And this being the home base of the violent Mara Salvatrucha gang, crime is a serious problem, as evidenced by the guards with sawed-off shotguns at every business.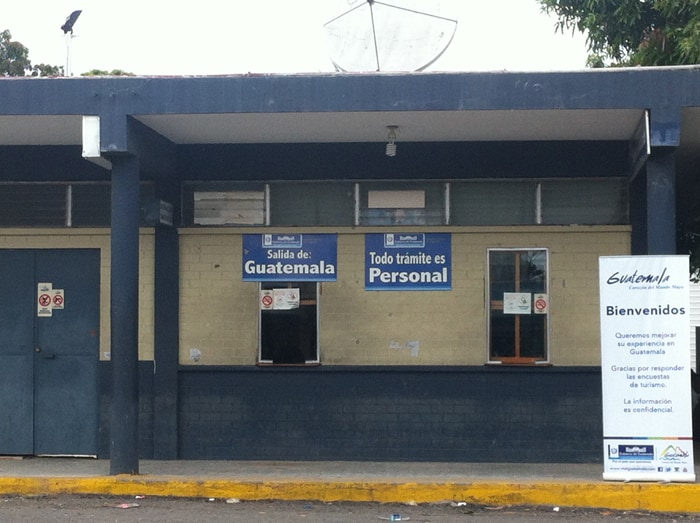 So, um, why did we decide to cut through El Salvador? Oh, yeah, to save time. And another thing: to shave several hours off our transit through Honduras, the murder capital of the world.
And boy, were we glad with our decision once we were cruising down the road. The coastal highway we took was a great road — well paved, well maintained, well striped, and it even had shoulders. (Hint, hint, Costa Rica.)
(And speaking of Costa Rica, we have yet to encounter a single one-lane bridge in any of the three countries we've crossed.)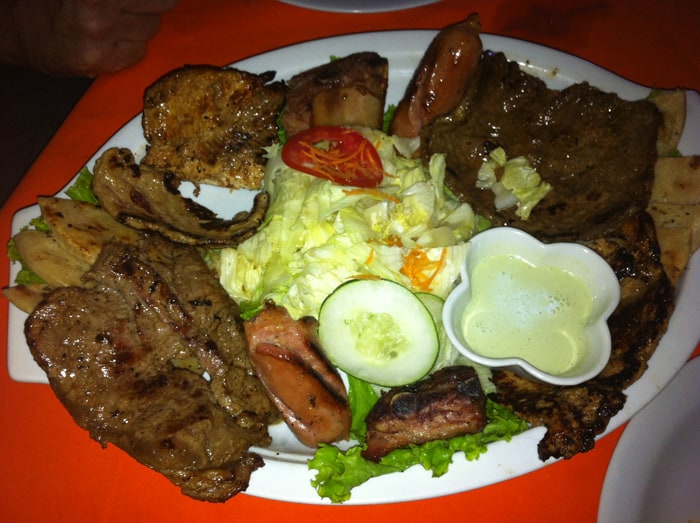 We had a huge parrillada lunch for two, which was delicious, and I took the wheel. The very winding road skirting the coast was a lot of fun to drive, with several tunnels and great views of the Pacific Ocean, and traffic was remarkably light. And best of all — no speed bumps.
And then — police stop! A policeman up ahead waved us over for a routine traffic stop, said a pleasant "Buenas tardes" and asked to see my driver's license. I gave him my California license and Paul handed over the car permit, and he walked to the back of the car to check the license plate.
He came back, handed our stuff back, and told us to have a "Buen viaje." Nice cops!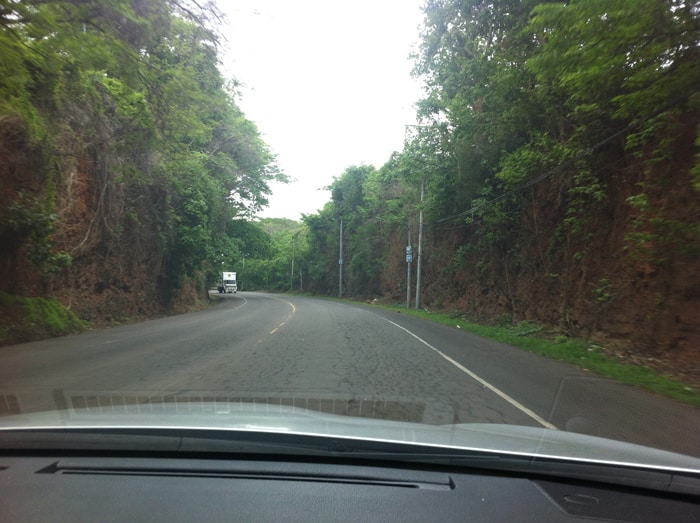 By the way, El Salvador is just as lush and beautiful as every other country I've raved about, with one distinction: Even the towns look nice. Guatemala, we noticed, had jaw-dropping natural beauty, but as soon as we entered a town, we saw litter and junk and ugly buildings, as if populated areas were the only blight in the country. (We were far more impressed with northeast Guatemala when we drove through it in 2008, but the northwest leaves a lot to be desired, and I feel bad saying so, because much of the reason for that is poverty.)
We had an unnerving adventure in Escuintla, Guatemala, when the main highway to the border turned into a tiny street lined with market stalls and thronged with hundreds if not thousands of people. Paul bravely inched our car forward into the sea of people, but it was like driving in the Old City of Jerusalem on Easter Sunday.
But back to El Salvador, with me at the wheel. It was getting close to dark, but I was determined to drive all the way to San Miguel, and I was congratulating myself on how well this was going when we crossed over a freeway that shouldn't have been there.
We pulled over and asked for directions to San Miguel, and four very friendly people told us to turn around and get on that freeway. We did — and saw that we were 10 km from San Salvador, when we should have been nowhere near there!
Oh, great. So for the first time in 3,500 km we took the wrong road, and it happened on my watch while Paul was reading his book. But I swear I didn't take a wrong turn — I just failed to take a right turn, and there was no sign to warn me.
Paul said, "This is exactly what I was telling you about the signage in this country." He said we might as well just go into San Salvador and bunk down for the night.
So our last adventure of the day was driving in the dark during rush hour into a metropolis of 2.5 million people with a murder rate 10 times higher than New York.
All I need now is to get carjacked, I kept thinking. Or get in an accident.
After a long, slow slog in heavy traffic, driving aimlessly into the city, we finally spotted a hotel, and once we found one, we found six.
The Hotel Miramonte was just the ticket — gated parking, air conditioning, in-room Internet and the same price as every other hotel room we've found, $50 for two.
Boy, did it feel good to shut off the car in a safe place, even if we only made a lousy 453 km today.
Tomorrow: Honduras (but just for a little while) and Nicaragua.
Follow our daily updates on this journey — the good, the bad and the border crossings — at travel.wordpress-257819-2837440.cloudwaysapps.com. Contact Karl Kahler at kkahler@ticotimes.net.