BUENOS AIRES, Argentina – As an autumn chill settles over the Southern Hemisphere, the harvested Argentine vineyards mottling yellow and russet, José Manuel Ortega's winery rises amid snow-capped Andean foothills.
Inside, Ortega is holding forth on why the poetry of a malbec yields to the prose of healthy profits, especially with October presidential elections due to end the 12-year reign of the Kirchners, who have drawn the ire of many business executives.
"If you're a shrewd investor, you're late on bonds and shares and you're left with real estate," Ortega said at his vineyard in La Consulta in the province of Mendoza. "Any decline in Argentine risk due to the positive outcome of the election will raise the price of our property."
An investment in a winery may not be as reliable as one in financial markets, where government bonds have returned 24 percent in the past year and the benchmark stock index has gained 80 percent. But a secondary market has emerged for plots of Mendoza, world capital for malbec, whose opaque purple grapes thrive at high altitudes and yield a plummy, inky wine with a smoky finish.
Ortega, a 46-year-old Spaniard and former banker with Goldman Sachs and Banco Santander, is selling plots of malbec and shares in a luxury 40-room hotel under construction. Since 2012, he has sold 65 percent of his plots — now going for $60,000 an acre — in the Uco Valley, Argentina's version of Napa.
Ortega isn't alone. Other slices of wine country, where land is a tenth of the cost in Napa, are on offer.
U.S. native Michael Evans, 49, who worked on campaigns for Democrats from Bill Clinton to John Kerry, came to the Uco Valley in 2004 and never really left. Vines of Mendoza LLC, his venture with Mendoza winemaker Pablo Gimenez Riili, has invested $60 million in 1,500 acres outside Vista Flores and last year opened a luxury resort where rooms go for as much as $2,000 a night. He plans to offer helicopter skiing this winter.
Of 200 parcels set aside for sale to outside investors, the group has sold 155, Evans said. Owners work with wine makers and agronomists to customize their wines from cabernet franc and torrontés grapes to alcohol levels, which are boxed and shipped every year.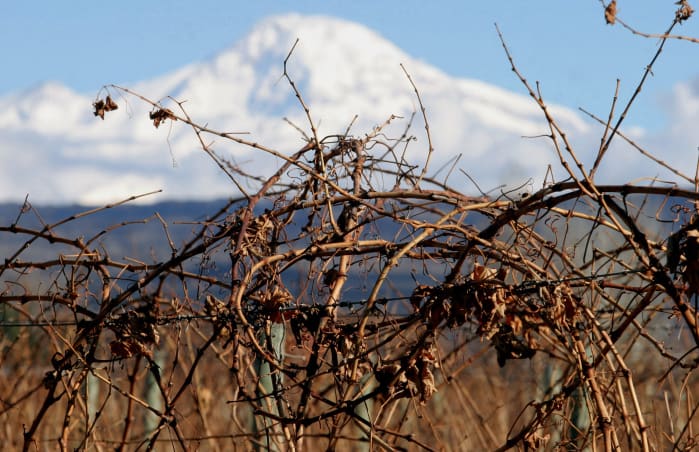 Managing a business in Argentina, South America's second-biggest country, has gotten harder since 2011, when President Cristina Fernández de Kirchner stepped up state intervention in the economy by imposing currency controls. Growth has stalled and inflation is estimated to be as high as 30 percent.
There have been other problems. Winemakers in Argentina have had to contend with import restrictions, workers' salary demands of 40 percent annual wage hikes to meet inflation and multiple exchange rates. Oak barrels have been held up at customs, Evans said.
Ortega argues that any of the three leading presidential candidates will help bring returns to investors through an increase on the price of land and the value of the wines. Anticipation of a new administration — Fernández isn't eligible to seek re-election — has triggered a rally in bonds and stocks. And with just six months until elections, Ortega is breaking ground on the 120 million peso ($13.6 million) hotel.
He bought the land in 2000. After a record $95 billion sovereign default in 2001, followed by a currency devaluation months later, Ortega built the winery and left banking several years later.
Evans said inquiries from potential investors surged three-fold in the first three months of the year and sales of plots doubled.
For Bret Rosen, managing director of research for real estate investor Jamestown Latin America, success is measured in ways other than the bottom line.
"As a foreigner, there's a romantic vision of having a vineyard in Argentina," Rosen said in telephone interview from Los Angeles. "And if the project goes sour the land will still have value, which isn't always the case for buying company shares or government bonds."
Ortega, whose wife Nadia is the chef at the winery restaurant and runs another restaurant in Mendoza, says his risk taking has paid off. He celebrated the first annual meeting with his investors on April 4 over a meal prepared by New York-based chef Bill Telepan with the U.S. ambassador, governor of Mendoza and executives from Cinemark Holdings, Coca-Cola and Impsa in attendance.
"A winery we spent $4.5 million to build now would cost $20 million. If you want to repeat the play you need to take the calculated risk and the same applies to potential buyers," he said. "Prices will go up not just on potential improvement in the economy but also due to lack of supply. We have just 35 percent of the land left."
© 2015, Bloomberg News