Costa Rican President Luis Guillermo Solís flew to El Salvador on an official visit Wednesday morning in a plane once owned by drug traffickers. This is Solís' second official trip with the plane after his flight to Panama on Nov. 19.
The president seems to have figured out that the key to flying in a airplane with a tainted history is to do so after the police have seized it and given it a fresh coat of paint, and not while its owner is suspected of having links to drug cartels, an oversight that rocked Costa Rica's former President Laura Chinchilla (2010-2014) and her administration.
The King F90 propeller plane was seized by police in December 2013 on a private airfield in Limón. Authorities discovered a metric ton of cocaine stuffed inside the cabin of the $1.2 million plane. Since the one-time drug prop plane was rechristened as MSP 020, it has carried out several ambulatory flights and become the first government aircraft to reach the remote Cocos Island.
Besides seizing drug traffickers' airplanes, Costa Rica has done pretty well for itself nabbing their product, too – at least compared to other Central American nations. The Public Security Ministry has seized 22.5 metric tons of cocaine in 2014 as of Nov. 23, according to a statement from the ministry.
Solís announced his trip to El Salvador during a press conference at Casa Presidencial on Tuesday. Solís was scheduled to briefly meet with El Salvador's President Salvador Sánchez before attending the inauguration of a monument to former Costa Rican President Juan Rafael Mora Porras and General José María Cañas. Thanks to MSP 020's cruising speed of 276 mph, Solís was expected back in Costa Rica by 5 p.m.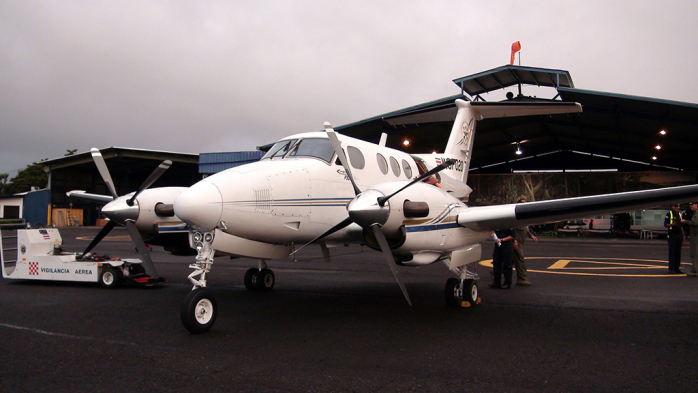 Correction, Thursday Nov. 27: This article originally reported that the King F90 was a jet, not a propeller plane, and that its top speed was 450 mph.