Costa Rica is well-positioned to start attracting more high-tech jobs and improve its workforce, according to one keynote speaker at the Competitiveness Summit, held Wednesday at Escazú's Hotel Real InterContinental and co-sponsored by the Costa Rican-American Chamber of Commerce (AMCHAM) and global consulting firm Deloitte.
"The key to competitiveness is talent – it's the ability of a society, the ability of a country, to skill and re-skill the population," said international consultant William Eggers, from the United States.
Eggers clarified: "It's not just about having college graduates and so forth; it's about the ability to re-skill people who are in their 40s, in their 50s, and even 60s, so they can go from low technology and manufacturing to high-tech manufacturing."
One thing Costa Rica should focus on, Eggers said, is becoming "a talent magnet where businesses would want to move in.
"If you can be a place where talent wants to come and you can grow your talent, that brings a lot of other things," he added.
But in order to design good policy to meet that goal, decision makers should evaluate current public policies in education, immigration, intellectual property, licensing and regulation, Eggers said.
"Ask how does this enhance our talent competitiveness in Costa Rica, [and] I think you start coming up with different policies, different approaches," he said.
The speech followed the release of a business competitiveness survey conducted by CID-Gallup Latinoamérica on behalf of AMCHAM and Deloitte. The survey polled 172 of Costa Rica's top company managers. One in five said the main barrier to competitiveness is "tramitomanía," an ugly-looking word that refers to lots of red tape and bureaucratic headaches.
The next two barriers cited were corruption (14 percent of respondents) and the high cost of electricity (13 percent).
AMCHAM Vice President Federico Chavarría highlighted a lack of long-term planning as another setback to the country's competitiveness, which he said was linked to four-year political cycles.
"It's short-term political management and it's difficult to carry out the changes that are required," he said.
Chavarría recognized, however, that the government can't resolve all problems, just as the productive sector can't work to improve the situation on its own.
The survey, conducted in early July, concluded that top business managers believe the president should immediately address Costa Rica's problematic transportation infrastructure, and he should hone the country's fiscal and monetary policy to provide clarity and improve competitiveness.
According to 58 percent of respondents, the Latin American country that best reflects a positive competitiveness environment – from which Costa Rica should learn – is Chile.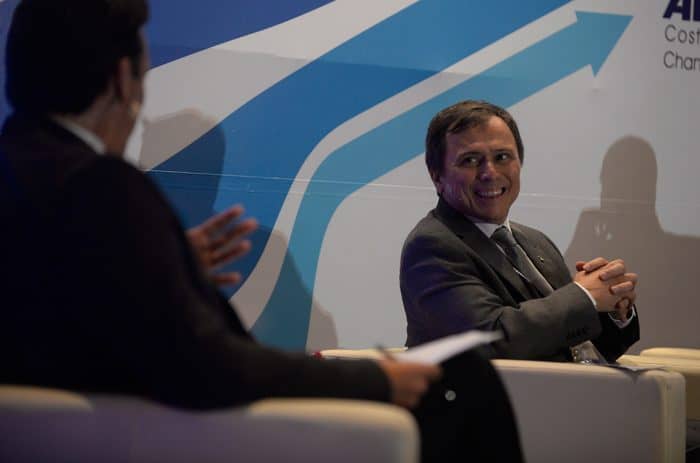 An oasis from politics
Costa Rican President Luis Guillermo Solís, from the Citizen Action Party, also addressed the forum, calling it "an oasis where a politician can come to think."
For the president, who took office in May, another important barrier is inequality – not only in terms of income, but also in terms of territory.
"Even in such a small country as ours, it is very troubling to see the inequality between urban centers and the peripheral regions, and on this issue, the state has a lot of work to do to generate the conditions for investment to move out of San José," he said.
Solís also mentioned the inequality between women and men, and the conditions faced by the young and elderly, who he said are excluded from the market. He then highlighted the widening gap between the least dynamic sectors of society and the most dynamic.
"In the past 30 years, only one of these sectors has been developed, which involves the external sector and attracting investment. What's left behind are local and regional economies, and the gap between the internal and the external is causing us problems," Solís said.
Most company managers don't see things changing soon. Of those surveyed, 43 percent believe the country's economic situation will be exactly the same in one year. Only 34 percent believe it will improve, and 23 percent say it will worsen.
But they remain optimistic when it comes to their own companies.
Two out of three respondents believe their companies' bottom lines will improve in the next year. Just over 30 percent said things would remain the same, while only 3 percent said they expect their companies to fare worse next year.
To find the silver lining in all of this, AMCHAM and Deloitte invited the Costa Rican who best understands the sky – renowned NASA astronaut Franklin Chang-Díaz, founder and president of the Ad Astra Rocket Company, which has research and development facilities in the northwestern province of Guanacaste.
"When we Ticos decide to do something, we are capable of doing it well and sharing it with the rest of the world. I feel optimistic about the future of this country," Chang said.
Referring to his own company, the astronaut added: "We have more than 200 Costa Rican investors. Who would have thought that in Costa Rica, people would invest in outer space?"