The death of 11-year-old Florida resident Jordan Smelski from a brain infection in July has prompted the Florida Health Department to issue an advisory alert after tests confirmed the infection was caused by an amoeba he contracted while vacationing in Costa Rica.
U.S. media outlets over the weekend reported that Jordan died from a brain infection caused by Naegleria fowleri, an amoeba widely found in warm freshwater and soil.
While infections from the amoeba are rare, most are fatal as it causes a rare and devastating brain infection called Primary Amebic Meningoencephalitis (PAM). PAM is fatal in 98 percent of cases, according the U.S. Centers for Disease Control and Prevention (CDC).
Steve and Shelly Smelski told a Florida TV station last Friday they did not allow their son to swim in lakes or rivers because of the risk of infections. But they didn't realize the amoebas also could live in hot springs.
Jordan chose Costa Rica for the family's vacation destination because they had visited La Fortuna – a popular tourist region in the Northern Zone – three years ago and "had a great time," his parents said.
Jordan's father said he and his son swam for hours at hot springs, and a few days later, back in Florida, Jordan began having severe headaches. He was taken to the hospital after he began hallucinating and became violently sick. Doctors told his parents he had meningitis.
"We didn't know how critical it was; we thought Jordan had meningitis, and we thought we would be taking him home in two to three weeks," his father said.
Less than 72 hours later, Jordan died.
There are only 134 documented cases of deaths from Naegleria fowleri in the past 50 years in the U.S. Most cases occurred in the warm waters of central Florida, according to the CDC.
The agency reports that people cannot become infected from drinking water containing the amoebas, but rather when the amoebas enters the body through the nose.
Local reaction from Costa Rican health officials
Following Jordan's death, CDC staff contacted Costa Rica's Health Ministry to report the case, Director of Health Surveillance María Ethel Trejos told The Tico Times. Health Ministry officials, however, would not release the hotel's name where the hot springs are located.
"We tested all of the water at the facilities and detected the presence of Naegleria in some of the hot springs. The results were negative for swimming pools, showers and all other water sources," Trejos said.
"As a cautionary measure we asked the owners of the business to place visible signs warning tourists about the presence of the amoeba in the hot springs and asking them to avoid submerging to prevent water from entering through the nostrils," she said.
Reduce your risk of Naegleria infection by using nose clips or keeping your head above water in warm freshwater:http://t.co/1zuStUvDM0

— CDC Emerging Infections (@CDC_NCEZID) July 25, 2014
Health Ministry staff in the region conducted inspections to verify the signs are visible to the public.
"Our inspections concluded that no further measures are required, because the chances of becoming infected are very slim," Trejos said.
The health official said the presence of several types of amoebas is common in ponds, lakes, rivers and other locations, but lethal infections are uncommon.
"Prior to this case we didn't have any record of people affected with it [Naegleria fowleri]. But CDC guidelines coincide with our actions – informing visitors of the presence of the amoeba and asking them to avoid submersion. That's what the CDC recommends for situations like this," she said.
Elizabeth Abrahams Sandí, a microbiologist with the University of Costa Rica's (UCR) Parasitology Department, confirmed this is the first documented case of a Naegleria-related death involving Costa Rica. The Parasitology Department's lab evaluated the water samples collected by the Health Ministry.
"Amoebas are present frequently in many different environments, but a case of them causing a deadly situation is not that common," Abrahams said. "Being affected by PAM not only depends on entering the water but also on a series of situations involving age, health and even the outdoor activities being performed in the water."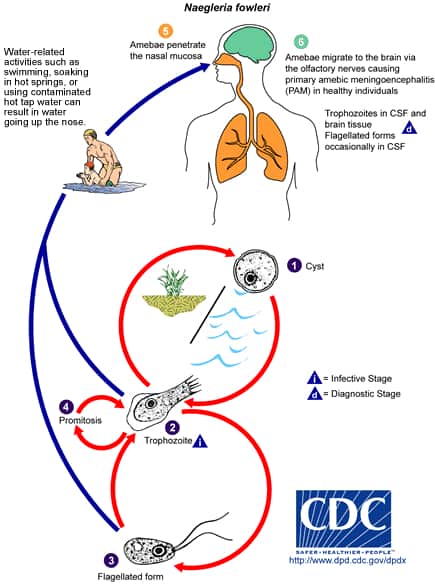 Children are most prone because their bodies absorb the amoeba more easily.
"Situations like submerging and swimming increase the possibilities of absorbing the amoeba, but just going underwater isn't enough to develop the infection," Abrahams said.
She did note that the only confirmed case of PAM in Costa Rica was a cow in 2006.
"It is essential to make clear that PAM can be caused by other species of amoeba, not just Naegleria fowleri," she said. "We are working on a series of studies to standardize diagnosis methodology and for updating our information regarding the presence of these types of amoeba in the country."
The UCR's study currently is being conducted at hot springs resorts, and also in swimming pools, showers and other water sources.
"There is no need to be alarmed, but we recommend owners of tourism businesses to remain vigilant at their facilities," Abrahams said. "Placing warning signs is a preventive measure, but considering that amoebas are present all over the world, this could mean that every single hot springs resort in the world should warn visitors about this."
To honor their son and raise awareness about their experience, the Smelskis created the Jordan Smelski Foundation for Amoeba Awareness.