Margaret Atwood, one of the most famous authors of the 2oth century, was a fellow at the Berliner Künstlerprogramm. So was British artist Damien Hirst, Polish science-fiction guru Stanisław Lem, and writers Susan Sontag and Richard Ford.
This year, the program has invited its first Tico: Luis Chaves, Costa Rica's most successful living poet. And he is ecstatic.
"The residence is designed to spend a year in Berlin and receive a salary to write," wrote Chaves to The Tico Times. "That's all I have to do. There are no classes or courses or anything like that. It is a space to devote myself to writing without thinking about or resolving the work needs of other people."
For the past two decades, Chaves' career has grown exponentially. A veteran translator and public relations specialist for Veritas University, Chaves published his first book of poetry ("El Anónimo") in 1996, followed by several more collections and the genre-bending "Asfalto." He has written extensively about sports and other topics for La Nación, and his nonfiction has been collected in two volumes, "El Mundial 2010" and "300 Páginas."
Chaves heard about the program through his colleague, the German writer Timo Berger. Chaves originally applied to the Berliner program in 2012 but was turned down. He submitted new materials in December of 2013, including published books and relevant paperwork. He received word of his acceptance two months ago, but the announcement was made official only last week. He will depart for Germany at the start of September.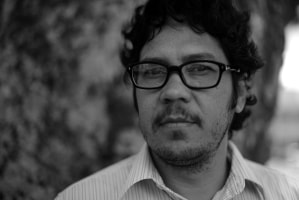 "When I told [Berger], months later, that they had selected me," said Chaves, "he responded with 'I don't believe it! Impossible!'"
Billed as one of the most renowned international artist residencies in the world, the Berliner program has drawn more than 1,000 acclaimed writers, musicians, and visual artists to its headquarters in Berlin since 1963. Creative guests generally present their works at Daadgalerie, an acclaimed art gallery on the antique Zimmerstraße.
Chaves has visited Germany twice before, once for the inauguration of the Cervantes Institute in Frankfurt, where he participated in poetry readings and then spent some time in Berlin. He visited Berlin again during a 2011 Latin American poetry festival. He doesn't speak any German, but he will be doing a crash course with his family before the big move.
"Part of my concern about the contest was that I was not only asking for a residence for me, but for my wife and two daughters as well," said Chaves. "So I thought I was competing at a disadvantage. But hey, that was my only concern and it was not an impediment."
He notes that he is only the third Central American to win a Berliner fellowship. In Chaves' application, he proposed writing a long work of fiction, composed in Spanish. Many of us will look forward to reading it.