It is The Tico Times policy to conduct reviews anonymously. If we have reviewed your establishment and you disagree with our assessment, you are welcome to comment on the article, and if you wish, request a follow-up review.

*
It was a car full of Hyatt lovers that set out on the 5-plus hour drive from San José to Papagayo to visit Costa Rica's very own Andaz, Hyatt's new brand of boutique hotel that seemed to have great promise. During the drive, we figured out that all together, we had visited well over 200 Hyatts of every brand on four continents. We had been to Hyatt inaugurations, city Hyatts, resort Hyatts and everything in between. What was remarkable was the consistency of our experiences – always much more than good enough, always a sparkle of luxury after a hard day.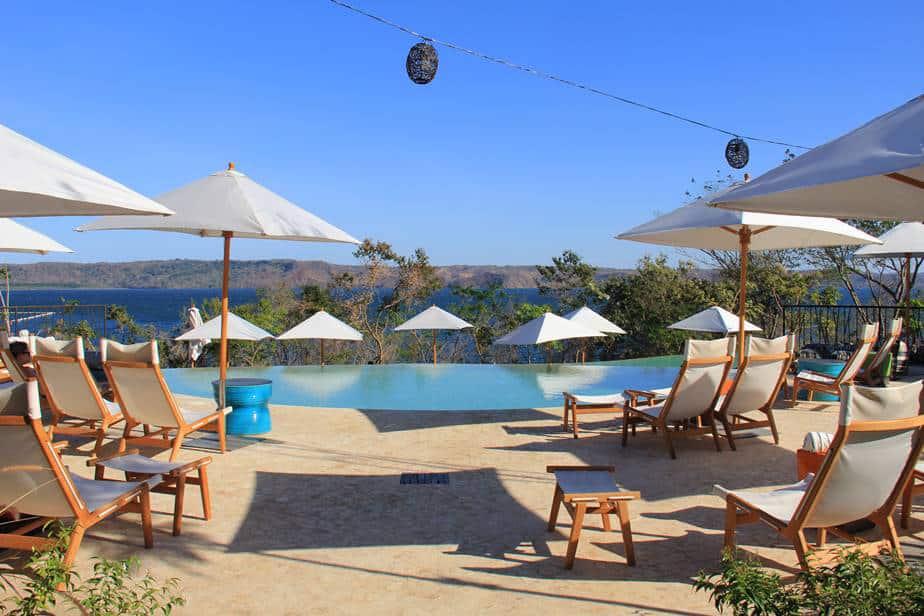 A promise of luxury and style
We were familiar with architect Ronald Zurcher's work around the country, a detail highly touted on the Hyatt website. He has become a darling of the industry locally, and on first entering this property, we already knew we were in Zurcherland. His signature, tubular steel structures were ensconced in concrete and sparsely adorned with natural materials (in this case bamboo). Dramatic arched rooftops also gave Zurcher away.
As is the case at many of his other resort properties, we were immediately separated from our car, which was left in a small parking area by the lobby. Cars are not expected, nor particularly welcome apparently, which didn't offend us too much as there really isn't anywhere else to drive if this is your base of operations. It is a destination resort. But golf carts abound, and for a much-expected tip, drivers will take you, with or without your luggage, anywhere on site you want to go – provided  you can find one of those golf carts.
The price of paradise
We didn't announce our association with the press, nor were our costs compensated by the hotel. Therefore, budgetary concerns led us to pick standard rooms. We had problems accommodating our needs online, so we called the local number and were treated well by Patricia. The standard Good Morning package (including breakfast) was $572, the cheapest room available. But, the resort fee per room is an additional $50, and the tax is $70, so if you only eat breakfast and stay in the smallest room, you're looking at essentially $700/night/room. But hey, we were going to enjoy the heck out of that night!
The room was the size of a standard room in pretty much any hotel that has electricity and running water. It included a "rain shower" and a bamboo encrusted balcony with a view of the bay and the Nevada-like landscape on the opposite coast. It was new, and appeared high-tech, with all kinds of buttons and places to plug in, including an iPod docking station. Colorful,  jaunty hats and monogrammed sandals were apparently complimentary gifts for guests, but we didn't feel compelled to keep them.
The mini-bar had some items that we were told were free, but we had no strong desire to consume orange soda and peanuts. The fixtures were clearly expensive, and overall the room was meant to impress us that way.
Day one: Trouble with essentials
While getting settled in, we needed a cool-down and sent one of our party to find the ice machine in our building, but it wasn't working, so we called for assistance. We waited what we considered long enough before moving on to other activities.
It was no big deal. We didn't mean to hang out in the room anyway. So, we went off to the pool with the requisite infinity edge. The very basic drinks we ordered weren't bad, although they took almost an hour to arrive from the adjacent bar in the completely empty pool area. And the four drinks cost a total of $80. By this time we were parched and decided to move our party to the balcony back in the room.
Since the beers we brought were back in the car that we could not drive closer  to our room, the orange soda was now sounding pretty good — if only there were ice. We called again and left a note on the ice machine this time. The note was gone the next time we checked, but the ice never arrived.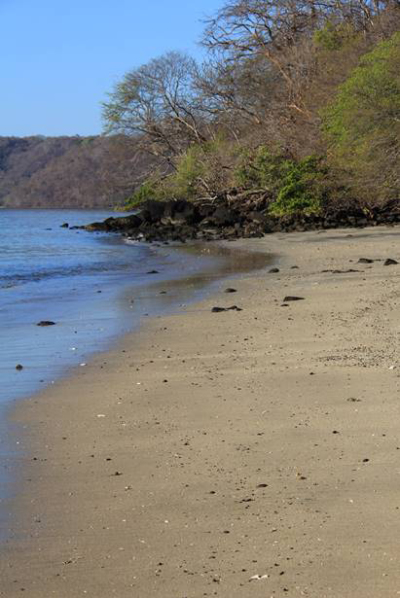 It was deathly hot on the patio, especially without a cold drink. Near our melting point and after numerous failed attempts to crank on the A/C, we sheepishly called the front desk for help. Only then were we told the room had to be hermetically sealed for the A/C to work. This would have been nice to learn when we were given the minimalist tour of our room and its features upon check-in.
But no problem, always the good sports, we decided to continue the splurge and hit the signature Ostra restaurant. It's nice, and we finally found that local color we had been promised with some strategically placed small oxcarts.
However, the local flavor went out the window when the Costa Ricans among us found there were no menus in Spanish. (What country are we in?). Undaunted, we at least wanted to show our foreign friends some of the local cuisine, so half the table ordered the corvina (sea bass) and the rest of the table ordered beef.
The beef tasted fine, but not the fish. It had arrived looking beautiful, with colored foam and much garnish upon a small morsel. But upon the first cut, we were surprised to see the corvina was still almost bloody raw, which could have been overlooked by our hungering crew of fishermen were it not for the scales still on the fish! The manager agreed that scales were not the intention, and removed the two orders of corvina from our bill, without offering to fix it or replace it. With the corvina removed, the total bill for the two remaining people came to $240, and we had only ordered the cheapest bottle of wine and two appetizers. Although we had shared the small steaks, and dropped a chunk of cash, we were all still starving.
Fortunately, there are other restaurants on the property, and it was only 8:45 p.m. So we scampered cross-property to the Chao Pescao tapas restaurant. We were told when we checked in that it closed at 11:30 p.m., and the website reports it's open until midnight, but that night it closed at 9. We were shut out.
Ever hungrier, we remembered there was 24-hour room service. Great! A short hike back to the rooms to order a club sandwich (we figured basic and simple might get us fed sooner and for less). Almost an hour later, it arrived from the neighboring kitchen. The basic white-bread sandwich kept us from starvation for $26 plus tip. Just for laughs, we called for ice again, and did a little jig when it actually arrived.
Tired and uninspired, we prepared for sleep. The automatic lighting that turned on and off as you entered the wash and powder rooms was cool, but the automatic dimmers for the rest of the room were another story. True to form, they had high-techy, do-anything lighting functions, but after numerous failed attempts to actually turn the lights off, we again sheepishly called the front office for help. After a 20-minute wait, a young man arrived and without hesitation or forethought pulled out a hidden reset button on the bottom of the switch plate (it was clear he's had to do this several times before). He then proceeded to show us how simple it was to turn the lights on and off! Of course, resetting the system was part of the process and not at all obvious — how were we to know about the small, unlabeled black button at the very bottom of the switch plate that you must pull out if all else fails? A simple light switch would have been more appreciated.
The next day: Service lacking
We awoke early to spend time on the balcony and take in the sounds and smells of the ocean before it got too hot. Since the property is located on a bay and surrounded by desert brush, you don't really have a view. Since the patio uses glass instead of bars for railing, you don't get a breeze, but our other senses were aroused. We quickly began salivating looking forward to our breakfast (included).
Of course, if the price is included, you only get the buffet, not a la carte, but that was okay because we were famished from the night before, and the buffet looked sumptuous. In addition to a crepe bar and an omelet bar, there was the traditional Costa Rican breakfast of gallo pinto — adding our other little touch of local culture.
After one last quick swim in the pool, we decided to try out the rain shower before hitting the road. The room now was freezing. Since we had left our patio door open while enjoying the balcony, the A/C had automatically shut off. When we left for breakfast and closed up the room, the A/C kicked back on without our noticing. (Isn't technology great?).
The shower water almost reached tepid. We all waited for the heat to arrive, ran the water forever, but eventually dove in anyway, refusing to call for help at this point.
We learned several things about this property. It seems clear that their target market is not local or car-friendly, as the property caters only to English speakers. What is the reason for purposefully not providing menus in Spanish in Costa Rica, in a resort that advertises its local flair? They also don't offer the customary discount to nationals/residents. So, it must be aimed at people flying into Liberia, who are picked up and ferried back and forth. Or, boaters who can use their large (and empty) marina. Either way, the idea is apparently to attract wealthy people who want to be told they're experiencing the local flavor. It's a large, expensive facility, and designed to impress those who prefer style over substance.
Although the staff was perpetually slow and not overly helpful, it must be said that they always smiled, always said "Good Morning" (since Spanish is frowned upon), and were dressed in something designed somewhere we had never heard of..
Ultimately, it's hard to consider this a "beach resort," even if the service and other little contretemps had been perfect. It is on a bay with a notoriously restricted connection to the ocean, making the water flat, and the sand very fine and a little muddy. This part of Guanacaste is particularly dry and vegetation is sparse, although they're doing their best to massively irrigate the recently planted landscape.
We were ready to leave by the 11 a.m. checkout time, and called for a golf cart. Almost an hour later (kind of a pattern I guess), it arrived. We cringed at the thought of being charged an extra day. We weren't, but sensed it was close.
We were amused to see we had been charged $60/head for a buffet breakfast upon checkout. It only took another 30 minutes to correct and bring us the final bill, though we were the only ones at checkout. After removing breakfast and the corvina, the bill came to $1,700 for four people for one night.
Going there:
You can drive there from the Central Valley – through Liberia, and then a right immediately after the Tempisque bridge. Of course you can also fly into Liberia and be ferried. Be prepared for multiple security checkpoints. More information is available at papagayo.andaz.hyatt.com, or at 2690-1234.