LA GUÁCIMA, Alajuela — The annual Expotur meet-and-greet travel retreat got underway here Thursday with a new visitor stalking the halls: a Tyrannosaurus rex.
I recognized the lifelike foam creature from Dino Park at Blue River Lodge, one of dozens of exhibitors at Costa Rica's premier travel trade show that were familiar to me from the places I've been in the past year.
"We didn't expect the success we had," said Violeta Hansen, the "right hand" of owner Daniel Apelboim of Blue River in Guanacaste. "This has exceeded all expectations, from the smallest child to the oldest senior. … Dino Park has been a revolution."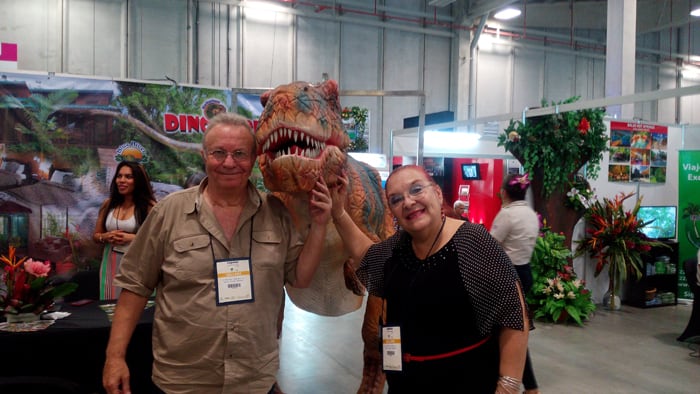 Hey, there's Rafael Gallo, founder of Ríos Tropicales, whom I interviewed for a story on saving the Pacuare River. And here are my friends from Buena Vista Lodge and Cañon de la Vieja Lodge in the northwest, and from Oceano in Jacó, and from the Four Seasons, Casa Conde and the Occidental in Papagayo. And here are the owners of Diamante Eco Adventure Park.
"When people come to Costa Rica, they think of adventure," said Julian Rembert, a co-owner of Diamante, an adventure center in Guanacaste that has one of the longest ziplines in the world. "They want to go out and they want to zipline, they want to do other adventure tours, and that's what we do, we just kind of elevated the game."
I met new people from places my colleagues and I have written about — the Occidental in Panama City, Playa Cativo Lodge on the Golfo Dulce, Croc's Casino Resort in Jacó and the Esplendor Tamarindo. It felt like Old Home Week, with new networking opportunities abounding.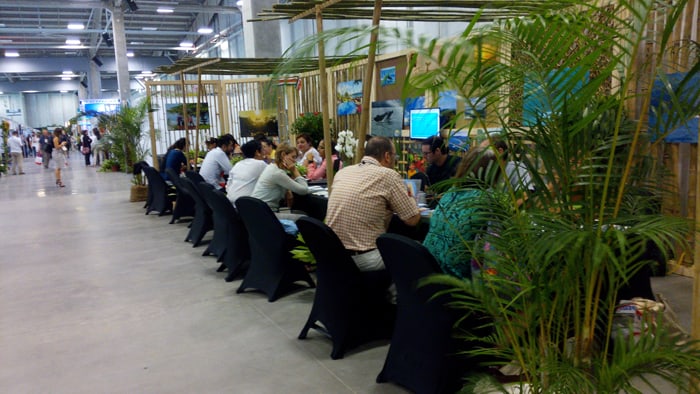 Yet few of these hotels are cheap, and their presence at Expotur attests to their savvy at self-promotion. So what about smaller attractions that can't afford a booth here, but support Costa Rica's push for "rural community tourism," i.e., toward the "real" Costa Rica?
Massi Devoto, president of the Costa Rican Association of Tourism Professionals (ACOPROT), the host of this event, told me there are 250 stands here of companies and organizations offering travel services, as well as 215 international buyers from travel wholesalers looking for good deals to offer their customers.
"Culture is the most important thing to promote for us right now," he said. "We are big in nature, everybody knows about our sustainability, and we need to start to make an impact with the culture of Costa Rica. Something very important is the food, because as we say, that is the only tourist product that we can give people three times a day and nobody complains."
He said Costa Rica is trying to promote both its traditional culture and its modern edge — "what is happening right now, what are the trends, and what is our ancestral culture."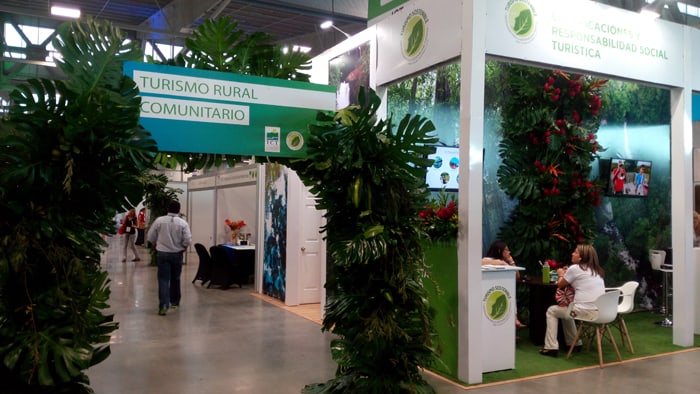 As part of that, he said, "Rural community tourism is very important. We have 24 stands where people don't have to pay to promote (their products) to international buyers." Generally speaking, these represent poorer communities that ACOPROT would like more tourists to visit. "That's about 10 percent of all our offerings," he said.
The motives of the vendors here were easy to understand, but I asked Geovanny Ramírez of Casa Corcovado Jungle Lodge, on the northern edge of Corcovado National Park near Drake Bay, about who the international buyers are.
"Buyers are wholesalers for big travel agencies outside the country," he said, who come to Costa Rica to actually visit properties or at least talk to their reps at Expotur. "Wholesalers comes to Costa Rica to see the product, to see the difference between two hotels, for example, in Guanacaste, and what is going to be the best for one type of client and the other one for another type of client."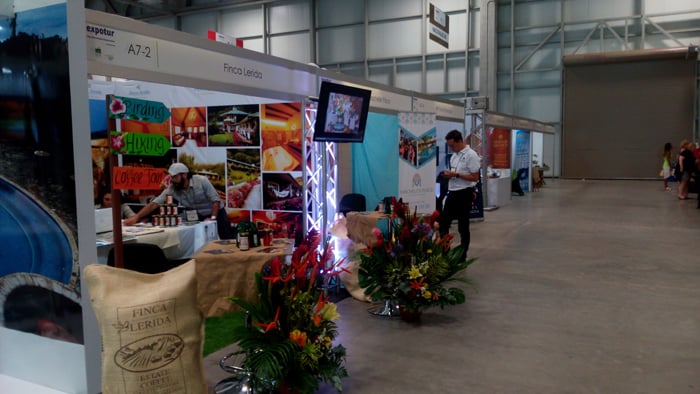 I met Frederic Spahr, general manager of Hotel Alta Las Palomas between Escazú and Santa Ana, who told me about a hotel that sounds perfect for people in love.
"I don't know if it's a new concept, but the name is new, it's called a stay-cation," he said. "We have people coming for the weekend — we have live music on Thursday, Friday and Saturday — and so people reserve for Saturday, people from Zapote, Alajuela, even Santa Ana, and they come and stay over for the night.
"It's for special occasions like anniversaries, the guy who wants to propose to his girlfriend, and that's really nice and flattering for us to see that, people from town are staying with us."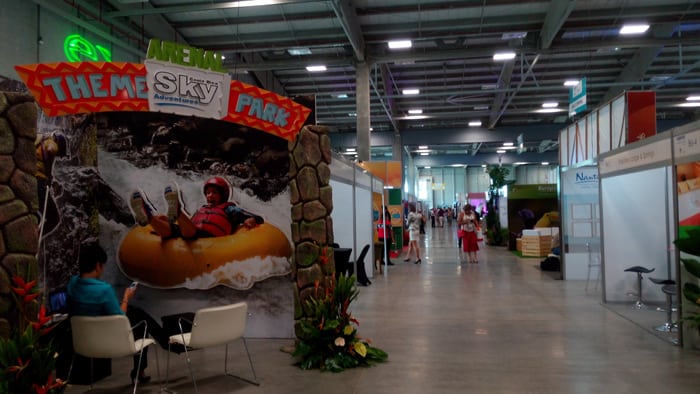 He said the hotel offers a $198 deal that includes a room for two, a three-course dinner, a glass of wine and tapas at sunset, and breakfast the next day. The hotel will even deliver an invitation to your significant other in her office by a man wearing a hotel uniform.
"Not a lot of people take advantage of that," he said. "I guess you know Ticos sometimes are reserved."
I was wandering around when a young man said "Hola, Karl," and I recognized him as Alberto Robleto, who led a kayak tour for my family and me last year in the Golfo Dulce near Puerto Jiménez. I went to his booth and greeted his sister, Laura Robleto, whom I interviewed a year ago (along with her mother) for a story on the Crocodile Bay Marina. The whole family knows my brother, longtime Puerto Jiménez businessman Paul Collar. Small country.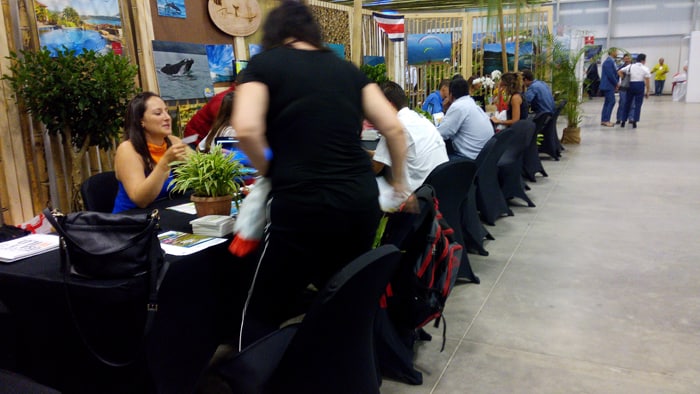 I was introduced to the father of the family, Alberto Robleto Sr., who told me about how the family kayaking business, Aventuras Tropicales, had recently earned its first certification from Costa Rica's Certification for Sustainable Tourism (CST) program: four of five leaves.
While CST leaves are normally awarded to hotels, he said, a new coastal marine program evaluates the social, environmental and economic practices of businesses that operate on the ocean — boating, whale-watching, surfing and so forth.
"We ourselves have learned a lot from this," Robleto said. "For example, in the social area, how do we identify with the community? How does the community know us? How does the community see us? How do I want to be seen in the community? Because many times there can be negatives that we don't know about."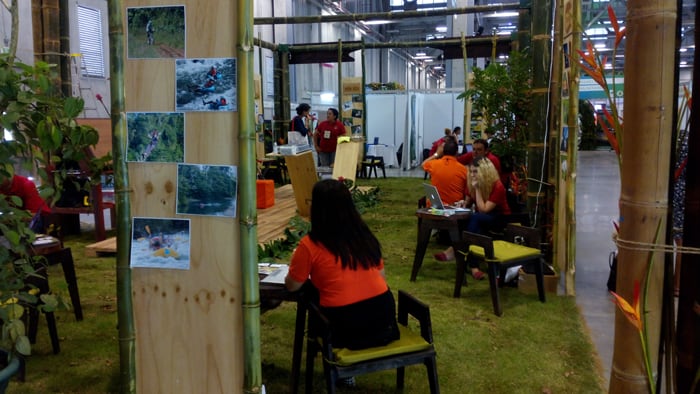 On the environmental aspects, commonly known as "sustainability," he said: "We're in nature and we can use it, we can depend on it, but in the best way possible, making as little impact as possible. So here there are lots of policies you have to follow, like how we manage metal, aluminum and plastic."
He cited a great example, saying the company used to provide bottled water for all its kayakers. But Aventuras Tropicales serves thousands of customers, he said, so "that generated about 1,000 empty bottles a month."
To address its generation of solid waste, the company contracted with a company to provide filtered water that tourists can use to refill their own reusable water bottles. But what if tourists don't have one? Robleto said now it's a matter of educating visitors by telling them what to bring: Bring sunscreen, bring insect repellent, bring a water bottle.
So what to do with all the empty water bottles it already had? Robleto showed me pictures of sustainable ingenuity in the real world: Here was an old, leaky boat near the end of its working life. His people carpeted the bottom of the boat with capped, empty plastic bottles, sprayed them with foam to hold them in place, and then put down a smooth surface over them.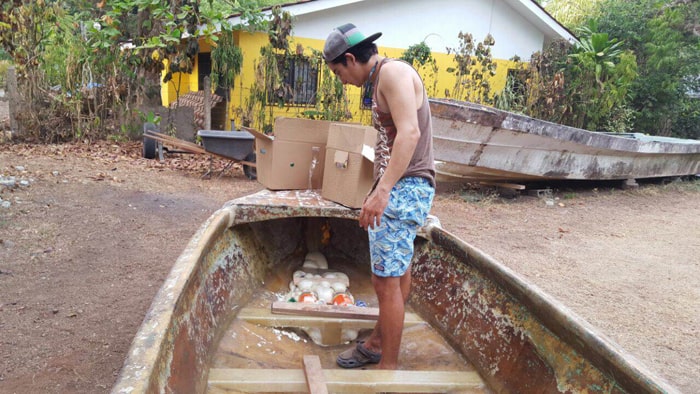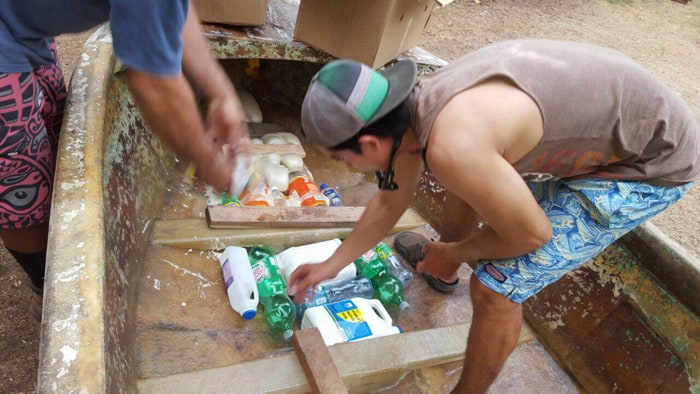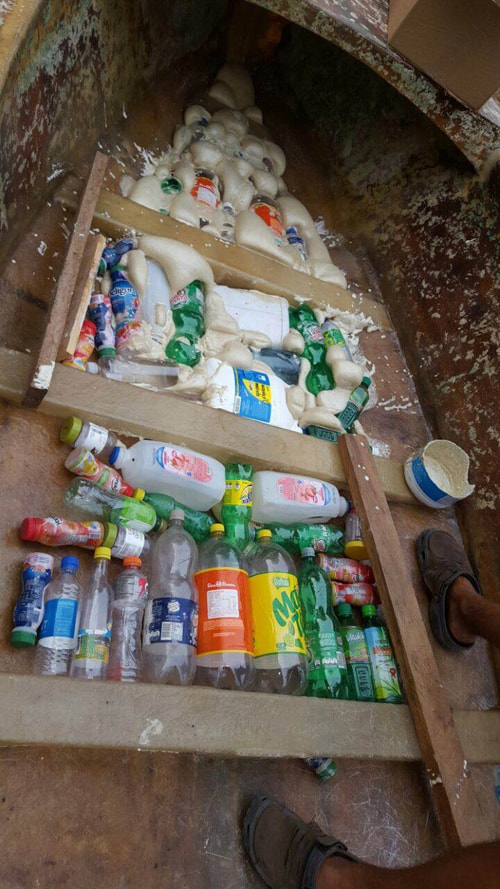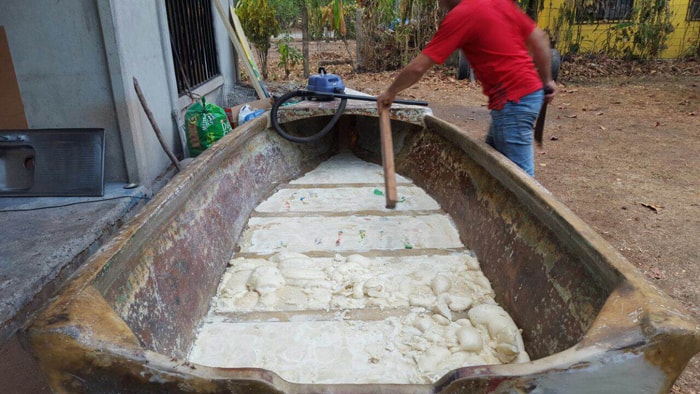 "The useful life of that boat is 50 years, but the useful life of that bottle is 500 years," he said. "And here's what's left — a smooth surface, 100 percent floatable, light. We used like 720 bottles in this boat."
Contact Karl Kahler at kkahler@ticotimes.net.