A surprise welcome awaited Joel and Kristine Kratochvil and their three daughters, Anna, 16, Leah, 14, and Jenna, 12, at Costa Rica's Juan Santamaría International Airport on Friday. According to the Costa Rican Tourism Board (ICT), one of the members of this Washington state family is the 1 millionth tourist to arrive from the United States in 2015.
This is a historic record because it is the first time that more than one million U.S. tourists have arrived in Costa Rica in a single year, Tourism Minister Mauricio Ventura said at a special welcoming ceremony at the terminal.
ICT officials were on hand to congratulate the Kratochvil family, who received commemorative souvenirs, T-shirts, traditional Tico hats and other gifts marking the historic arrival. Traditional music, folk dances and masquerades accompanied the family's trek through the airport to a conference room where tourism officials welcomed them.
Kristine Kratochvil said that earlier this year the couple had asked their children if they would be willing to forego Christmas presents in exchange for a trip to Costa Rica. The decision was unanimous, she said.
In February, the Kratochvils started planning their two-week vacation that would kick off at Costa Rica's famed Manuel Antonio National Park, on the central Pacific coast.
They also plan to visit Arenal Volcano in Alajuela province, and for a touch of Tico hospitality, they'll lunch with their travel agent, Kristine Kratochvil said. The day after Christmas, they plan to travel across the country for a four-day visit to the beautiful Caribbean beach of Puerto Viejo.
The Kratochvils also plan to give a little back by volunteering at an animal rescue project, including on Christmas. The youngest child, Jenna, is looking forward to interacting with the animals, her mom said.
Recommended: Singing animals will 'save the Americans' (and the Canadians) in a new Costa Rica tourism ad campaign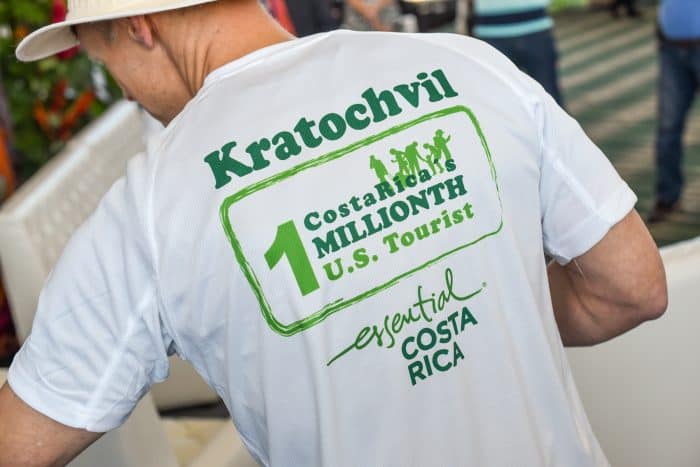 New routes, new friends
According to the ICT, U.S. tourists account for 40 percent of all travelers entering the country each year.
"So far this year we have received a total of 2.7 million tourists, and the fact that a million of them come from our priority market – the U.S – reflects the quality of the tourism product we offer," Ventura said.
He also noted that the ICT's airline strategy in 2015 has generated new agreements with two U.S. airlines that will fly to Costa Rica for the first time, including one that will have five new routes from U.S. cities.
The country also opened new routes from six additional airlines, and three others increased the number of weekly flights. That represents a 6.2 percent increase in the number of seats available on flights from the U.S. over the previous year, the minister said.
According to surveys conducted among travelers at Juan Santamaría and Daniel Oduber international airports, U.S. travelers who entered the country this year stayed an average of 10.5 nights and spent an average of $1,251.