All season Keylor Navas has proved he's among the world's top goalies with his spectacular play for Real Madrid. Now, the Costa Rican keeper is officially in line to be named as the game's very best at his position.
Finalists for the FIFA XI team were announced Thursday and Navas was included in FIFA's grouping of the top five goalkeepers, among 50 other football stars from all other positions. Navas' club Real Madrid accounts for 12 of the total finalists, more than any other club in the world.
Serving as a sort of All-Pro list for international football stars, the FIFA XI team is designed to honor the best 11 football players in the world by position every season.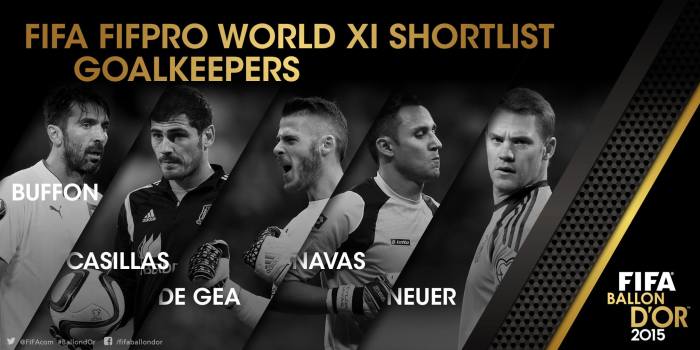 Navas' historic 2015 campaign has already seen him set a number of records for one of football's most successful clubs. Earlier this season, he set the Real Madrid record for consecutive home shutouts and overall shutouts to begin a season. Already, he's stopped two penalty kicks on the season and has registered 30 saves in La Liga.
Navas has a 6-3-1 record with Real Madrid in La Liga play and is undefeated so far in Champion's League, where he has yet to allow a goal get past him after six games, breaking the record for the longest span of time without allowing a first goal.
https://vine.co/v/eVl63qEHKIq
Alongside Navas in contention for top goalie honors is the man who started over him at Real Madrid a year ago, legendary goalkeeper Iker Casillas. Also in the final five is Manchester United's David De Gea, who Real Madrid famously tried to trade Navas for at the last minute, but failed to make the trade deadline on time to finalize the transaction that would have sent the Tico to the English Premier League.
The final FIFA XI lineup, including the top goalkeeper in the world, will be decided on January 11, 2016 when the Ballon d'Or Award, given to international football's best player, is handed out.
Notably absent from the final five goalies is Barcelona's Claudio Bravo, who has allowed just five goals in eight games while helping Barça eclipse the top spot in La Liga. The biggest mark on Navas' record thus far is the embarrassing 4-0 beatdown that he and Real Madrid suffered at home against Barcelona on Saturday. Navas allowed more goals in that game than he had allowed all season to that point, allowing a mere three goals in his first nine La Liga games of the season.