NEW YORK — The Arthur Ashe Stadium crowd roared, and Caroline Wozniacki urged it on, swinging her arms up and shouting triumphantly to a standing ovation. She had just won the break point of her year, chasing down a swinging volley and forcing Maria Sharapova to miss in the deciding third set.
"Sweet Caroline" pumped through the speakers after her 6-4, 2-6, 6-2 U.S. Open win over Sharapova, and the 10th-seeded Wozniacki just looked around and smiled wide after advancing to the quarterfinals.
The Dane's public split with golfer Rory McIlroy and early exits in the Grand Slams this year were a distant memory as she flashed her vintage form and reputation as a retriever in arguably the biggest win of her career.
In a women's singles field that has been turned upside down with upsets, the road for Wozniacki to reach the final figures to be easier than the marathon 2-hour 37-minute match she won on Sunday.
"It means a lot to me," Wozniacki, 24, said. "The season for me has been a little bit up and down, and it's so nice to kind of start feeling like I'm playing the way I want to."
To say it's been up and down is an understatement for the former world No. 1. It started with a proposal on New Year's Eve, then a week before the French Open in May, McIlroy announced their engagement was called off.
Wozniacki's upset loss in the first-round of the French Open came with prying questions about the breakup, even after she asked reporters to refrain from asking about it. She said she was committed to moving on and focusing on tennis, but the sport seemed to be moving forward without her. Her ranking dropped six spots from the start of the year. As she stumbled, McIlroy won major championships, and a story line about how he was playing better without her emerged.
Less than a month after a fourth-round loss at Wimbledon, Wozniacki announced she would run the New York City marathon in November, the month she was supposed to get married. There was scrutiny about the toll that training would take on her tennis career, but she started to surge soon after she began training, losing three-set matches to world No. 1 Serena Williams in back-to-back tournaments. She got her ranking back to No. 11.
"I never doubt myself," Wozniacki said. "I work hard every day. I know I have the levels to compete against anybody, and I can beat anyone on a good day. But the women's game is really evolving and it gets tougher and tougher."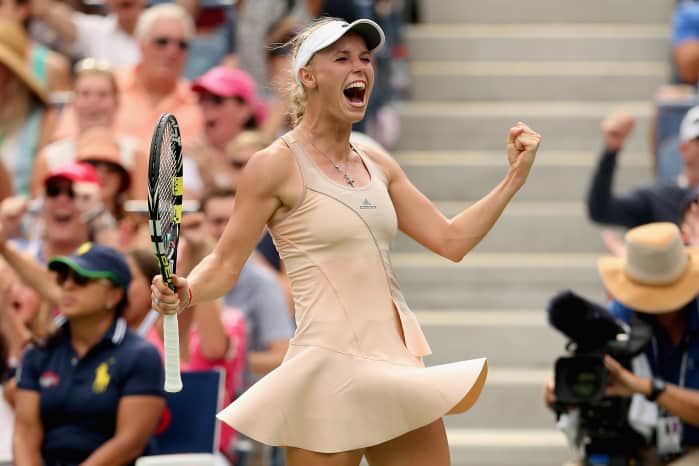 Wozniacki hasn't been running as much in advance of the U.S. Open, but Sunday's match was as good a workout as she's had this week. Sharapova's returns had Wozniacki sprinting from one end of the court to the other, from the baseline to the net.
Sharapova, the No. 5 seed, said Wozniacki's strength is her ability to get to shots as a solid defensive player, and it ultimately wore Sharapova down in a match with a lot of long rallies.Wozniacki said her marathon training enabled her to feel like she could keep playing more sets even though the conditions were so hot she had to change her sweaty dress after the second set.
Sharapova said running a marathon wouldn't help her, but acknowledged how well Wozniacki was moving on the court. With the third set at 2-1 and Sharapova serving, Wozniacki was a wall, returning everything and breaking Sharapova at love.
In the final point of the game, Sharapova had Wozniacki running from one end of the court to the other before Wozniacki surged toward the net to return Sharapova's swinging volley. Sharapova hit a backhand shot into the net, and the Arthur Ashe Stadium crowd gave Wozniacki a standing ovation, admiring how she fought. With momentum on Wozniacki's side, she broke Sharapova again in the last game of the set to win the match.
"I think she's better at what she's done really well in her career," Sharapova said. "I think she's moving extremely well; she's fit. I mean, she's always been fit, but there is a little bit more on her defense shots. It's not just balls up in the air. She's doing a little bit more with them."
Sharapova, who won the French Open this year, is the latest top seed to fall at the U.S. Open this week. Williams and No. 7 seed Eugenie Bouchard are the top seeds left after the other seeds in the top six were upset this week.
Wozniacki will play No. 13 seed Sara Errani in the quarters, and she wouldn't face Bouchard or Williams until the final. Wozniacki was a finalist at the U.S. Open in 2009 and was the No. 1 player in 2011.
She says it's hard for her to compare herself now to how she was playing then. A lot has happened.
"It's a new year and I've gotten older — and hopefully a little wiser," she said, smiling. "You know, I feel good."
© 2014, The Washington Post