In 2013, three photographers decided to fly to Brazil and take pictures of the people there. They knew about the impending World Cup, and they knew the controversial politics of FIFA in Brazil. They wanted to document regular folks – especially in poor communities, which have benefitted little from the international soccer championship.
The fruit of their labor is "Fora Dos Estadios" ("Outside of the Stadiums"), a photo exhibit now on display at Maya's Lounge in Ciudad Colón. The collection of 12 large prints and 50 or so smaller photographs illustrates their journey to the South American nation.
"The project happened so fast that I didn't really have expectations about the things I would find there," says Leticia Perelstein, a 32-year-old Argentinian who has spent several years in Costa Rica. For the project, Perelstein collaborated with documentary photographer Alison Domzalski and Roberval Almeida, a native Brazilian. "I've always been interested in art. Photography for me has always been more about people. So we all decided to join forces and do a project in Brazil."
Two years ago, Perelstein earned a master's in Peace Education from the University for Peace in Ciudad Colón, and she has done community work in Costa Rica ever since. As an extension of that work, the trio's goal was to conduct photography workshops in the favelas of Pernambuco, near one of the World Cup stadiums. Their goal was to give instruction, hand out digital cameras, and put together a final portfolio. Perelstein estimates that between 180 and 200 students participated in these workshops.
Ultimately, they plan was to contribute to a public art series called the Inside Out Project. The project was established by French photographer J.R., who displays massive collages of portraits in urban spaces. Perelstein, Domzalski and Almeida wish to extend the project to Pernambuco, and they have begun an Indiegogo campaign to fund the endeavor.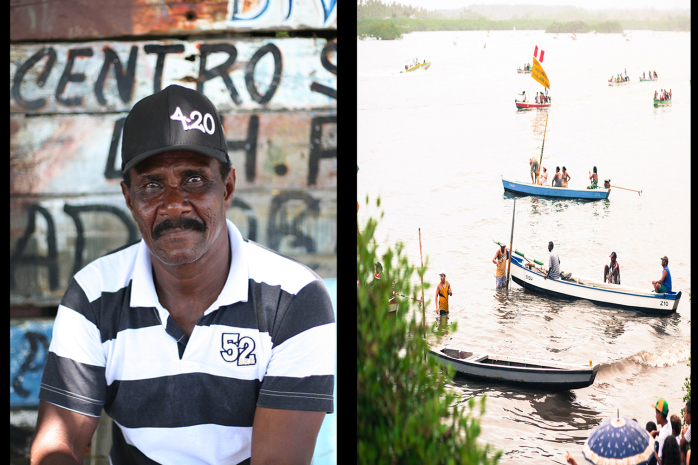 Although Perelstein grew up in a nearby Argentina, she had never visited Brazil before, and she speaks only basic Portuguese. (In contrast, having spent much of her life in New York City, Perelstein's English is flawless). She and her collaborators decided not to wait for funding, as the grant-writing process could take forever. They spent their own money and organized the workshops themselves.
Initially, Perelstein expected to use photography to condemn the World Cup and FIFA's presence in Brazil. "At first our intention was to criticize," she said. But as they spent more time spent in the country, the tone of the project evolved. "Once we started to work in the communities, it became more of a celebration and less of a criticism of the World Cup. They were proud, of course. They're Brazilian. They love soccer. Now [the exhibit] has more of a neutral perspective."
Perelstein was also pleasantly surprised by the openness of the people – not because she doubted Brazilian hospitality, but because she knew the power of her lens. "I tend to sometimes be judgmental about foreign people coming in and taking photos," she recalls. "But I was surprised by their warmth. I admired the welcome we received from everyone."
At the same time, working in Brazil has affected Perelstein's lifelong relationship with soccer. "I've been reflecting on it a lot," she says. "I grew up watching the World Cup. It's always been a big affair for me, even though I don't watch soccer the rest of the year. But this year I've been less enthusiastic about it. I've been thinking a lot about the other side – the other realities that I think are disappointing."
"Fora Dos Estadios" continues through July at Maya's Lounge, Ciudad Colón. Free. Info: "Fora Dos Estadios" Indiegogo site.