If you grew up reading "Mafalda," you already know that the title character is a precocious 6-year-old girl who rants about family, society and the universe at large. You know that the Argentine cartoonist Joaquín Salvador Lavado (or "Quino") created the comic strip in 1964 and drew hundreds of panels before the series expired in 1973. You have probably seen the animated series. You may have owned a Mafalda doll.
What's more, you probably can't wait to see the massive exhibit, "The World of Mafalda," now showing at La Antigua Aduana in Barrio Aranjuez. Sponsored by La Nación newspaper and part of the International Arts Festival, the exhibit is a brilliant retrospective on one of Latin America's most beloved cartoon characters.
On the other hand, if you grew up in the U.S., you probably have no idea what "Mafalda" is. You may never have seen the name "Mafalda" before reading this article. While the strip has been rerun in Spanish-language funny pages for decades, and Quino's creation has attracted followers around the globe, "Mafalda" has barely existed in the U.S. Like soccer and the metric system, "Mafalda" is embraced all over, but not among Gringos. Take a quick glance at the simple drawings of ornery children and you might think, hey, it's Charlie Brown.
Whether fan or foreigner, everyone in San José should visit "The World of Mafalda." The installation is so engaging, creative, and smartly laid out that even people who speak no Spanish will enjoy the visit. Instead of a dry museum piece, the exhibit recreates entire rooms and street scenes on a real-life scale. Patrons feel as if they are literally entering "Mafalda's" pen-and-ink universe. You can read the strips, which are pasted onto the walls, or you can watch the cartoon on TV screens. Plaques describe the history of "Mafalda" and its social significance.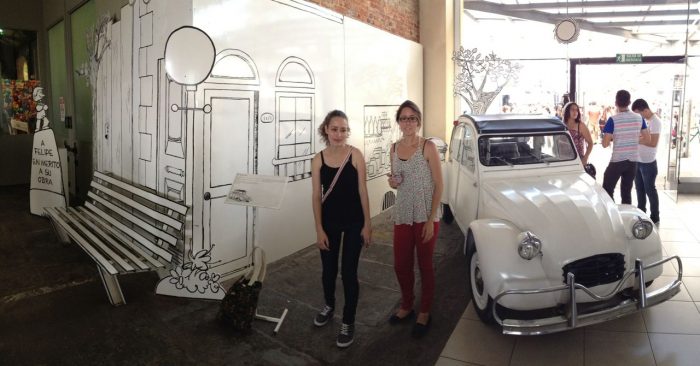 In its time, "Mafalda" was considered subversive because of Argentina's political climate: Child characters like dreamy Felipe and girly Susanita would contemplate serious problems in a silly way – right in the middle of the turbulent Argentine revolution. Yet beyond its historical moment, the strip has only grown more popular. At 81, Quino is still alive and working in Argentina, but his long-abandoned "Mafalda" strip has continued to circulate, without interruption, since the 1970s.
The strip has always been provocative – much edgier than "Peanuts" – but the curators have gone to great lengths to make the exhibit kid-friendly. Still, "Peanuts" fans will think fondly of Charlie Brown and note the many similarities. You will catch up on "Mafalda's" nine-year history and its relevance to generations of readers. And if you read Spanish fairly well, you may find yourself investing in a "Mafalda" compendium. As they say, there's no better way to understand a culture than through its sense of humor.