Greek Café Offers Authentic Fare
LOVERS of Greek food who hanker after the real McCoy canmake a meal of it at Bouzouki Greek Café, with the charming décorawakening memories of Athens and the Greek Isles.Mediterranean cuisine has become increasingly popular here,and diners can now choose token Greek offerings in many restaurants;however, some can prove disappointing.Not so at Bouzouki Greek Café. A recent newcomer to theplethora of restaurant choices in the western suburb of Escazú, thissmall restaurant serves only bona fide dishes from Greece.Owner Panagiotis Asproloupos, commonly known as "Tak" –not surprising with a name like that! – obviously has a Greek background,but with a varied international past. Born in Africa, heimmigrated to Canada with his family, who opened a Greek restauranton one of the Gulf Islands in British Columbia, just off thecoast. The original sign of the Salt Spring Island Bouzouki GreekCafé hangs on the wall among paintings of typical Greek scenes."MY Mother taught me how to cook," said the convivial Tak."I also trained under an awesome chef in Calgary, but these days Istick to my mother's recipes."We're the only establishment I know of that serves nothing butfood from the 'old country,'" he added. "The big problem I havehere is finding the right ingredients, because the consistency varies,particularly with lamb."When not foraging for his kitchen, Tak, a Harley Davidsonfanatic, designs and custom-builds motorcycles, which, no doubt,explains his tattoos, the T-shirt he was wearing, and some of thecustomers at the bar. "I have no life," he laughed. "It's food andbikes, day and night."A great deal of effort has been put into creating an ambiencethat complements the food. The white exterior of the restaurantwith its blue trim and Greek motif beckons customers into adelightful setting. The color scheme, of course, is blue and white; ahuge acrylic canvas of the Parthenon that covers a complete wallcomplements the checkered tablecloths, wrought-iron lamps and apretty replica of a Greek patio.THE evening two friends and I arrived for an early dinner, Takwas on hand to attend to our needs. He suggested we try a glass ofretsina, a resin-flavored Greek wine, and I immediately jumped atthe opportunity. Retsina in Costa Rica; what a treat! Admittedly it'sa required taste, and after a sip of mine resulting in some farcicalexpressions, my friends opted for the pleasant Greek house wine,Tsantalis, which comes in both red and white. We passed on thesoups: lentil or white bean, avgolemono (a traditional meatball,lemon and egg soup) and psarosoupa (a Greek version of clamchowder). Prices ranged from ¢1,250-1,700 ($2.75-3.75).Wanting to sample as many items on the menu as possible, wedecided to share a selection of bocas (appetizers). Some of theseare also served as main courses, accompanied by roast potatoes andsalad. Three dips – hummus (chickpea dip), an eggplant dip and atype of ratatouille – were all tasty and came with light, fluffy pitabread, quite different from the usual flat, chewy kind. Tak informedme that this variety, typical in Greece, is baked by his wife Katia'sfamily bakery.THE fried feta cheese and spanakopita (spinach and fetacheese in a filo pastry) were both delicious. The dolmades (a meatand rice combination wrapped in fresh – not canned – grape leaves)was very tasty, as was the chicken souvlaki. Reasonably pricedbocas range from ¢1,350-2,000 ($3-4.40).Soup and a Greek salad or sandwich is a popular lunch choice.Main courses include pastitsio (Greece's version of lasagna), moussaka(an eggplant and ground-meat casserole) and steak marinatedin Greek spices. All are priced between ¢3,330-3,750 ($7.32-8.25),except the steak at ¢4,150 ($9).No Greek meal is complete without baklava (a dessert made ofpastry, nuts and honey), a shot of ouzo and a cup of Greek coffee.Tak's wife Katia makes all the pastries herself, and the baklavalived up to expectations, as did the coffee and ouzo.FRIENDLY service, reasonable prices and excellent word ofmouth from satisfied customers, including the Wine Club, keep Takbusy concocting a menu replete with the savors of Greece.Bouzouki Greek Café is 400 meters south of the Country Clubin Escazú and is open Tuesday to Sunday, from noon until the lastcustomer leaves. Call 289-3217.
You may be interested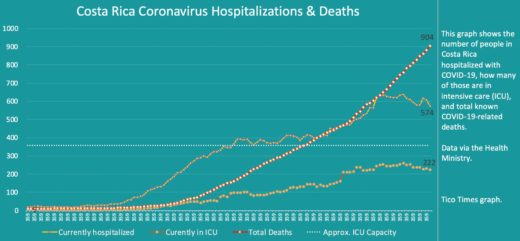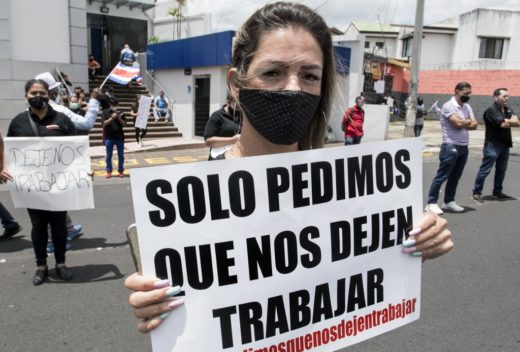 Business
3341 views
Some 34 million jobs lost in Latin America due to pandemic
Carlos MANDUJANO / AFP
-
September 30, 2020
The two aspirers for the presidency of Costa Rica, the evangelical preacher Fabricio Alvarado and the former minister Carlos Alvarado, reach the closing of the electoral campaign for April 1st with a technical draw, according to a poll disclosed this Friday.