Costa Rica's capital San José launched a special operation this week aimed at removing street vendors from pedestrian walkways.
Municipal Police Chief Marcelo Solano said that on Monday 100 officers began patrolling a six-square-kilometer area in the capital's downtown. Backed by city laws that penalize the obstruction of public spaces, cops have been confiscating goods sold on sidewalks, streets and boulevards, Solano said.
The police chief said he is following orders from the new city council, whose members took office on Sunday. The city's new leadership has pledged to make public security and order in downtown San José a priority.
In recent years, downtown streets have become increasingly clogged by street vendors, who seem to grow steadily in number.
Sidewalks, plazas and other public spaces are often lined — and in some cases blocked — by displays of fruits and vegetables, plants, clothes, toys, mobile phone accessories, trinkets and, perhaps most commonly, pirated DVDs and CDs.
Despite the plethora of stuff for sale on the street, only vendors at city-sanctioned kiosks are legally allowed to sell their products in public spaces.
Solano said the clean-up effort was full-on. "We're not issuing warnings or asking vendors to clear out. We're confiscating all merchandise obstructing passage for pedestrians and motorists," Solano said.
Eliécer Morales, who has worked as a salesman at a store near Banco Central for 27 years, said business owners are very pleased with the police operations and that the results are evident.
"The sidewalks and streets look much cleaner," he said. "They [street vendors] usually block entrances to our stores and block the view of our display windows.
"Plus, they're very loud and some are rude," he said.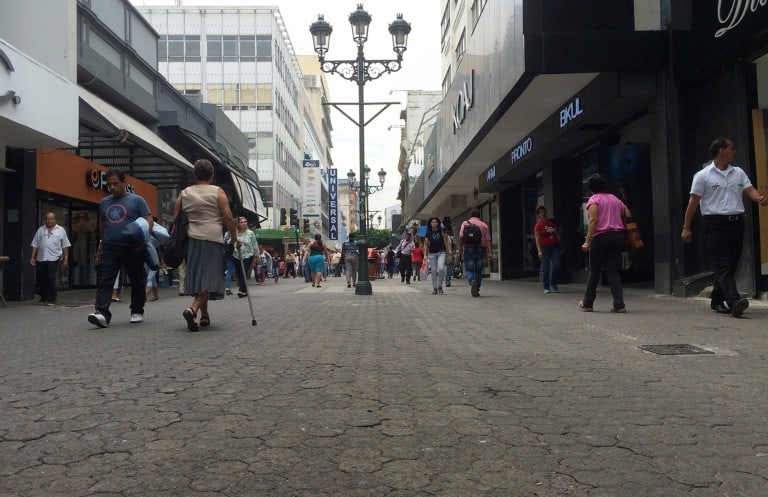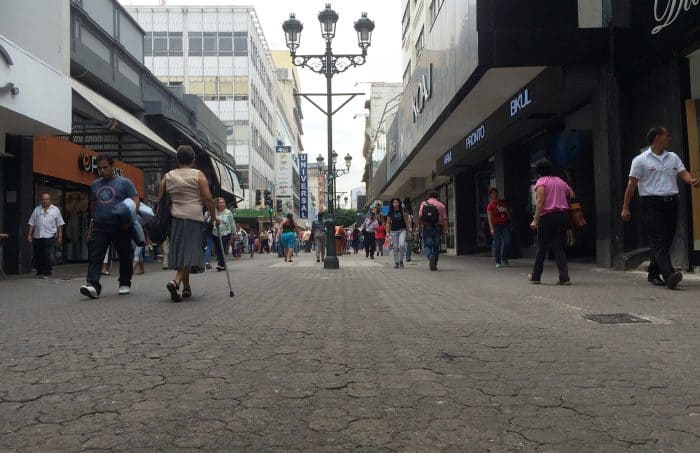 What happens to the merchandise?
The municipality's environmental services department is responsible for handling all confiscated merchandise. Some of the goods are destroyed while others are kept under court custody, depending on the circumstances.
Perishable products, such as snacks, beverages, fruits and plants, are destroyed for sanitary reasons.
Clothing, shoes, handbags, jewelry, umbrellas, toys and similar items are kept in custody and vendors can recover them after paying a fine ranging from ₡5,000-₡50,000 (some $9-$92).
Illegal items, such as pirated DVDs or CDs, and counterfeit clothing, shoes and bags, are kept in custody for a limited time as evidence in case copyright owners make a legal claim. If they don't, those products are also destroyed.
Solano said legal claims on pirated goods are rare. "On various occasions we have contacted local representatives of recording studios and film distributors to see if they were interested in filing a legal complaint for copyright violation, but they usually prefer not to invest in the expense and time required to go through a legal process," Solano said.
Vendors: 'We're not going anywhere'
Street vendors maintain an informal alarm system, shouting out to others when Municipal Police are near so that they can quickly pack up their goods and flee.
Vendors who display their wares on sheets or tarps, known as "manteros," are especially adept at evading the police. But many eventually get caught.
Between 6 a.m. and 9 p.m. on Monday, Municipal Police officers seized merchandise from 141 vendors, Chief Solano said. Most of the confiscations occurred along the Central Avenue pedestrian boulevard and on surrounding streets.
A woman, who would only identify herself as Lorena, said she has made a living by selling kitchen towels and socks in public places for the past seven years. She said she spent a full year sending job applications to numerous companies and didn't get a single response.
Lorena doesn't have a permanent spot; She walks along Central Avenue carrying her products in a duffel bag. She said she would not leave the street, and that she'll just keep dodging officers.
"I know we're doing something wrong, but this is my only source of income, my only way to survive," she said.
Marlon Guerrero has been a mantero selling wallets and purses in front of the Central Bank for eight years. He said he wasn't worried about recent police operations.
"I'm used to this," he said. "It happens from time to time. There's nothing I can do but keep offering my stuff here because I have to bring food home every day," he said.
Guerrero said other vendors, mostly recent arrivals, have confronted the police violently. He said there has been talk of staging a public protest in the near future.
If there is one, Guerrero said he wouldn't participate. "I can't afford to waste my time," he said. "I need to sell my products to earn my daily bread."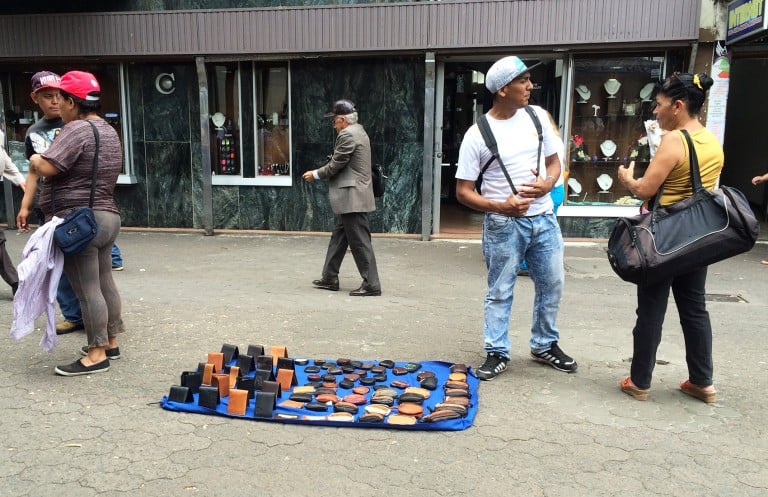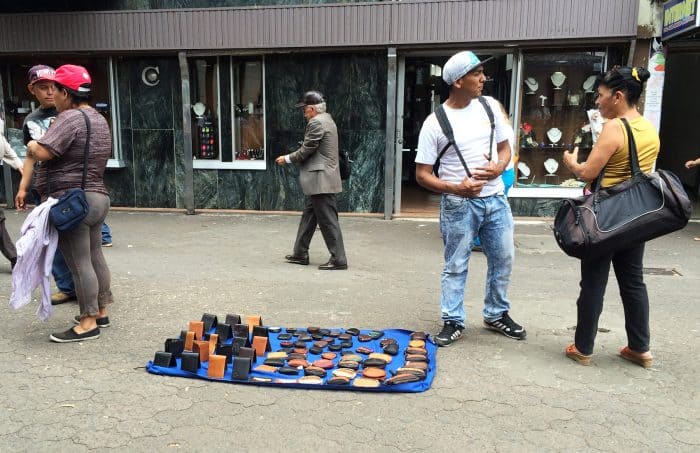 No truce
On Tuesday morning, the Central Avenue boulevard looked mostly clear of vendors. But they could be seen walking along the street, carrying merchandise, alert to signals from their peers.
A few manteros were displaying their products near the Plaza de la Cultura and around the Mercado Central.
Police Chief Solano said Tuesday that officers had only had a few incidents with street vendors who refused to give up their products. "But our officials managed to resolve all incidents promptly and according to the law," he said.
Municipal Police will continue patrolling and confiscating merchandise for as long as necessary, he said. "Our goal is to keep all public spaces free for pedestrians and for vehicles on some of our narrow streets," he said.
The police chief stressed that the city would not issue any new permits or offer any grace period for illegal vendors. "There will not be any negotiations on this issue," he said.
The municipality has built five markets in recent years and helped street vendors move into them, Solano said. However, most of the vendors have returned to the streets.
Solano said the city council had authorized the hiring of 30 new police officers, who will soon join the effort to rid the capital of informal street vendors.