Walking Around: Urban Contradictions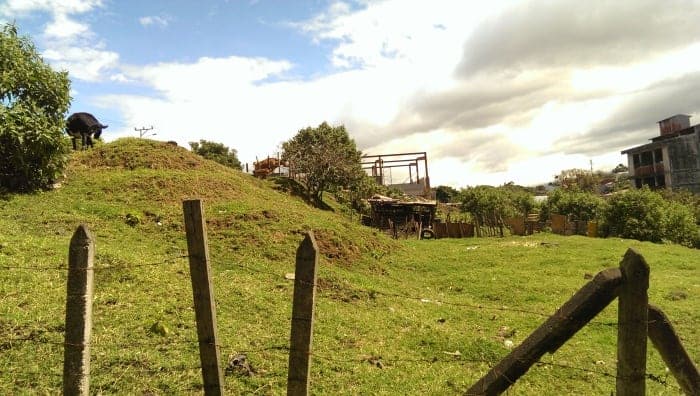 I walk past this scene every day on my way to work. You might think that I trek in from the countryside to a little office in a small town. It looks like it here, with the cow grazing, a small wooden shack in the middle of a verdant field. But looks can be deceiving. This plot of land is in the heart of San Jose, about a ten-minute walk from the Plaza de la Cultura. Don't believe me? Here's a photo of what was at my back when I snapped this shot:
A massive office tower is rising up directly across the street from the pastoral scene above. The juxtaposition of old and new, literally a stone's throw away from each other, symbolizes Costa Rica's entrance into the modern world. You'll see machete-strapped men on horseback heading to the fields clomping past kids sharing photos on their iPhones. In the city, McDonald's and Quiznos are tucked between little sodas where everything comes with rice and beans. And while it may seem, at first glance, at least, that Costa Rica is rapidly becoming part of the modern Western world, there are little patches of yesteryear that are very much entrenched in daily life. Regardless of how many office towers reach for the skies, Costa Rica has its feet firmly on the ground of its past. It's a nice way to be.
You may be interested