At Toucan Rescue Ranch, it is the sloths that take center stage — especially during the  Sloth Ironman Games.
Now in its fourth year, this year's competition began Oct. 20 with International Sloth Day, and it featured four "slothletes" contending for points in challenges of endurance and skill. The sloth that obtained the most points by the end of the week was crowned champion of its class.
But the friendly competition among some of nature's laziest creatures had a more symbolic purpose: to raise money for the Toucan Rescue Ranch so it can continue to aid with sloths' eventual release back into their natural rainforest habitat.
"The Sloth Ironman Games is a fundraiser I started four years ago," said Toucan Rescue Ranch Marketing Director Zara Palmer. "We all know sloths are popular and they are like the new kittens of the internet and people just consider them lazy, that they sleep all day. But their behaviors are really funny and interesting, so I wanted to do a four-part enrichment game series."
While the sloths were awarded points based on their placement in the various challenges, online contributions also added to the slothletes' points total.
Individuals from across the world participated in this year's games by making a pledge to a sloth of their choice, with every $1 donated equating to one point added to the sloth's final score.
"It's like a competition where people feel like they can actually get involved with the games and it allows them to feel like they are here but also they know their dollar is really actually contributing to the success of their release eventually into the wild," Palmer said. "It's actually going toward sloth conservation, saving sloths together. It's a win-win-win."
By partnering with The Sloth Institute Costa Rica (TSI), the Toucan Rescue Ranch has so far been able to release three classes of sloths back into the wild, a two-year process that comes at a steep cost.
While TSI provides the tracking technology and collects research on released sloths, the Toucan Rescue Ranch is tasked with feeding, raising and providing shelter for the sloths before they can be placed back into their natural habitat.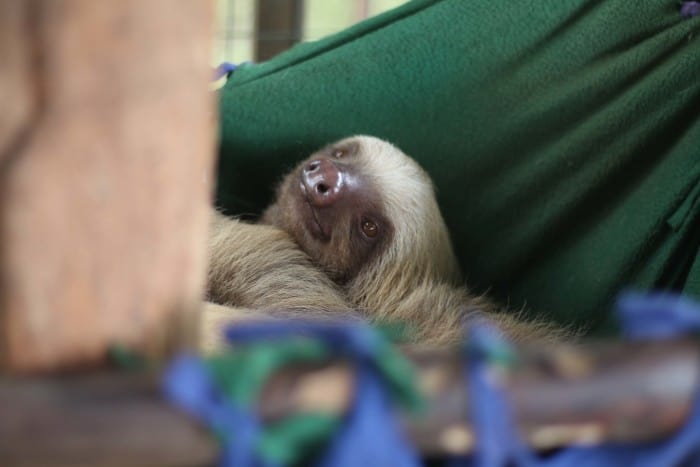 With fundraisers like the Sloth Ironman Games, Palmer is optimistic Toucan Rescue Ranch will be able to continue to serve its purpose of providing rehabilitation for the sloths and the other wildlife it receives.
"The aim of the game is to get people aware of sloth conservation," she said.
Ready, set, go – this year's challenges
Four different competitions throughout the week determined which sloth would be this year's champion. The sloth that came in first place for a given challenge was awarded 100 points, with 75 points being given to second place, 50 points for third, and 25 points for fourth.
Up first was the one-meter dash, where sloths were placed at the base of a slightly inclined one-meter long tree branch. Hibiscus flowers, a sloth favorite, and assorted leaves were placed at the other end, and the first sloth to make it to the finish line would get the highest score.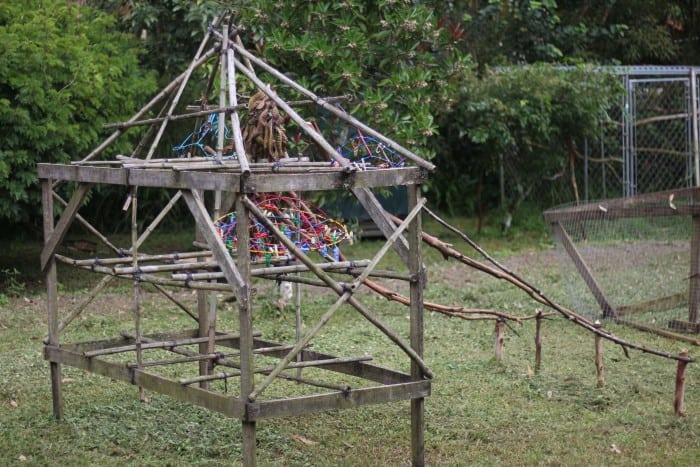 On day two, the four slothletes competed to see which one ate a hibiscus flower the fastest.
"It's like chocolate to them," Palmer said.
The third day had the sloths participating in a test of strength. Starting out in a bucket, the sloths had to climb up a tree branch that was placed above them by using all four limbs. Like the previous challenges, points were awarded based on the sloth's finish time.
Finally, the last challenge involved getting the sloths to relieve themselves.
"One of the challenges is a poop off," Palmer said. "We have to poop the orphan sloths every day, because obviously that's something their mother would do for them, so I time them on how fast they can poop."
Palmer said that typically a mother will defecate at the bottom of a tree and the smell of it will then encourage the younger sloths to do the same.
"It's day-to-day life for me," Palmer said.
Viewers were able to watch highlights of the games online from on Toucan Rescue Ranch's social media platforms. According to Palmer, this allowed for those who were donating to see how their sloth was performing.
Toucan Rescue Ranch surpassed its initial goal of raising $2,000 by bringing in $3,533 from 52 people throughout the week.
The sloth named Grumpy took home this year's trophy after scoring 1,013.25 points. In second place was Camila with 748.25 points. Third place went to Harriet with 545.75 points, and Aurora came in fourth with 458.75 points.
"This was the best year yet for Sloth Ironman Games," Palmer said.