5 questions for a Costa Rican musician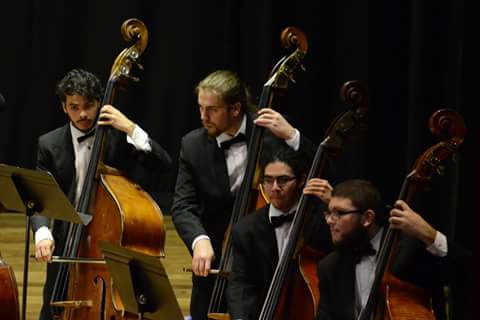 Recommended: 5 questions for a Costa Rican musician – blind artist Gerardo Mora
Luis Carmona may be only 22, but he has organized his life around the strings of an instrument for about 10 years now.
The young artist started playing the guitar at the age of 12 under his brother's influence, and then moved on to the bass; he now studies both instruments at the University of Costa Rica (UCR). He plays in the Young Chamber Orchestra of Costa Rica (OCJCR), the Youth Band of Desamparados and the Symphonic Orchestra of the UCR School of Musical Arts (OSEAM), and works as a freelance musician.
Carmona also studied sociology for two and a half years at the UCR.
"It gave me a form of analysis that helped me not only as a musician, but also as a researcher and in my adventures teaching," he said.
The Tico Times talked to Carmona about his approach to music, his orchestra experience and the impact of orchestras on Costa Rican society. Excerpts follow.
What was your initial approach to music?
Music has always been there. It is something that we all consume at some point: it is something very human. But as for my academic preparation… my brother had a guitar and I started to play with it. Eventually, I started open education in electric bass in 2010, in order to have a formal formation. There I learned basic things like solfeggio, harmony… basic components of musical language which later I would use when I entered the basic stage of contrabass in 2011.
I have also developed myself in other musical contexts, such as rock bands, folkloric groups, and musical groups with nonprofit organizations.
What was it like to make the decision to study music instead of letting it remain a hobby?
It is a very stigmatized road… but in general, I think I never saw it as a hobby. I don't see it as my job either. I feel it is more like a task. I think we are all musicians and we all make music, todos musicamos, which means that we all celebrate and share music in different ways.
How can music influence youth for the development of Costa Rican society?
The trade of music brings with it a lot of challenges. There is a discipline with an instrument but more than that, it's a discipline within oneself. It's similar to sports. I see a lot of similarity between the discipline of athletes and the discipline of musicians. It is a constant surrender, and that builds character.
Why is it important for Costa Rica to maintain its orchestras and philharmonics around the country? 
We live in an era where my generation plays on a stage where there is a lot of competition. There are many good musicians, but there are not many orchestras to play in. I think the development of orchestras in 2017 has to be linked not only to a musical project but to a cultural one as well. To involve other areas and become multidisciplinary proposals.
What's the value of joining an orchestra for the musicians of Costa Rica?
Although we are a musically advanced country within the Central American region, we still have a long way to go in the national media, and when it comes to opportunities for growth and professional work. We have advanced in the professionalization of the musician at the level of academic preparation, but we have not professionalized the theme of jobs and the generation of spaces to involve both our academic and popular musicians within a clear cultural policy.
Read also: 5 questions for a Colombian rapper
Our "Weekend Arts Spotlight" presents Sunday interviews with artists who are from, working in, or inspired by Costa Rica, ranging from writers and actors to dancers and musicians. Do you know of an artist we should consider, whether a long-time favorite or an up-and-comer? Email us at kstanley@ticotimes.net.
You may be interested