5 question for a Costa Rican painter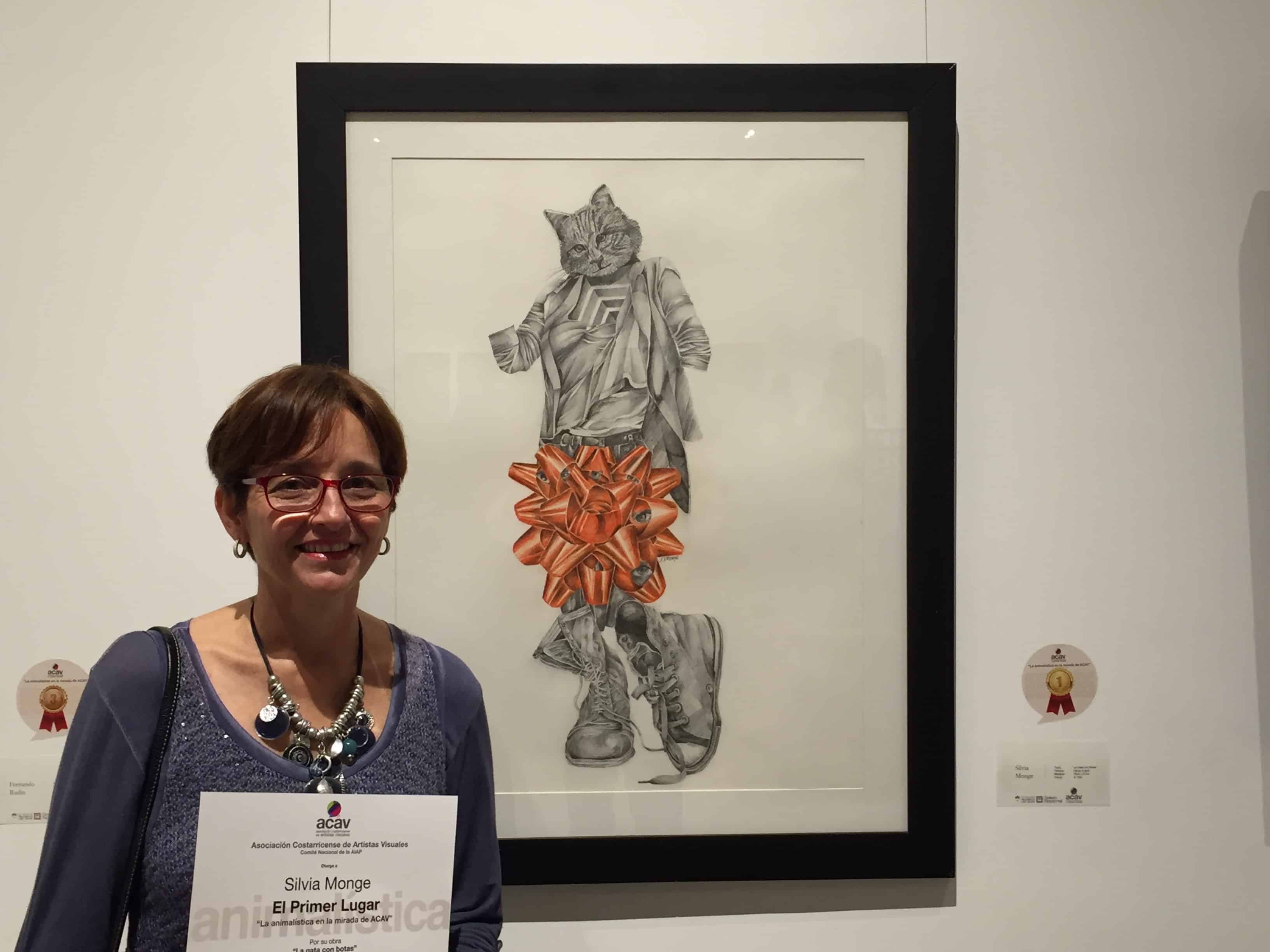 "Some believe that the art of a painter is understood by her work, by selection of subject and color, by her perception of light… I believe that the art of a painter can only be understood if her life is known," says painter Silvia Monge. "Because the real painter paints a little what she sees or imagines, but above all, what she lives and feels."
During Monge's 37-year career, she has experimented with a broad range of media and forms, using glass, ceramics, mosaic, drawing, watercolors and acrylics to make abstracts, figures, structures, aberrant organic forms, liquids and angels.
She started her university studies as an architecture major, but left it to dedicate completely to the art she loved.
On November 17, Monge received first place for her drawing "La gata con botas" in the category "The animal in our gaze" from the Costa Rican Association of Visual Artists.
The Tico Times talked to the artist about her many influences, including her childhood, time spent living in the United States, and a painful personal experience that transformed her art. Excerpts follow.
How did you discover art was for you?
I was born in a blessed and propitious home that allowed me, from a very young age, to have abundant and varied experiences. My house filled with music when my mother played piano pieces by Strauss and Mozart; my dad strove to take our family to see different countries. I had the opportunity to interact, at a very early age, with Ms. Cristina Fournier, from whom we bought several hundred works for a family business, and spent time with my neighbor's aunt, Magda Santonastasio, while she painted in an enclosure of her house that I called "the estancia."
During my childhood, I remember that my parents allowed me to paint, on a wall of my room, three flowers of eighty centimeters each. Those flowers were very significant for my career, because they were my first brushstrokes. It was then that I discovered how much I like to paint.
What's the influence of Costa Rica on your art?
The audacity, brightness, variety, mischief of the chromatics of my work are encompassed in the Costa Rican tropics that surround me. Nothing is hidden here and, paradoxically, there is a perennial game between exhibition and the camouflage. The tropics know color and nuance better than anyone else! Those of us who live here unknowingly absorb this colored chess.
In my case, this is reflected in one of my first exhibitions, "The Colors of the Tropics." There are scenes of the little town of Barra del Colorado, plunged in the humid tropical forest, where you can see the clothes lying out to dry in the sun. It goes without saying that the colors of the garments are not at all like those used in London or Amsterdam.
What's the main characteristic of your work?
I take every artistic project I do very seriously; I prepare it and study it conscientiously. My work is always supported by a lot of theoretical research, testing materials, drawings, blueprints and thought. The desire to hunt for something new torments my spirit. It is a main characteristic of my work. That has made me try many forms of art.
When you paint so much, you have to be curious and innovative because otherwise you would die of boredom. First I went through the almost obligatory stage of the Costa Rican painter: painting peasant houses, gates of peasant houses, view of the mountains from the corridor of the peasant house and "veraneras" [a kind of flower] at the peasant house. One day I wondered why, in almost every interpretation of the peasant houses, there is always sunshine. Could it be that the painters of yore only worked in the summer? So, in honor of a country in which it rains half of the year, I made a watercolor of a peasant house under a good downpour.
How did living in the United States for four years influence your art?
[I did that] when I began to mature as an artist; it changed my perspective. On the one hand, I found a rich access to materials and instruments that I did not know. On the other, I realized the competition, camaraderie, organization and learning opportunities that exist there.
I joined the Miami Watercolor Society, took courses in baking, ceramics. I experienced [new things] like crazy and shared with many people with my same vocation. Works that stand out from that time: broken leather shoes that are ceramic but look leather, and a vase that is very heavy because it was made with an old technique and not with a lathe… very three-dimensional, very unique. During this period there were also several exhibitions. In one of them I received first prize.
Have you had any particular experiences that changed you as an artist and as a person?
My husband, Carlos, went to prison. We were forced to be apart for several years. In the context of my artistic work, it would be too superficial to describe Carlos as my husband or my partner. Carlos has been my center, besides being many times the reason for my strength, my hope and, always, my joy.
I have no words to describe this painful experience. It was worse than if I had lost a part of my body, because it was the suffering of a loved one. I had to get used to a new routine and put on a brave face for my children. Learning to live alone after many decades of doing it together. To look forward, and to look after the person who looked after me in previous years.
During this period my work came to life and filled with meaning. Art was the source of my strength. I remember one day when I was very confused, I cried and painfully painted a painting and put it aside. When I returned to it later, I noticed how, at the bottom, there was a face that I had not painted. I then felt the presence of my Guardian Angel. There he was, taking care of me. I keep this work as one of my most intimate treasures.
From this period came more spiritual pictorials, interaction with people, children, songs of hope. One of these works is in the Inter-American Development Bank in Washington; it took first prize in a contest with artists from all of Latin America and the Caribbean. Another is the Angels exhibition at the Costa Rican North American Cultural Center.
And from the perennial struggle were born The Roosters that fight with their brightness, their look, their violent strokes. These roosters that aren't indifferent to anybody. They keep and camouflage my past tears, but they also exhibit the beauty of living! These are [exhibited] all over the world. Two are in Japan. Another stimulated the passion of a top executive of a U.S. company and hangs prominently in his company.
Our "Weekend Arts Spotlight" presents Sunday interviews with artists who are from, working in, or inspired by Costa Rica, ranging from writers and actors to dancers and musicians. Do you know of an artist we should consider, whether a long-time favorite or an up-and-comer? Email us at kstanley@ticotimes.net.
You may be interested