5 things to know about Costa Rica's gigantic Palmares Festival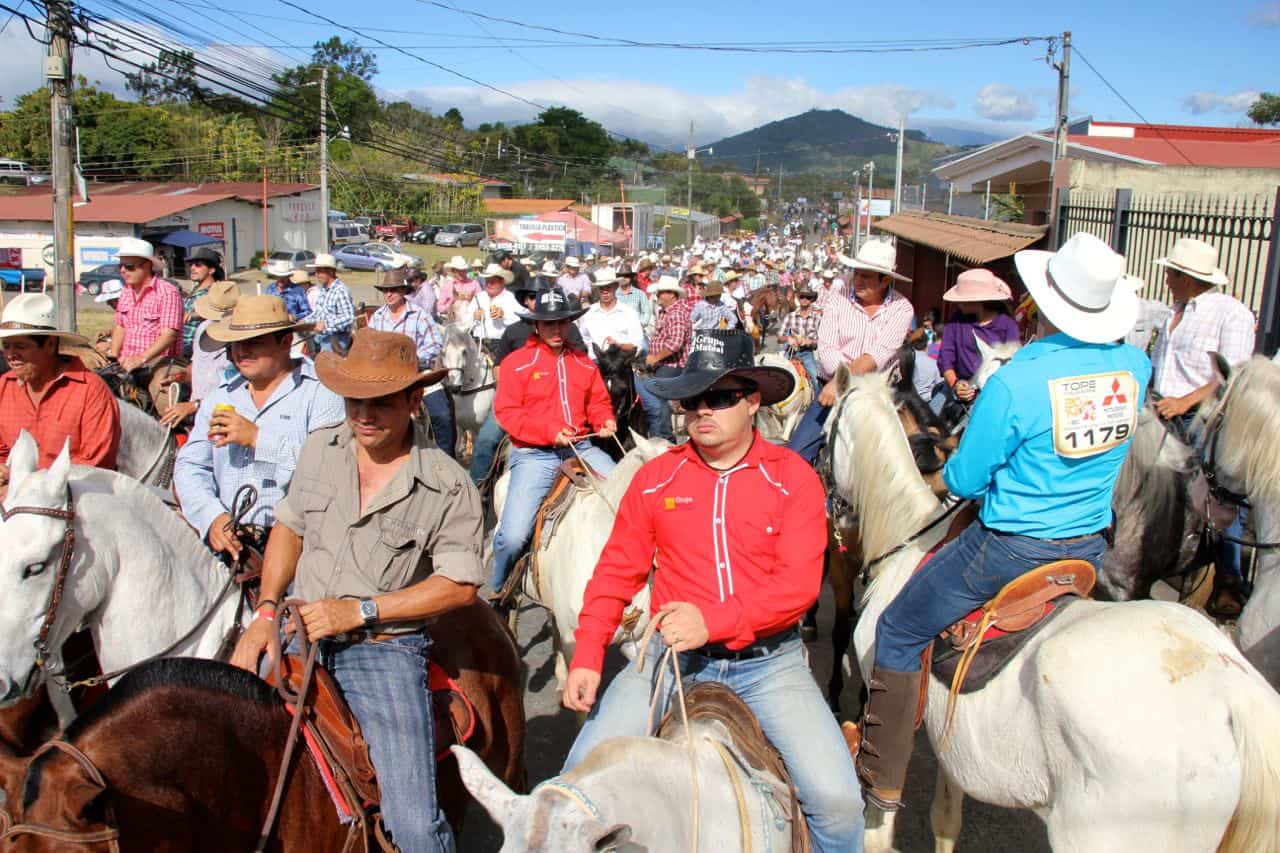 Each year in January, Ticos descend on the sleepy coffee town of Palmares, northwest of San José, for the country's most rowdy fiesta. Palmares hosts a traditional Costa Rican festival with bullfights, horse parades and carnival rides, but also brings in famous international acts and way more beer than is probably necessary.
Foreigners unfamiliar with the festival shouldn't miss out either. Even if chilling with reggae bands surrounded by drunk and high teenagers isn't really your scene, the Palmares Festival still has plenty to offer.
Festivities kick off today, Jan. 13, with events every day through Jan. 25. Here are a few things to know about the festival before you go so that you can enjoy it while still maintaining your dignity.
1. More than a fifth of the country will attend. 
Festival organizers estimate that 1 million people will show up to this year's festival. That's about 20 percent of Costa Rica's population. Big crowds can mean big fun, but they also mean traffic and packed hotels, so plan in advance.
2. You can get drunk. You can even ride a drunk bus.*
With beer consumption rivaling Oktoberfest, Palmares is known internationally as a giant boozefest. Costa Rican beer label Imperial now sponsors the festival so you can be sure you will not get thirsty. (Last year, La Nación reported that 620,000 cans of beer were collected by festival's end.)
Officially, security will not allow inebriated guests into the festival, but in practice, hardcore Palmares partiers book *mini-buses with designated drivers and get plastered on the hour-long drive from San José. Find a listing for your own party bus here.
3. You can chase bulls. But don't do that. It's dangerous and stupid.
As in many other Costa Rican civic festivals, Tico-style bullfights are the event's centerpiece. Unlike Spanish or Mexican bullfights, Costa Ricans do not kill the bull. Instead they allow dozens of improvised rodeo clowns, or improvisados, to enter the ring and taunt the toro, sometimes getting killed themselves.
Watching strangers get launched into the sky by bulls is amusing, but think twice about getting into the ring yourself. At the 2013 Palmares Festival, a 28-year-old improvisado died after being tossed by a bull and breaking his neck, and a particularly serious injury resulted from this year's Zapote bullfights as well.
4. Watch out: Thieves abound.
The drunk and merry make easy targets. You want to drink your weight in Imperial? Ok, but don't bring that $1,200 camera you just got for Christmas and expect to still have it when you leave. And don't leave valuables in your car.
Police will be out in force at the festival along with private security and surveillance cameras. Transit police also will be monitoring the roadways for drunk drivers.
5. If you can only choose one event, go to the tope.
A Costa Rican tope is a horse parade. Cowboys get dressed up in their tack and ride horses along a predetermined route through town. Think thousands of people on horses, in one big cluster.
The Palmares tope is one of the country's most famous, with cowboys from all over the country turning up to show off their riding skills and sometimes other talents. For instance, this man dances on top of his horse.
Schedule of Events
Lighting of the Fairground: A parade with "cimarronas," clowns and floats starts at the Parque de Palmares on Wednesday, Jan. 13, at 5:30 p.m.
Tope: The tope starts at noon on Thursday, Jan. 14. After the tope, Juan Gabriel imitator Juan Varela will offer a show (₡5,ooo, approximately $10).
Tico bullfights: Bull events will run Jan. 15-21 and 24-25. Check the times here.
Festival Ranchero: Mariachi Vargas de Tecalitlán will perform along with singer Angeles Ochoa Saturday, Jan. 18, at 7 p.m. Tickets can be purchased by phone at 2453-1414.
Concerts: Singer Alpha Blondy, of the Ivroy Coast, will perform with his band The Solar System Jan. 17 at noon. The bands Auténticos Decadentes and Los Pericos will offer a concert at noon Jan. 24. Both concerts will be free, and only for people over 18.
Festival Infantil: Raffles, games, contests and other activities for children will take place Tuesday, Jan. 19, starting at 9 a.m.
Carnival: Music and performances take place Friday, Jan. 22, starting at 4 p.m.
Find more info at Palamares' Fiestas Facebook page.
You may be interested