Costa Rica regulators order Facebook page removed over advertising it deems sexist and blasphemous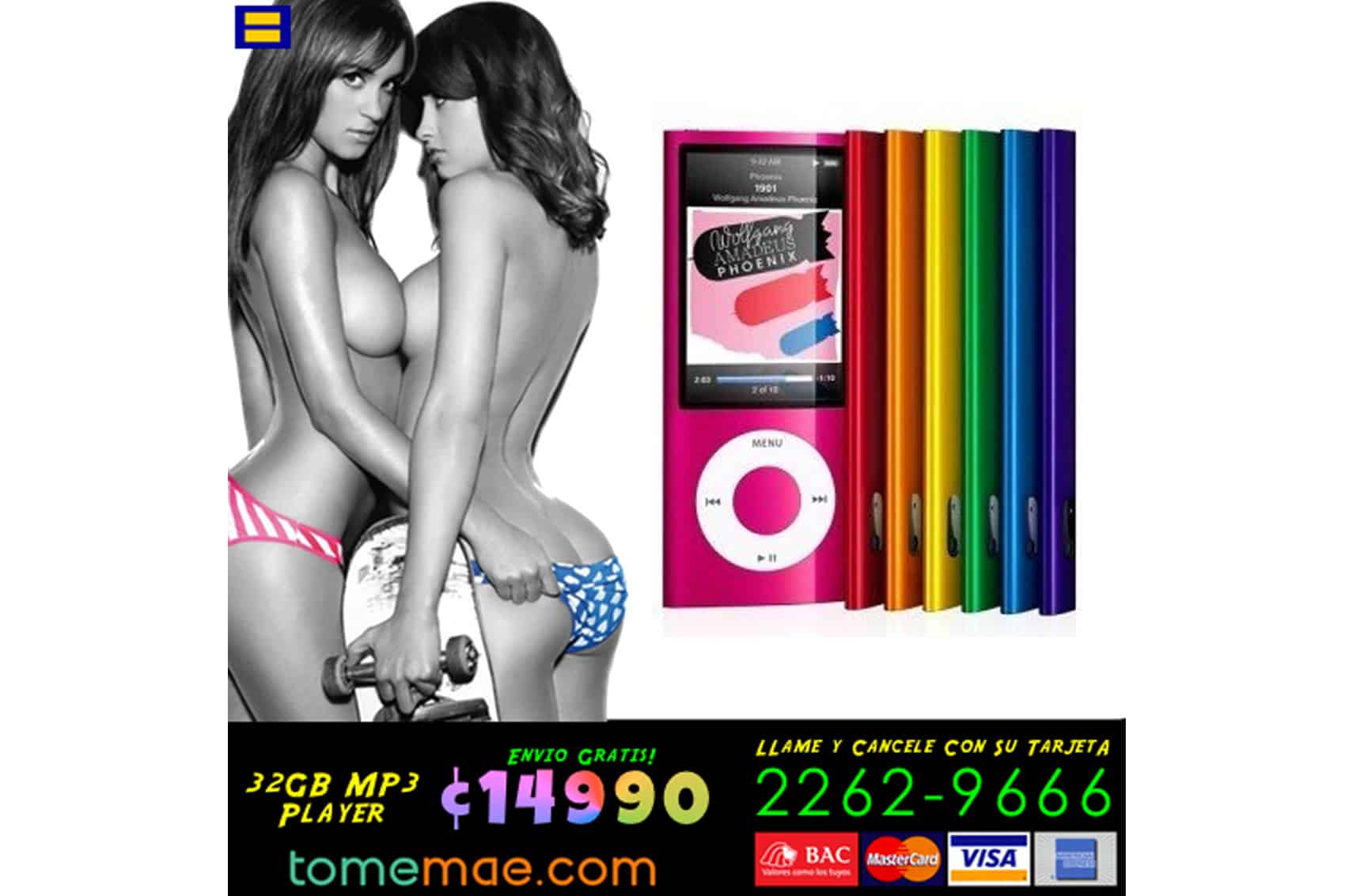 A nun smokes what is presumably pot out of a bong, and two women give sultry stares over their shoulders as they embrace shirtless. They could be posters on the wall of a college dorm, but they're actually posts on a Facebook page that a little-known Costa Rican government agency is trying to censor for offending the public's dignity.
On the evening of July 30, John Clark, a U.S. native and Costa Rican resident who owns the discount retailer and delivery service Tome Mae in Heredia, was served with an order to remove all advertisements and posts on a Facebook page because Costa Rica's Propaganda Control Office finds them offensive. The OCP, as the agency is known by its Spanish acronym, said in its order that the Tome Mae Facebook page's advertisements are "sexist," objectify women, offend the religious beliefs of others and encourage illegal drug use.
On Monday, Clark posted a copy of the order on the Tome Mae Facebook page.
Clark told The Tico Times he will fight the order, calling it a violation of his freedom of expression. Clark said he started the Facebook page as a private citizen for "entertainment," and that it is not legally connected to his retail business. Therefore, he claims, freedom of expression should protect his right to post the images.
The debate over the OCP's legal mandate to regulate advertising dates back decades in a country where major publications and websites routinely rely on scantily-clad women to drive sales and web traffic. Challenges to OCP's mandate come down to whether or not a business has the same freedom of speech rights as a private citizen. Beyond Clark's appeal, another court case involving the biggest media company in Costa Rica, Grupo Nación, and its lowbrow La Teja newspaper, could have far-reaching consequences for how advertisers and media use images of women.
The Tome Mae Facebook page refers to itself as an "entertainment page" that posts ads for sales and new products at the store's retail location. Besides products, the Facebook page re-posts Internet memes with a "TomeMae.com" imprint. Everything from marijuana legalization, marriage equality, LGBT rights and Guy Fawkes — the mustachioed symbol adopted by the hacker activist group Anonymous — to a farewell post for deceased British actor Christopher Lee is posted to the Facebook page. It has 278,000 likes at this writing.
"I understand that I have some material that offends some people. The world is full of people waiting to be offended, but I have nearly 300,000 likes [and the number is] growing every day. I obviously have an audience that wants to hear what we have to say," Clark told The Tico Times on Friday.
One of the memes flagged by the ominous-sounding OCP is a picture of a room full of closed doors that reads, "Jehovah's Witness training camp." Alongside the other cited example of a nun smoking a bong, Clark said he felt his critical views on religion were the true thorn in the OCP's side, not the portrayal of women in the posts advertising retail products. Plus, Clark says he knows a thing or two about organized religion, because he claims to be an ordained minister who practiced for 20 years before walking away from the church, disillusioned.
The director of the OCP, Rodrigo Arias Camacho (not that Rodrigo Arias, a different one with no relation to the Nobel Prize-winning ex-president), told The Tico Times that his office is tasked with regulating advertising under Law 5811. According to the 1975 law, "all commercial propaganda that offends dignity, the decency of the family and indecently uses the image of a woman to promote sales will be controlled and regulated under strict criteria set by the Interior Ministry." In 1979, the OCP was founded as a dependency of the Interior Ministry, now part of the Public Security Ministry, to carry out this task.
"We found the Tome Mae website and felt that it was crossing the line by quite a bit in terms of limits established by OCP to regulate advertising in Costa Rica," Arias said. The OCP director said the women in the posts advertising deals from Tome Mae had nothing to do with the products being sold and therefore were considered an act of objectification, one of the criteria used to regulate advertising.
Clark, who describes himself as a feminist, had a brass tacks answer for his decision to pair nearly nude women, and some men, alongside ads for deals on electronics and other imports from the United States. "Sex sells," he said. Just look at the depiction of women in newspapers and news websites in Costa Rica, where bikinis and other stages of underdress are prominently displayed, he added.
"La Teja, for example. It's full of lascivious photos always. I can't turn La Teja off. If I'm walking down the street, I have to look at it. It's a publication. You can turn me off," he said, referring to a user's ability to block content on Facebook.
Free speech in the advertising world?
Whether or not content like Tome Mae is more tasteful than the interviews in La Teja is a question that the OCP has faced before.
In 2000, Grupo Nación filed an appeal with the Constitutional Chamber of the Supreme Court, or Sala IV, challenging the OCP's mandate. Grupo Nación argued that the OCP was censoring the newspaper and violated its freedom of press and expression when it ordered the newspaper to pull various advertisements. Sala IV ruled that commercial advertising has the "principle objective of dissuading or convincing consumers of the necessity to acquire a good or service, and therefore, to this tribunal is an activity that, fundamentally, is related to freedom of commerce," not freedom of speech.
"The restriction of commercial propaganda is constitutionally legitimate for the protection of values and principles of the first order, such as people's dignity, the well-being of the family and minors, which enjoy the express recognition of various international agreements adhered to by Costa Rican law," the justices said.
In 2011, the Government Attorney's Office issued Resolution 335, which detailed the government's policy to regulate advertising that objectifies women and offends an individual's dignity. The resolution went on to detail that the government's attorney considered the use of semi-nude women on the covers of magazines and newspapers as a kind of publicity for the publications.
But in 2013 the line between advertisement and journalism got blurry when a group filed a complaint against La Teja newspaper for its portrayal of women. La Teja is known for prominently showing large photos of women, often wearing little clothing, accompanied by a brief interview. La Teja argued that the content should be considered journalism because the photos are accompanied by an interview, and therefore protected under freedom of expression. The case was thrown out.
"We regulate commercial publicity. In the case of Tome Mae is was clearly publicity. La Teja is supposedly a photo report. It sounds like a joke but that's how they defended it," the OCP's Arias said.
But the case against La Teja has been appealed and is currently under review by a judge, Arias said. If the judge decides that the image of women do not meet the standards of journalism it could empower the OCP to go after La Teja, Diario Extra, and CRHoy.com, among other outlets that feature brief interviews alongside photos of women.
Arias said that since the OCP has been reviewing websites and social media, his office has seen an increase in the number of preventive orders issued. The director said that OCP issues roughly five orders each month like the one received by Tome Mae.
Compared to traditional media, Arias said that advertising norms on social media are like the Wild West: "In social media, because it's freer there have been fewer controls and it comes from all directions. We need to figure out a policy to handle it. We're just starting down this new path. It's a challenge."
Facebook Comments
You may be interested