COATZACOALCOS, Mexico — Another day, another 831 km.
My road trip with my brother from Arkansas to Costa Rica has provoked some commentary on Facebook, not all of it very laudatory.
"Idiots most people get kidnapped or held for ransom or rapped [sic] or stabbed etc I turn around while I could," says one person.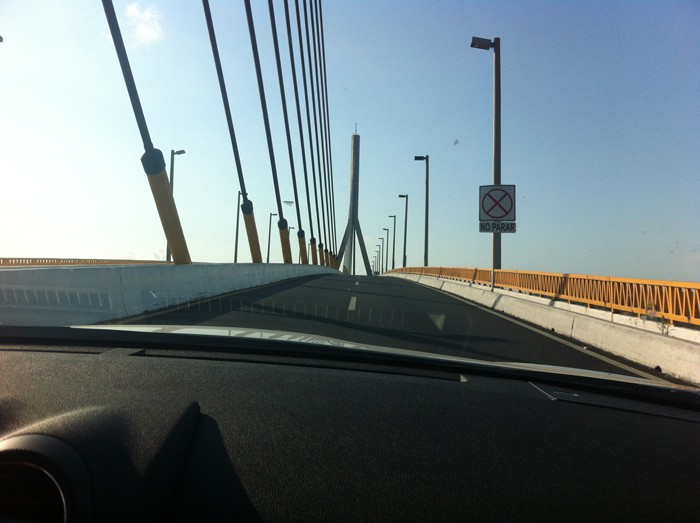 "Dangerous territory all the way from Mexico to the CR border," says another. "Not worth it. Kidnappings, murders galore. No thanks. Will you report if they get killed somewhere or robbed? You might never hear from these people again."
"Drive through cartel city and then through gangland ? ? No thanks! I'll gladly pay the $800 airplane ticket and be safe round trip," a third chimes in.
I can't claim that Mexico is a safe place for a road trip, because sometimes bad things happen to innocent people here. But for someone who's just driving through Mexico to get to Central America — to keep a car, for example — I think the dangers are exaggerated in most people's minds.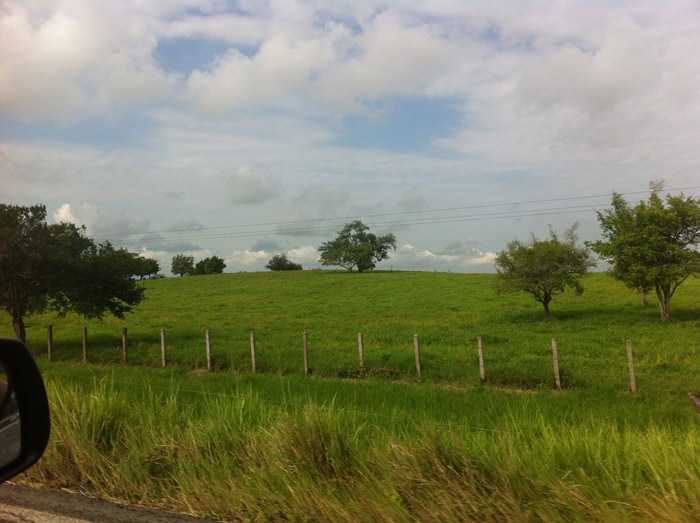 Today we drove from Tampico, on the northeast coast, to Coatzacoalcos on the southern Gulf Coast, and the worst thing that happened was encountering several speed bumps so high they scraped the bottom of the car.
The road from Tampico to Veracruz was terrible, but the scenery was beautiful, the foliage green and the sky blue.
I spent four years of my childhood in Durango and Torreón, in the northern desert, so I think of the Mexican landscape as sand and cactus. Seeing eastern Mexico, which in places is reminiscent of Costa Rica, has completely changed my mind picture of this country.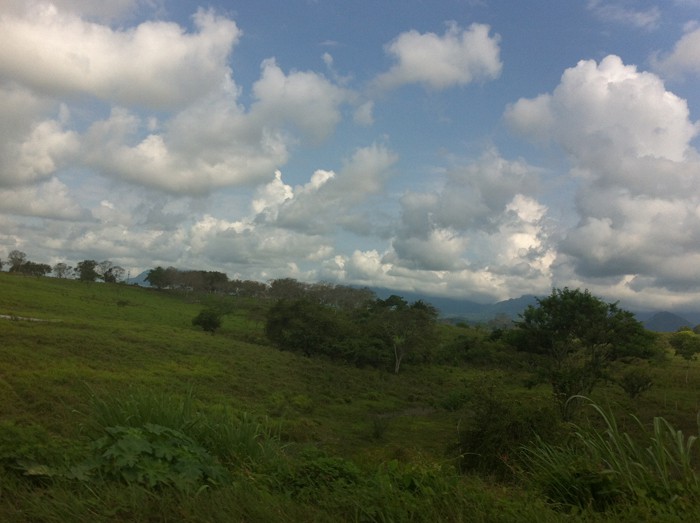 The people are as I remember them — friendly, helpful and hard-working. We haven't seen anyone who looked like a narco-trafficker, a gangster or a thug, but of course we haven't gone looking for them.
Last night in Tampico, Paul and I walked to an ATM at 10:30 at night and a woman walking alone volunteered a "Buenas noches" as she passed us. A group of young people were playing volleyball at a city park, and another man walking alone was carelessly looking at his cellphone. This didn't look like a city in the grip of fear.
Today we had coffee and toast, checked out of our hotel, went downstairs to the guarded, gated parking and drove away. We stopped once for gas and once to eat.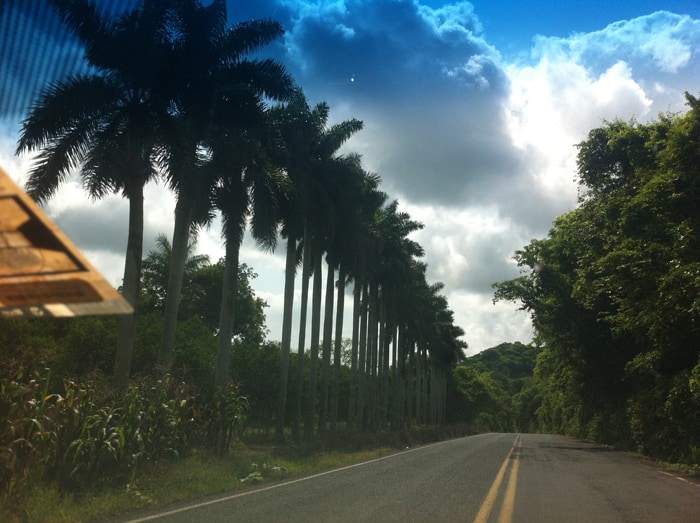 We did the same thing yesterday: stopped once for gas and once to eat, and the rest of the time we spent driving.
Consider: When are the kidnappers, rapists and murderers going to grab us? Are they going to lie in wait at gas stations and restaurants? Are they going to pull up beside us on the highway and just start shooting?
We ordered beers with our lunch, and the waitress said she wasn't allowed by law to serve alcohol today because elections are tomorrow. But if we moved one table closer to the kitchen, away from the street, she confided, she could serve us beer in glasses.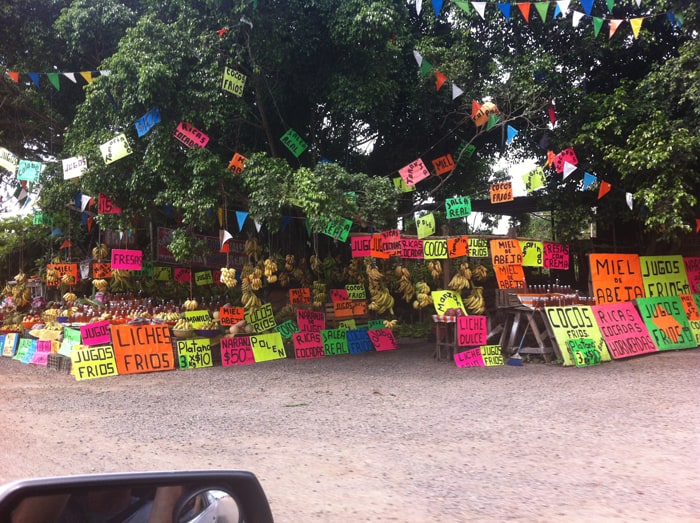 We laughed and moved one table over, and she discreetly poured beers into glasses.
"We sell more beer today than any other," she said. "People like to do what's forbidden."
As we sat there, 10 pickup trucks with flashing lights drove by carrying police officers in bulletproof vests and helmets, every one of them holding an automatic rifle. These cops clearly have bigger concerns than tourists sipping beers the day before elections.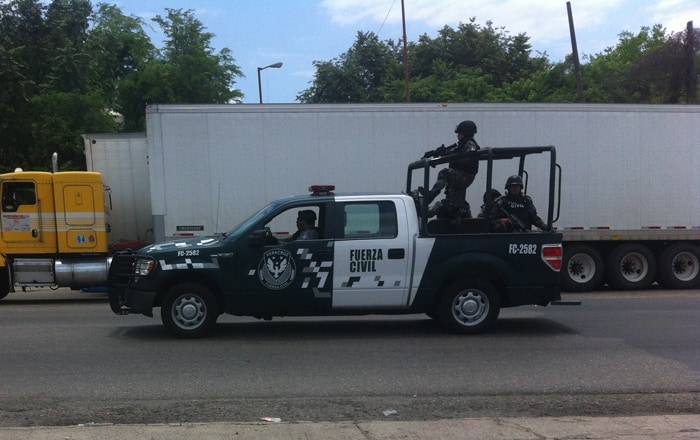 Without minimizing in any way the unspeakable horrors the narco-traffickers have inflicted in Mexico, it's safe to say that their primary targets are not tourists who are just driving through the country.
Driving anywhere is dangerous — it's one of the most dangerous things that ordinary people routinely do. If you drive across Mexico, bear in mind that you're far more likely to die in a traffic accident than a gangland shootout.
Should you decide to undertake a trip like this one, here are some suggestions for staying safe:
Drive during the day and find a hotel before dark.
Find a hotel with secure parking and don't leave valuables in your car.
Make sure your car is in good repair so you don't break down on the road.
Buy maps before you leave so you don't get lost.
Try to avoid big cities; gas up and eat in smaller towns.
Avoid walking at night, especially alone.
Bring as much cash as you need, in pesos, to avoid having to look for an ATM.
Tomorrow: Guatemala.
Follow our daily updates on this journey — the good, the bad and the border crossings — at travel.wordpress-257819-2837440.cloudwaysapps.com. Contact Karl Kahler at kkahler@ticotimes.net.