Urban bus tour celebrates San José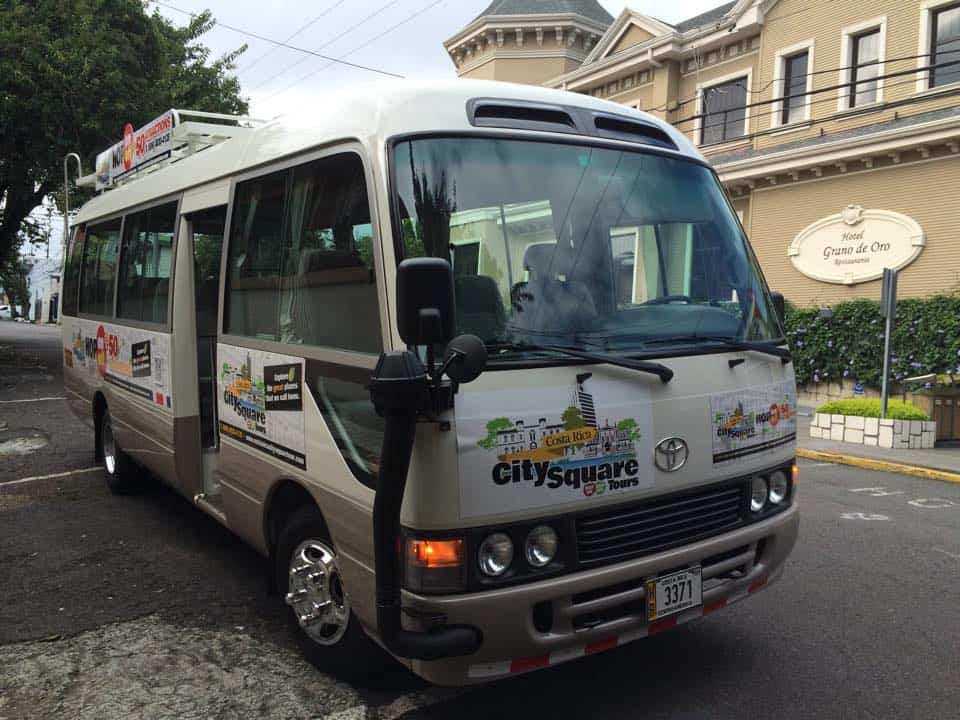 "When you're on vacation," says Andrés Oreamuno, "you want to take the most advantage of your time. You don't want to waste a minute."
So Oreamuno came up with an idea: Since thousands of travelers end up in San José, why not show them the sights? Most people end up lost and bored in Costa Rica's capital, because they don't know where to go or what they're looking at. But what if they could jump on a bus and learn about the city's sights and history in a comprehensive two-hour jaunt?
The result is Costa Rica City Square Tours, a two-month-old business that attracts between six and 16 intrepid tourists per day. Oreamuno came up with the idea during a visit to Chicago, when he watched his older brother run the Chicago Marathon. Because the Oreamunos didn't have much time to explore the city, they took a hop-on-hop-off bus tour. Andrés was inspired, and when he returned to Costa Rica he developed the idea.
Such tours are common in the United States and other parts of the world, where companies drive people around in buses and explain important landmarks. Some brands use eccentric vehicles, like vintage double-decker buses and DUKW wheeled watercraft. Many companies allow guests to get off the vehicle at certain stops, walk around, then return whenever they like, riding an ongoing loop around a city.
Having grown up in Moravia and Escazú, Oreamuno has watched the city transform, and he feels that now is the best time to start an urban tour of San José.
"When I was younger, I wouldn't go [downtown]," he says. "Now it's much safer. There are more police. I walk in the middle of San José, talking on my cellphone, and don't worry about anything."
Oreamuno has his own experience in unfamiliar places: He studied marketing and management at Manhattan College in New York City, and he spent a semester in Australia. A diminutive and gentle young man, Oreamuno feels strongly about the importance of San José.
"Most of the history and culture of Costa Rica is in San José," he asserts.
Supporting Oreamuno in his endeavor is his mother, Roxana Echeverría, an energetic 50-year-old and owner of EO Comercializadora, a distribution company based in La Asunción de Belén. In conversation, it is obvious that Echeverría is ecstatically proud of her son, and she has gone to great lengths to help him, setting aside office space in her company and advising him along the way.
According to Echeverría, Oreamuno has always had a creative and entrepreneurial spirit: As a child, he would place room numbers above the doors of his house and pretend that it was a hotel, then care for his parents as if they were guests.
"It was wonderful," exclaims Echeverría with a nostalgic laugh.
Today, Oreamuno manages two rented minibuses and three tour guides. After months of rigorous study, Oreamuno is also a guide certified by the Tourism Ministry, and he often leads tours himself. The buses make a slow circle around San José, allowing riders to move freely around the city from 8:15 a.m. to 5:15 p.m. Stops include the Children's Museum, the Plaza de la Cultura, and the Mercado Central. Oreamuno has slowly cultivated a network of hotel owners, and he has forged relationships with community organizations like GAM Cultural and Chepecletas. As business continues to accumulate, he hopes to start a third route from La Sabana to Avenida Escazú.
While the vast majority of patrons are mature travelers from Europe and the United States, Oreamuno is seeing a growing number of Latin Americans as well. To publicize the fledgling business, Oreamuno cut together a video himself, starring Spanish language students from Veritas University. The students agreed to appear in the video in exchange for a free ride around town.
Ultimately, Oreamuno hopes that more of his compatriots will climb aboard and learn about their capital.
"We are concerned about our social responsibility," says Oreamuno. "There are some people who don't value what Costa Rica is. We have to change the mentality of Costa Ricans as well. The more time I spend in San José, the more I like it."
Tours take place daily, 8:15 a.m. – 5:15 p.m. $25. Info and schedule: Official website.
You may be interested