Jacó Happenings
The Reef Centroamérica Surfing Games earlier this month were a huge success in Playa Hermosa. Congratulations to winners Anthony Fillingim, Nataly Bernold, Noe Mar McGonagle, Bruno Carvalho and Anthony Flores. The event raised more than ₡1 million ($2,000) for the development association of Jacó, which will use the funds for a Christmas party for needy kids. 
There's been a lot of other great community help for the holiday season. Jeff Fisher of CR Beach Investment Real Estate and Hermosa Beach Bungalows made donations to the Playa Hermosa wildlife refuge, the schools in Garabito and toys for kids. Freddy Quirós of Loma del Mar in Hermosa donated mattresses for the 23 new police officers who have arrived to help for the high season. 
The Jacó Lifeguards are ready to take care of our tourists at the beach. Head lifeguard Marvin Pérez is looking for donations to help ensure the safety of swimmers and surfers. If you want to help, call Marvin at 8701-4457. 
Nellie and Richard Lemon of Lemon Zest restaurant have brought back their "Italian Sunday Nights" for high season and will be serving a lot of classic Italian dishes Sundays through April. 
After many years in tourism as owner of Canciones del Mar boutique hotel, Peter Van Hussen has joined CR Beach Investment Real Estate (www.crbeach.com) as a real estate agent, specializing in selling luxury homes, hotels, restaurants and real estate projects in the Central Pacific. Contact him at [email protected], 8825-6556 or 2643-4334.
"A Christmas Carol," presented by Teatro Jacó, opened Dec. 20 in the new theater at the Oceans Center in Jacó. Performances run through Dec. 30. Tickets cost $35, with discounts offered for Costa Rican nationals, kids and groups of 10 or more. For information, call 2630-9812 or visit www.teatrojaco.com. 
Get your rooms booked and your dinner reservations reserved for New Year's Eve! In Jacó, you can make the party rounds and stop in at Monkey Bar, Le Loft, Bar Oz, Jaco Taco, Clarita's and Morgan's Cove. The Best Western in Jacó has a lavish New Year's Eve party every year. The Hotel Cocal and Casino will feature a free midnight buffet with champagne and party favors and a raffle with ₡3,500,000 ($7,000) in cash and prizes in the casino, and a special menu with complimentary wine and party favors from 6-10 p.m. in the new Latitude oceanfront restaurant; for more information, call 2643-3067. Out in Playa Hermosa, the Backyard Bar will feature its weekly Saturday Surf Series Dec. 31, with the masters and open finals at 3:30 p.m., followed by a free pig roast, live music by the Chupacabras at 9 p.m. and fireworks at midnight.
Note: The Garabito Municipality will be closed Dec. 23-Jan. 2 for the holidays.
–Christina Truitt
[email protected]
You may be interested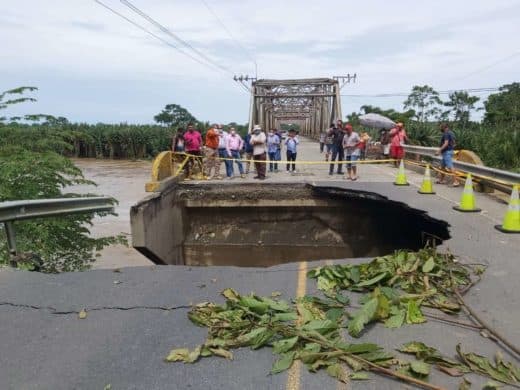 Costa Rica
290 views
Route 36 bridge not expected until Wednesday
Alejandro Zúñiga
-
July 26, 2021
A bridge reestablishing transit on Route 36 near Penshurst, Limón, isn't expected to be ready until Wednesday, authorities now say.…