Jacó Happenings
One of the hottest new spots in Jacó is the Pura Vida Pantry, run by Paul and Cassidy Barbeau. This mom-and-pop organic market serves daily lunch specials, raw soups, power snacks and a free green juice shot to everyone who comes in. Not only can you buy some great goods, but you can also place orders for organic products here. Pura Vida Pantry is open Monday-Saturday, 9 a.m.-4 p.m., 50 meters north of the municipality, around the bend from Platinum Gym on Calle Morales. For information, call 8733-4811 or email [email protected].
Stop by Amapola in Jacó tonight to support the animals at the McKee Foundation Fundraiser. McKee Jacó is a nonprofit that operates with no outside help of any kind. It survives thanks to the support of those who wish to help stray animals and families who cannot afford to take proper care of their pets. For information about how to help or donate to the foundation, visit www.mckee-jaco.com. 
The Juilliard Jazz Artist Diploma Ensemble performs tomorrow night at Club del Mar in south Jacó. The ₡5,000 ($10) entrance fee goes to charity. Reservations are recommended; call 2643-3194.
The next Central Pacific Women's Group meeting is set for Nov. 16, 9-11 a.m., at the Hotel Cocal's second-floor restaurant. Jill Ruttenberg, a nutritionist and clinical herbalist specializing in Chinese and western herbal medicines, will discuss medicinal plants you can grow or find in Costa Rica, and how to use them to benefit your health. The meeting will also feature a special holiday members' mart with products from women's group members; 10 percent of proceeds will be donated to group projects. For information, call 2643-2853.
Next weekend is the 10th annual Pura Vida No Pro, a charity surf contest that benefits the children of the San José orphanage, set for Nov. 19 at Morgan's Cove in south Jacó. Each year, kids from the orphanage look forward to an unforgettable day of philanthropy, fun and surf. Just $50 sponsors one child to attend this event. To volunteer or donate here in Costa Rica, contact event director John O'Toole at [email protected]. To make a tax-deductible donation in the U.S., visit www.puravidanopro.org.
Thanksgiving specials are in the works in the Central Pacific. Mead Brown Costa Rica Vacation Rentals and chef Richard Lemon of Jacó's Lemon Zest Restaurant have teamed up to offer a traditional Thanksgiving dinner for stays of five or more nights (with one of those nights being Nov. 24) at one of Mead Brown's professionally managed luxury villas or condominiums. For more information, email [email protected]. 
Those who want to cook at home should get their turkey orders in soon. Contact Jimmy Tancrell of Jimmy T's Provisions at 2637-8636 to get your Thanksgiving fixings and turkey. You can also order holiday pies to go from Lemon Zest – pumpkin, peach-blackberry or apple – for $20.
Or skip the hassle and eat out on Thanksgiving Day. Lemon Zest will offer roasted Butterball turkeys with all the fixings at its location in downtown Jacó. To make reservations or order pies, call 2643-2591 or visit www.lemonzest.com. Jaco Taco (2643-1313) is hosting its third annual Thanksgiving Dinner Nov. 24, 5-7 p.m., for ₡7,000 ($14) per person; also check out its new sports bar upstairs. Tim and Chrissy Odom of Hotel Poseidon are celebrating their ninth annual Thanksgiving Day celebration with their famous smoked turkeys. Dinner costs $25 and is served 5-10 p.m.; call 2643-1642 for reservations. Poseidon is also selling smoked turkeys from their in-house smoker. The price is $50 for a 13-pound turkey; order by Nov. 15 by calling Tim directly at 8814-4323. 
–Christina Truitt
You may be interested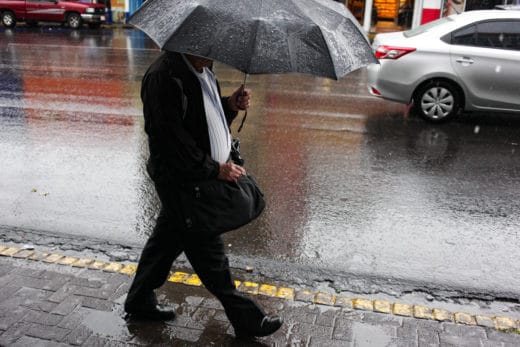 Costa Rica
137 views
Yellow Alert in much of Costa Rica due to rain
Alejandro Zúñiga
-
June 11, 2021
The National Emergency Commission (CNE) on Friday placed Costa Rica under weather alerts: A Green Alert is informative and precautionary,…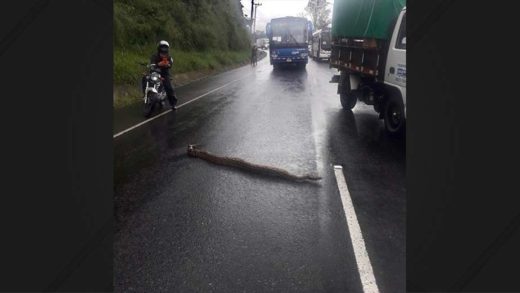 Costa Rica
38 views
Watch: Snake stops traffic in Costa Rica
The Tico Times
-
June 11, 2021
Why did the snake cross the road?* Drivers on the Florencio del Castillo highway between Cartago and San José, Costa…