Jacó Happenings
GNC products are now available at the Fischel pharmacy in Plaza Herradura. Michael Herrera and Edith Umaña are there from 9 a.m. to 9 p.m. seven days a week to help you with your vitamin and supplement needs. For more information, contact 2637-6189.
Tomorrow is all about the blues here, with the first Jacó Blues Festival at the Copacabana Hotel. Music begins at noon with Bedrock Blues Band, followed by Koko and the Wetbacks at 2 p.m., Mouse in the Toaster at 4, Benjammin' and the Howlers at 6, Robbie Clark at 8, and an All-star Blues Jam at 10. Admission is free. Sponsors include the Copacabana, En Tarima, Jaco Taco, Villa Estrellamar, Backyard Bar, Cocal Casino, Oz Bar, Tabacón Bar, Morgan's Cove, Los Amigos, Isaga Bar, Clarita's Bar and Grill, and The Breeze.
Semana Santa promises to be a good one in Jacó, with many restaurants and shops offering great specials during the week. There's also lots of good music coming up just before Easter. Jamin Hazelaar, originally from San Diego, California, now resides permanently in Costa Rica and has reformed Thicker Than Thieves with new members from Costa Rica. Jamin's band is now beginning its spring tour with Perro Bravo, featuring Miguel from Sublime, including three shows in Costa Rica before returning to California to debut there. Thicker Than Thieves will be at Tabacón in downtown Jacó on Friday, April 22, to host a poster signing followed by a 10 p.m. show. For more information, check out www.thickerthanthieves.com.
This show will be followed up by Big B Entertainment bringing Eek A Mouse of Jamaica to Rootz Stock Fest 2011 on April 23 from 2 p.m. to 3 a.m. at Malecón Bar in downtown Jacó. Other featured artists in this international reggae festival include Thicker Than Thieves and Perro Bravo from the U.S.; Adonai and Dub Mastor Sound System from Brazil; Marswell of Venezuela; and Ras Manuel, Shel and Selecta VJ Herbalist from Costa Rica. Tickets costs ₡10,000 ($20) or ₡20,000 ($40) for VIP, and are available at Rasta Mr. Jacó, Malecón Bar or B&B Surf Shop.
Note: The Garabito Municipality office will be closed for the holiday Thursday, April 21, and Friday, April 22.
You may be interested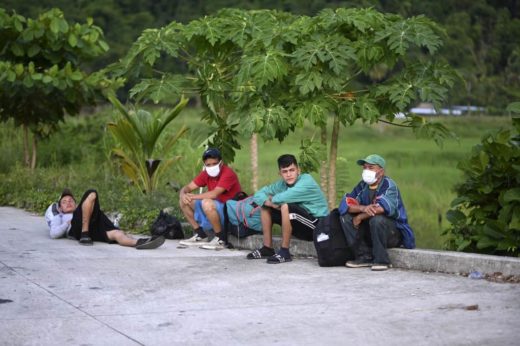 Central America
3741 views