Jacó Happening
Max Tattenbach, president of Costas Verdes conservation group, has been working to restore beach ecosystems throughout the country and specifically in Playa Hermosa, just south of Jacó. The group has been reforesting the Playa Hermosa-Punta Mala National Wildlife Refuge since early 2009 and has planted more than 5,000 trees through active campaigns with local public and private schools. Its goal is to reforest all of Playa Hermosa to create a richer ecosystem and provide the shade that's missing on the beach (TT, June 5, 2009).
Costas Verdes is looking for contributions to keep up with the maintenance plan for the trees that were planted. If you would like to help, e-mail Max at max@costasverdes.org, or visit www.costasverdes.org.
In addition to Costa Rican Mother's Day on Sunday, this weekend will feature the first home game of the Jacó Rays soccer team, against Cartagena de Guanacaste, tomorrow at 3 p.m. in the Garabito Stadium, diagonal to the municipality. Generation Grunge will be featured at Tabacón Bar tonight and at the Backyard in Playa Hermosa tomorrow night. Also tomorrow is the annual McKee Fundraiser at Jaco Taco starting at 7 p.m.; for more information, contact Katja Bader at 2643-4012. All proceeds from this event will go toward rescue and rehabilitation of homeless animals.
The next meeting of the Central Pacific Women's Group will be held Aug. 19 from 9 to 11 a.m. at Balcón del Mar Hotel. Jimmy T's Provisions will be giving the presentation, followed by a potluck lunch (bring a dish to share). For information, e-mail centralpacificwomensgroup@yahoo.com.
The Pacific Law Golf Tournament will also be held Aug. 19, at the Los Sueños Marriott's La Iguana Golf Course in Playa Herradura.
The cost is $75, including green fees and T-shirt. For more information or to sign up, contact José Quesada, director of golf, at 2630-9012 or jose.quesada@marriott.com, or visit www.golflaiguana.com.
–Christina Truitt
christinatruitt@gmail.com
You may be interested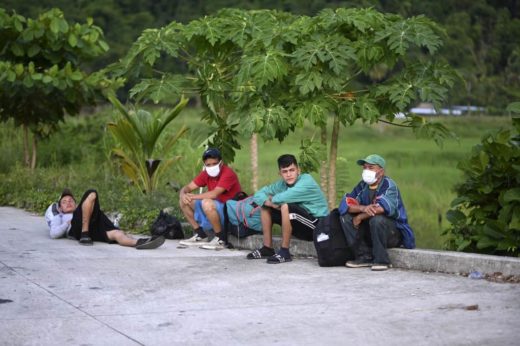 Central America
3739 views