Arenal Report
A recent Arenal Report about the El Farallón petroglyphs resulted in several e-mails asking directions to this obscure national monument, so I wrote the description below of the route to this location in the foothills between lowland Cañas and mountaintop Tierras Morenas. Then, last Sunday, my wife and I tried the route and found it almost impassable at this point in the rainy season, even in four-wheel drive. The 2.3-kilometer stretch before the finca gate has long sections of muddy ruts filled with standing water. We got stuck once. And one can't turn back once started on this muddy section. We left the petroglyphs via the route to Cañas, but this proved too labyrinthine to describe here, though much easier to drive.
Supposedly the only petroglyphs in Costa Rica, El Farallón is little studied and has few references in an Internet search, though Farallón is the name of locations in several other countries. An online dictionary defined "farallón" as a rocky island in the middle of a sea. "Rocky" does indeed describe the site of the petroglyphs, which occupy a large area on a sheer cliff face beside the pretty Río Cabuyo that flows within the canyon. The petroglyphs cover an area roughly 20 meters wide and 7 meters high. The little-studied images include a variety of animals and other figures. Their origin has been set at about 1,200 years ago, and their artists were the Corobicí indigenous group.
The monument is on the finca of the López Monge family, who are caretakers of the site and act as guides for a small fee. The least challenging way to get to the finca – during the dry season – is to start from the village of Tierras Morenas, which teeters on the edge of the mountains at the end of the paved Sabalito road. Pass the classic village church on your left and continue a block or so to where the pavement ends and the rough stuff begins just before the cemetery. A power line beside the road assures you that you're on the right track. After 10.6 kilometers, the power line and the "main" road veer sharply left, but a lesser road continues just about straight on. Continue straight for 2.3 kilometers until you see on the right the red pipe gate to the López finca. A national monument sign will assure you that you have arrived – almost. Pass through the gate and bump along for another 1.4 kilometers until you arrive at the farmhouse, where you will be greeted by one or more of the six residents: three brothers, their mother and the wife and son of one brother. In addition to guiding you the half-mile to the petroglyphs, they will explain medicinal uses of various plants along the way and later show you their collection of ancient farm implements.
–Alex Murray
You may be interested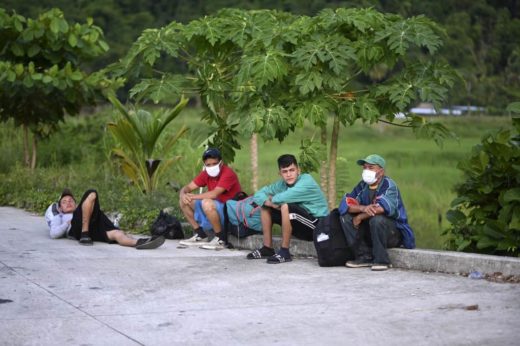 Central America
3739 views