IN THE NEWS
IN THE NEWS
4New Skin Bank Opens
Central America's first skin bank has opened at Costa Rica's Children's Hospital. The bank will store skin from deceased donors to be disbursed for transplants used to treat burn victims or patients suffering from vascular illness problems, Patricia Venegas, chief of the unit, explained to The Associated Press. After the transplant, skin can begin regenerating in 15 days. Last year Costa Rica's public hospitals treated more than 800 burn victims, most under age 4, AP reported citing public health officials.
4Guatemalan in U.S. Hid Bloody Past
Guatemala's 1982 peasant massacre came to the fore in a Florida court this week when a man admitted to lying on his U.S. naturalization application by concealing his role in the slaughter that took place in the Guatemalan village of Dos Erres. Gilberto Jordan, 54, said he was among a 20-strong military special force known as "Kaibiles," who slaughtered defenseless men, women and children in Dos Erres in December 1982, newswire Reuters reported. Jordan faces up to 10 years in prison, a $250,000 fine and revocation of his U.S. citizenship in a sentence to be delivered Sept. 17.
4Honduras Gripped by Dengue
Just as Costa Rica is seeing higher rates of the mosquito-borne disease dengue, Honduras is in a state of emergency over the illness, which has claimed 19 lives there this year. Honduran Health Ministry officials said the government is speeding up the purchase of medicine to distribute throughout the country's public hospitals. However, ministry spokesman Mario Nájera said the priority is "prevention and not treatment" to avoid the spread of the disease, newswire EFE reported. In Costa Rica, there have been 18 deaths from dengue since the epidemic began here in 1993. However, cases of dengue are rising sharply in the northwestern Guanacaste province. In neighboring Nicaragua, health authorities said they're taking measures to stave off a dengue crisis in their country. (See page 6 for more information on dengue.)
4Costa Rica Cheers Cuba
The Costa Rican Foreign Ministry cheered Cuba's release of 52 political prisoners, saying in a statement the move shows a "strong commitment" to protecting the rights of the Cuban people. The number, constituting a third of political prisoners being held, constitutes the biggest release since 1998, when Pope John Paul II's visit drove Cuban authorities to free dozens of prisoners. This time, the release came after a meeting between President Raúl Castro, the Roman Catholic Archbishop of Havana Jaime Ortega and Spanish Foreign Minister Miguel Angel Moratinos. Many of the prisoners had served jail time since 2003. Cuban prisoner Guillermo Farinas ended his hunger strike upon hearing the news, the BBC reported. Farinas started his over 100-day fast after inmate Orlando Zapata Tamayo died after an 85-day hunger strike.
You may be interested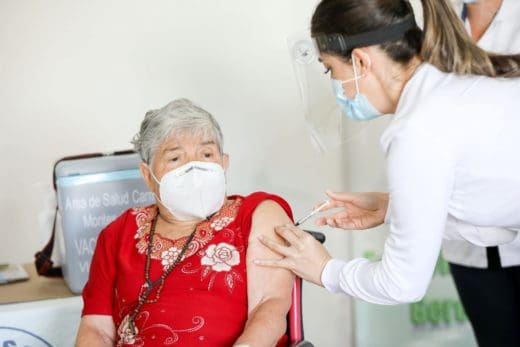 Costa Rica
16394 views
DIMEX required for vaccination, Costa Rica says
Alejandro Zúñiga
-
March 3, 2021
Costa Rica began administering coronavirus vaccines in December 2020, and the country hopes to inoculate its entire adult population. We've…