Jacó Happenings
The McKee Project is looking for sponsors for several of its accident animals. You can see them at www.mckee-jaco.com. If you would like to be a full- or part-time sponsor, please let Katja Bader know at 2643-4012. McKee Jacó is planning its annual fundraiser for Aug. 14 at Jaco Taco. They are in need of donations for the silent auction and volunteers to help sell tickets to the event. The committee handling the event is made up of Ellen Broussard, Mary Vancza, Margo Sanders and Katja. If you have something to donate for the auction or want to volunteer, contact Katja at the number above.
The next Central Pacific Women's Group meeting will be held June 17 at 9 a.m. at Balcón del Mar, with a minimum donation of ¢1,000 ($1.90) to support the group's projects. A potluck lunch will be held after the meeting. Bring a book or a magazine to exchange with others. For more information, call 2643-2853.
Special thanks go to Beverly and Eric Blumberg from the U.S. state of Pennsylvania, who donated school supplies and books to the district of Esterillos in honor of Susan and David McCafferty's wedding, which was held here in Garabito. If you are interested in helping the schools, please contact the Central Pacific Chamber of Commerce at 2643-2853.
This is the third consecutive year that the city of Jacó has won the Ecological Blue Flag award. A flag-hoisting activity was held May 28 in the Central Park and was attended by special guests such as: Oscar Núñez, president of the Costa Rican Water and Sewer Institute (AyA); AyA representative Darner Mora; Sonia Alvarado, president of the Blue Flag Committee of Garabito; Gabriela Arias of the Central Pacific Chamber of Commerce; Garabito Mayor Marvin Elizondo; and Freddy Castro, president of the city council. Several educational institutions in the area were honored for their efforts toward earning the award: CapulínSchool, República de Guyana School, QuebradaAmarillaSchool, Quebrada Ganado school and high school, HerraduraSchool, Líder de Tárcoles School, FalconInternationalSchool and Jacó's elementary school.
We hope Jacó can continue receiving this important award with the help of area residents and businesses.
In a show of appreciation to all of his collectors, local artist Félix Murillo donated one of his works through a raffle. His acrylic painting entitled "Chorreado de Libertad" went to Debbie and Paul Calvo from the U.S. state of South Carolina. Félix works by appointment only out of his studio in Quebrada Seca. To set up an appointment, call 8361-5719 or 8857-7224. To check out his artwork, visit www.felixmurillo.com.
–Christina Truitt
You may be interested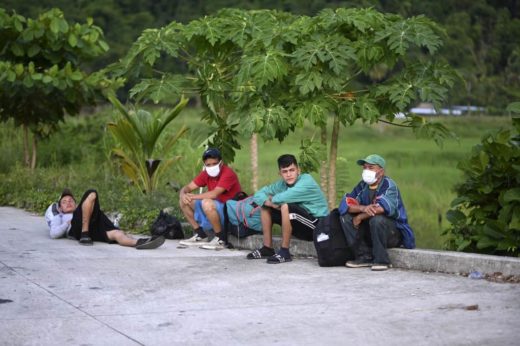 Central America
3739 views