Flamingo/Potrero News
A little-known, luxurious, custom Admiral catamaran named the Hibiscus has been located off PotreroBay since June of last year. Launched in 1998, the vessel is designed for both safety and speed, and at nearly 48 feet, the catamaran is the newest in the Flamingo-Potrero area. Brothers Pete and Dylan Duffy have relocated their families to come work with their dear friend, familiar local boat captain Judd Dunham, whose Gold Coast Charters offers sunset sail and snorkeling tours, surfing trips, special wedding events, memorial services and more. A second vessel, a sailboat, will be brought here to offer still more adventures and opportunities to experience the beauty of our coastline. For more information and reservations, call Dylan at 8935-9203 or visit www.sailhibiscus.com.
Potrero business owner Gregory Fleurbaey has changed the name of his Belgium Restaurant to Oki Doki, and is offering great appetizers and happy hour prices from 4:30 to 6:30 p.m.
Flamingo resident Craig Macktinger, co-owner of the Happy Snapper in Brasilito, recently celebrated his 60th birthday in style by issuing an open invitation to a party at his restaurant. The Leatherbacks provided musical entertainment for the evening. Happy birthday, Craig!
Reminder: The ninth annual CRGAR Charity Golf Tournament in support of Amigos de la Educación is set for tomorrow at Reserva Conchal. A sunset cocktail party will be held today from 5 to 8 p.m. at Haciendas Flamingo. The shotgun start is at 8:30 a.m. tomorrow, and the entry fee is $150 per person. An awards luncheon will follow the competition at the Conchal Beach Club. For more information, call 8399-9000 or e-mail costaricagar@gmail.com.
–Babe Hopkins
tbabehopkins@yahoo.com
You may be interested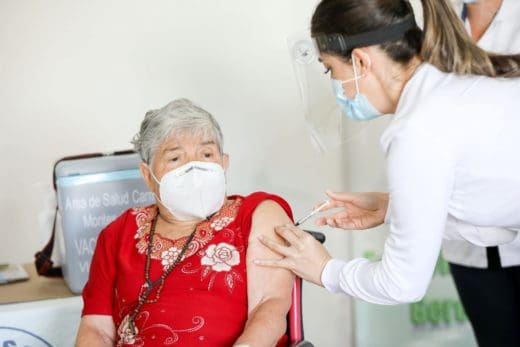 Costa Rica
16395 views
DIMEX required for vaccination, Costa Rica says
Alejandro Zúñiga
-
March 3, 2021
Costa Rica began administering coronavirus vaccines in December 2020, and the country hopes to inoculate its entire adult population. We've…