Flamingo/Potrero News
It is with much sadness that I report the March 25 passing of a dearly loved and respected friend, Pat Brady. Pat had a great sense of humor, loved laughter and was genuine, feisty and straightforward, just to name a few of her strengths. She brought life to any event and was described as a "stalwart vanguard" and a "tireless worker" on behalf of Flamingo's Ecological Blue Flag status. She had recently been elected as treasurer of the Flamingo Association and had been head of the membership committee. She and her husband, Bill, worked side by side to help local communities whenever possible. Pat left her signature with us all, and we send our sincerest condolences to Bill, sister Marie and Pat's entire family.
Donovan García and Federico Marín received the Ecological Blue Flag award March 26 on behalf of the Flamingo Blue Flag Committee. The committee, the Flamingo Association and the community have decided to dedicate the award to Pat for her commitment to the community and her efforts to preserve the Blue Flag in Flamingo.
Many thanks to Flamingo resident Caterine Milinaire and the Green Flash Team, who sponsored fundraisers and received donations for the beautification and preservation of Playa Flamingo. Large rocks were strategically placed along the road and beach to prevent cars and ATVs from gaining access to the beach during Easter week and in the future. Federico provided the necessary equipment to move the rocks and Marc Bjorlund managed the backhoe driver and crew who brought in and placed the rocks. This effort was inspired by longtime Flamingo residents Ron Martin and Peter Friech.
–Babe Hopkins
You may be interested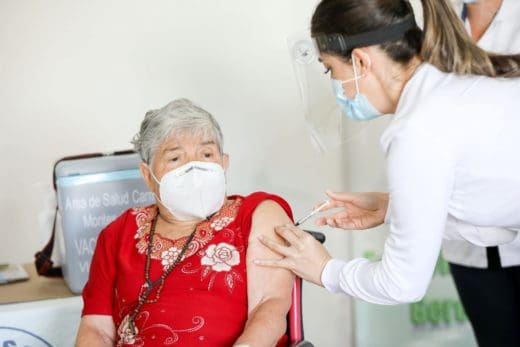 Costa Rica
16395 views
DIMEX required for vaccination, Costa Rica says
Alejandro Zúñiga
-
March 3, 2021
Costa Rica began administering coronavirus vaccines in December 2020, and the country hopes to inoculate its entire adult population. We've…