Jacó Happenings
The 2010 Quebrada Amarilla Fiestas are wrapping up this weekend 15 minutes south of Jacó. Tonight and tomorrow, the bullfighting begins at 7 p.m., followed by musical  groups, karaoke and dancing. Tonight's music will feature the group Pacific Dreams  of Luis Balerín, with the Eagles and a discomóvil on the program tomorrow night.
The bulls of Martín and Carlos Retana will be showcased tomorrow, and Sunday's grand event will be an exhibition of cars, motorcycles and quads, including a car demolition show at 10 a.m. There will also be horseback riding with excellent animation in the voice of Gregory Cabrera, former lead singer of national group Calle 8, as well as a championship bullfight. Sunday will end with the group Los Cachorros de Macho Carballo, followed by the national group Nacar. A final rodeo will close the event Monday. For more information, call 8832-4143, 8859-7082 or 8833-2135.
TV Jacó, our official television station, airs on CableTica Channel 11 from 5 to 6 p.m. daily except Thursdays, when it airs from 6 to 7 p.m. TV Jacó is broadcast to San Mateo, Orotina, Tárcoles, Quebrada Ganado, Herradura, Jacó, Playa Hermosa and Esterillos. You can keep up on programming at www.tvjaco.com. For information, contact Vicente del Latte, general manager, at 2643-2043 or vicente@tvjaco.com.
Many thanks to area resident Henry Kantrowitz for donating a water tank to the Playa Hermosa-Punta Mala National Wildlife Refuge. While presenting to the Central Pacific Women's Group, Henry heard the refuge needed another water tank, and he happened to have one. Transportation of the tank from Henry's property to Playa Hermosa was coordinated by the men who work in the refuge, Belford Cubillo and Ronald Mora, and Gabriela Arias of the Central Pacific Chamber of Commerce.
The chamber wants to continue to help support the wildlife refuge, which is home to nesting grounds for olive ridley, green and rare hawksbill sea turtles. The refuge needs help with basic infrastructure and equipment, more park rangers and public services (electricity and telephone) and educational materials for visitors. To help with this project, contact the chamber at 2643-2853 or cenpac.chamber@gmail.com. Brochures about the campaign are available for businesses wanting to display them to support the cause.
For a good workout, Speedy's next boot camp is tomorrow, March 20. All you need to bring is a towel and some water. To reserve a spot, contact Speedy or Monica at 8373-9635. Another option is Lisa Marie's power yoga at the Picasso building (Monday and Wednesday at 9 a.m.) and at Monte Rey in south Jacó (Tuesday and Thursday at 5 p.m.). For more information, contact Lisa Marie at 8857-3780 or llivigni@hotmail.com. Also, the Jacó Extreme Challenge takes place March 27, starting at 4:30 p.m. at the stadium in Jacó. Sign up at the chamber of commerce office in thePacificCenter, in front of CableTica. Fore more on the event, visit www.atletismoextremo.com.
–Christina Truitt
christinatruitt@gmail.com
You may be interested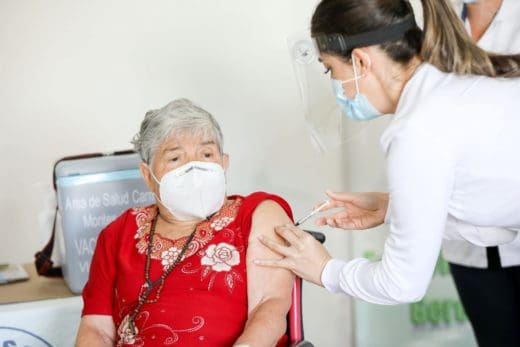 Costa Rica
16395 views
DIMEX required for vaccination, Costa Rica says
Alejandro Zúñiga
-
March 3, 2021
Costa Rica began administering coronavirus vaccines in December 2020, and the country hopes to inoculate its entire adult population. We've…