Arenal Report
Renowned Tilarán cook Mary Barrientos answered a culinary call from Tronadora Dec. 2, visiting the lakeside village to show Gringa Elvie Gray how to make up a big supply of tamales to help sustain husband Neal during Elvie's trip to the United States. The Grays have bought a wonderful volcano-view hectare and are house-sitting in Tronadora while they build their own home. Their neighbor, Mary Esquivel, persuaded Tilarán's Martha Stewart to undertake the long process that produces the traditional Costa Rican tamal.
The procedure starts with making a chicken and pork soup, of which both the meat and broth are vital to further steps. It ends with the cook dexterously tying up the results in a banana leaf prior to steaming or freezing. (For a complete account of the ingredients and process, read Laura Murray's review – sometime soon – at www.lakearenal.blogspot.com, where she will demonstrate how to take this traditional dish and "kick it up a notch.") Observing the tamal-making process was awestruck Nancy Durham, another new resident of the lake area, who may or may not undertake tamal production for husband Rusty.
Fuentes Verdes President Ed Yurika reports that the environmental watchdog now has a lot on its plate, ranging from the massive condo development near the northern end of the lake to a possible water-table disaster at the Palí market in Tilarán. Ed reports that the denuncia against the LakeCote lakeside bulldozing is still in some phase of the bureaucratic process. He's seeking more information about a problem involving a pig farm and spring in the village of Aguacate. In Tilarán, he's grateful to Mayor Jovel Arias, Litzy Barquero of the Costa Rican Water and Sewer Institute (AyA) and Silvia María Araya of the Health Ministry for stopping Palí's efforts to build under their parking lot a huge septic tank in which to put their "residual water" – water used to wash their meat, vegetables and floors. According to Ed, the Palí had been issued a summons by the Heath Ministry to stop releasing residual water into the street. Someone realized that drilling in the middle of hilltop Tilarán could puncture the water table and thus pollute it with residual water. That person, Ed, alerted the forenamed officials about the danger.
–Alex Murray
alex.murray37@gmail.com
You may be interested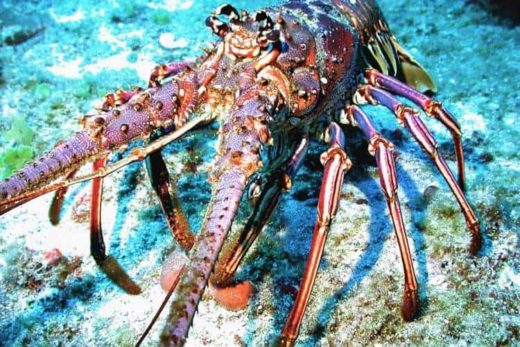 Fishing
1699 views
Central America begins ban to protect lobster
AFP and The Tico Times
-
February 27, 2021
Countries of Central America and the Dominican Republic on Monday will begin a ban to protect the Caribbean spiny lobster…