Jacó Happenings
Even though it is green season, there is still much to do in Jacó. Many hotels, rental companies, restaurants and clothing stores are promoting locals' appreciation month, offering discounts and specials during this time. Arenal Pacífico, Daystar Properties, Guacamole, Ganesha Lounge, Hotel Poseidon and Backyard Bar are just a few. Take advantage of low season, check out the deals and get out and about.
Tsunami Sushi celebrates its seventh anniversary this weekend, starting tonight with Lucky 7s Casino Night with DJ LeRoy and continuing tomorrow with the E-Party, live on Costa Rican Web TV at urbanettv. com. The cover for this event is ¢3,000 (about $5.20).
The Best Western Jacó Beach Resort is hosting a special event tomorrow from 7 a.m. to noon. The Foundation for the Palliative Care Unit of the National Children's Hospital and Group Three Productions are organizing Tri X Smiles, a triathlon relay with teams made up of media personalities, actors, musicians, models and politicians. Teams consist of three members, one for each leg of the triathlon: a 200-meter swim, a 15-kilometer bicycle ride and a fourkilometer run. The event will be broadcast live from 7:45 to 9:45 a.m. on Channel 33. Dedicated to Valeria Vargas, winner of two gold medals at the 2007 Special Olympics, the event seeks to raise funds for the Palliative Care Unit. Donations may be made the day of the event. For more information, call 2222-3455 or 2223-9615 or visit www.cuidadopaliativo.org.
The GarabitoMunicipality has a new Web site where the entire canton can access information concerning the municipality, learn about the local government and send questions to Mayor Marvin Elizondo. The site includes the history of Garabito, notices of political, social and economic events, information about schools and a job bank. Check it out at www.munigarabito.go.cr.
STS Security, together with the board of directors of the Homeowner Association of Hermosa Palms, has been giving a helping hand to protect the turtle eggs in the wildlife refuge in Hermosa. In the past, STS Security guards would spot turtle nests during their night shifts and in the morning, on their free time, they would bring the eggs to the Environment, Energy and Telecommunications Ministry (MINAET). Today, STS guards mark the location of the turtle nests to prevent theft while volunteers from Hermosa Palms gather the eggs and bring them to MINAET. In addition, STS guards have prevented the theft of turtle eggs in some 25 encounters with egg thieves in the past 10 months. STS General Manager Ehud Sadan and employees Zigifredo Sanches, José Antonio Sánchez, Eliezer Morales, Ronald Gerardo Madriz and Edil Obando are all actively involved in turtle egg conservation.
The McKee Project's Sharing the World With the Animals education program was a big success. Both the Colegio Técnico Profesional and the Escuela Central de Jacó participated in the program. In the last three months, McKee was able to reach approximately 600 students through presentations and activities that included both kids and parents. One activity ended with a Tell Us About Your Pet competition that included all kinds of animals, from dogs and cats to chickens. Under the supervision of Cynthia Lizano, the project helped incorporate the students as active members of the McKee Project. A special thank-you goes out to teachers Nilsa Bustamante, Alexander Sandoval, Ruth Rojas and Jimmy Alpízar, as well as school principals Vera Virginia Alpízar and Fernando Pusey, for making this program possible.
Don't forget to submit your entry to the Escape to Luxury room makeover contest sponsored by Palm Coast Interiors, in which some lucky homeowner will win a makeover worth up to $8,000. All entries must be submitted by Nov. 30 with a photo of the room to be made over and a short essay about why it needs a makeover. Submit entries to Jay and Melanie Pond at www.palmcoastinteriors.com.
–Christina Truitt
christinatruitt@gmail.com
You may be interested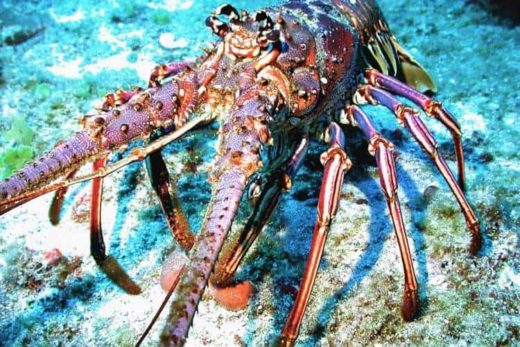 Fishing
1697 views
Central America begins ban to protect lobster
AFP and The Tico Times
-
February 27, 2021
Countries of Central America and the Dominican Republic on Monday will begin a ban to protect the Caribbean spiny lobster…