Arenal Report
<!– /* Font Definitions */ @font-face {font-family:"Cambria Math"; panose-1:2 4 5 3 5 4 6 3 2 4; mso-font-charset:0; mso-generic-font-family:roman; mso-font-pitch:variable; mso-font-signature:-1610611985 1107304683 0 0 159 0;}@font-face {font-family:Calibri; panose-1:2 15 5 2 2 2 4 3 2 4; mso-font-charset:0; mso-generic-font-family:swiss; mso-font-pitch:variable; mso-font-signature:-1610611985 1073750139 0 0 159 0;}@font-face {font-family:Minion-Regular; panose-1:0 0 0 0 0 0 0 0 0 0; mso-font-charset:0; mso-generic-font-family:roman; mso-font-format:other; mso-font-pitch:auto; mso-font-signature:3 0 0 0 1 0;}@font-face {font-family:Minion-Bold; panose-1:0 0 0 0 0 0 0 0 0 0; mso-font-charset:0; mso-generic-font-family:roman; mso-font-format:other; mso-font-pitch:auto; mso-font-signature:3 0 0 0 1 0;}@font-face {font-family:Futura-CondensedBold; panose-1:0 0 0 0 0 0 0 0 0 0; mso-font-charset:0; mso-generic-font-family:swiss; mso-font-format:other; mso-font-pitch:auto; mso-font-signature:3 0 0 0 1 0;} /* Style Definitions */ p.MsoNormal, li.MsoNormal, div.MsoNormal {mso-style-unhide:no; mso-style-qformat:yes; mso-style-parent:""; margin-top:0in; margin-right:0in; margin-bottom:10.0pt; margin-left:0in; line-height:115%; mso-pagination:widow-orphan; font-size:11.0pt; font-family:"Calibri","sans-serif"; mso-ascii-font-family:Calibri; mso-ascii-theme-font:minor-latin; mso-fareast-font-family:Calibri; mso-fareast-theme-font:minor-latin; mso-hansi-font-family:Calibri; mso-hansi-theme-font:minor-latin; mso-bidi-font-family:"Times New Roman"; mso-bidi-theme-font:minor-bidi;}.MsoChpDefault {mso-style-type:export-only; mso-default-props:yes; mso-ascii-font-family:Calibri; mso-ascii-theme-font:minor-latin; mso-fareast-font-family:Calibri; mso-fareast-theme-font:minor-latin; mso-hansi-font-family:Calibri; mso-hansi-theme-font:minor-latin; mso-bidi-font-family:"Times New Roman"; mso-bidi-theme-font:minor-bidi;}.MsoPapDefault {mso-style-type:export-only; margin-bottom:10.0pt; line-height:115%;}@page Section1 {size:8.5in 11.0in; margin:1.0in 1.0in 1.0in 1.0in; mso-header-margin:.5in; mso-footer-margin:.5in; mso-paper-source:0;}div.Section1 {page:Section1;}–>

Mystica Hotel and Restaurant, a few hundredyards up the paved road to Sabalito, is proving a very pleasant place to kick backin the late afternoon and evening.
Lakesiders enjoy the restaurant's creativedecor, fine lake views, thin-crust pizza and musical evenings. Off-seasonmanagers Peter and Ana are charming hosts and tend to schedulespecial events in addition to the regular Friday-night folk rock music of Bob Benjamin Zúñiga andfriends. The restaurant is open daily from noon to 9 p.m. Bob and friends playFridays from 5 p.m. Mystica also has six very nice cabins for $100 a day,including breakfast. The phone number is 2692-1001.
Chichas, the adult sloth foundelectrically burned some months ago alongside the Tilarán-Cañas highway, hasmade the transition from the care of Tilarán veterinarian Ana Cristina Rojas tothe recovery shelter at La Reserva Forest Foundation.
The thick bandages have been removed fromChichas' two-toed forepaws, though they still show evidence of the injuries andshe tends to hold them close to her chest, grasping branches more readily withher three-toed hind feet. La Reserva's Roberta Wardand DanielSpreen continue to rehabilitate Chichas withdaily climbing workouts on their heavily wooded property.
Once fully recovered, Chichas may be wise enoughto stay in La Reserva's extensive oldand second-growth forest, where she won't needelectrical wires to travel between her favored types of trees.
–Alex Murray
alex.murray37@gmail.com
You may be interested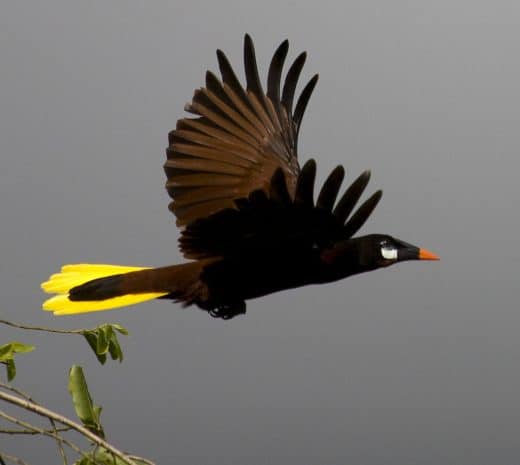 Environment and Wildlife
6367 views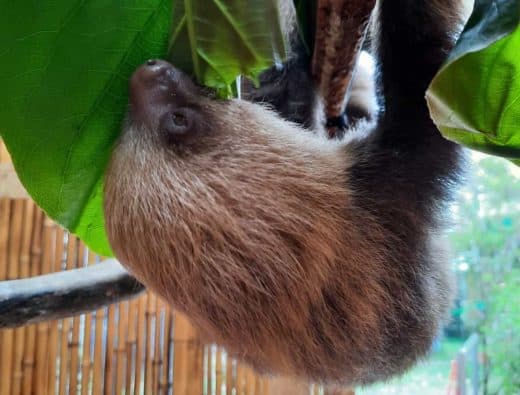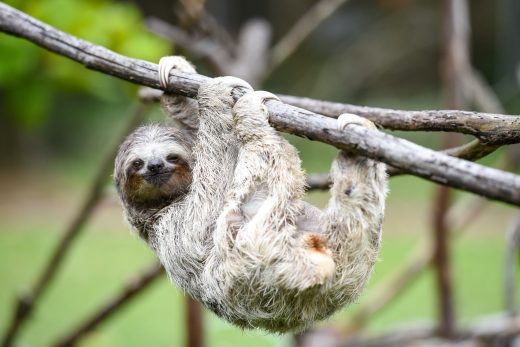 Costa Rica wildlife
15424 views
Costa Rica wildlife
15424 views
Sloths in Costa Rica: 11 Little Known Facts
The Tico Times
-
March 7, 2021
Since they were first described by naturalists in the 1700s, sloths have been misunderstood. Early scientists described the slow-moving beasts…