Coco Capsule
The popular hamburger stand at the entrance to Plaza Colonial has reopened as A Taste of Texas, with a vastly expanded menu. Owned by native Texans Paul and Pam Montgomery, the open-air eatery features a wide variety of combo plates as well as Tico favorites. But the specialty is southwestern U.S. fare such as slow-cooked hickory-smoked beef brisket and pulled pork sandwiches, ribs and chicken wings. (Prior to opening, Paul ordered a custom Texas smoker grill and had it shipped down here.) Having lived in Texas for more than a decade, I can attest to the authenticity of the food and the specially made rubs and sauces that add to the flavor. The restaurant often offers several daily specials, in addition to its regular menu, in its pleasant outdoor dining area. Also, many specials can be preordered and taken home for a family dinner or social gathering. A Taste of Texas is open daily for lunch and dinner. For catering or takeout, call 8707-3441.
Suely's, the popular and authentic French restaurant on the Ocotal road, has closed and will be missed. It seemed to get better and better each month.
A reminder: Super Luperón has large recycling barrels for public use in front of its main store in Coco. There are separate containers for paper, aluminum, glass, cans and plastic. Help keep our communities clean by taking advantage of this needed and convenient service.
Facebook Comments
You may be interested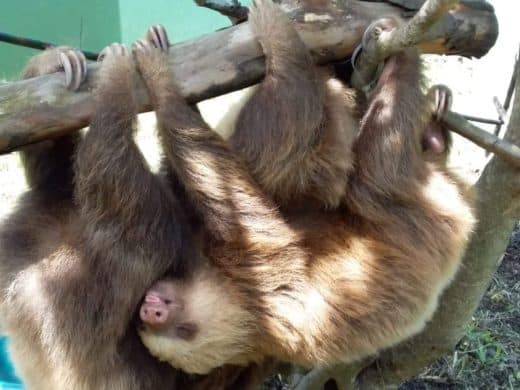 Sloth Sundays
17 views
Slothy Sunday: Just hanging out
Alejandro Zúñiga
-
May 26, 2019
Last week, Denise Gillen, a sloth nanny from the Toucan Rescue Ranch, shared the story of Bon Jovi, a sloth…