Limón Roots festival celebrates black culture
Backed by a calypso band, a reggae singer and Miss Limón Roots 2010, Ramiro Crawford introduced this year's Limón Roots festival with some flair.
At a press conference last week, Crawford treated a group of reporters to a festival preview. Calypso trio Yes a Man sang a classic number called "Matilda." Michael Livingston performed his own reggae song. Miss Limón Roots 2010 Jazline Farley posed in a yellow dress for photographers.
"Our festival aims to seek recognition for all the contributions black people have made to the development of this country … and also to promote and rescue black cultural traditions," Crawford said.
The annual festival celebrating black culture in Costa Rica revolves around Aug. 31, Black Culture Day. An inauguration event is set for Wednesday, Aug. 25, at the Fernando Centeno Güell School of Special Education in Guadalupe, northeast of San José. The ceremony, from 8:30 to 11 a.m., will include presentations on Afro-Caribbean history, Caribbean food and artistic performances, including story about the history of black culture in Costa Rica told by deaf students from the special-education school.
The official start of the festival is planned for Friday, Aug. 27, at 7:30 p.m. in the Melico Salazar Theater, where the Limón Roots Awards will recognize black achievements in Costa Rica. Other highlights will include performances by New York City-based gospel group The Roy Prescod Chorale, Senegalese percussion and dance group Kali Bamba N'diaye and the Costa Rican choir Caribbean Angelical Melodies, accompanied by the Limón National Band. Costa Rican President Laura Chinchilla has confirmed her attendance at the event, Crawford said.
The next big event of the festival will be the annual Aug. 31 gala parade through the streets of Limón on the Caribbean coast. An Intergenerational Afro-Costa Rican Meeting is planned in Limón for September, and a cultural gathering in the northeastern San José suburb of Guadalupe will close the festival on Oct. 12, Cultures Day in Costa Rica.
For more on this story, see the Aug. 27 print or digital edition of The Tico Times.
Facebook Comments
You may be interested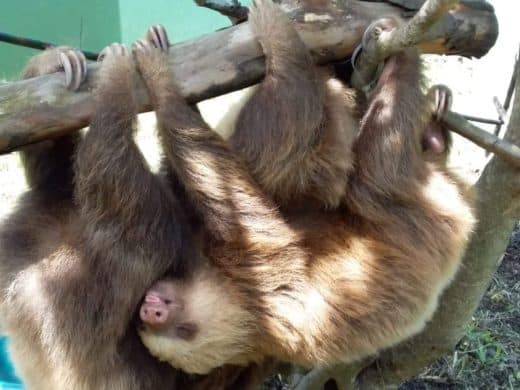 Sloth Sundays
17 views
Slothy Sunday: Just hanging out
Alejandro Zúñiga
-
May 26, 2019
Last week, Denise Gillen, a sloth nanny from the Toucan Rescue Ranch, shared the story of Bon Jovi, a sloth…